Most of my patients with back and neck realize sitting for long hours and work habits are causing them harm.
The great news is that with some new healthy habits and an upgrade to your office environment, you'll be able to feel a big difference within weeks.
The first thing I recommend is investing in a quality ergonomic office chair.
Below you'll find a list of suitable chairs for many different work environments and sitting styles.
These chairs are comfortable, encourage excellent posture, and most promote active sitting.
Best Value Office Chair
If you're looking for a good quality chair that is ergonomic, highly adjustable and sturdy, take a  look at this Duramont's chair.
This chair accommodates people between 5.1 and 6.5 inches tall and features adjustable lumbar support that moves forward and backward.
The headrest is also adjustable and depending on your height you'll be able to adjust it up and down or slide it at an angle. You'll also get a tilting function that works with a push of a lever.
The mesh upholstery on this chair is breathable and feels extremely comfortable to sit on.
What customers are saying
What most people seem to love about this chair are the rollerblade wheels that simply glide over the floor.
Some people had issues with ball bearings falling off after a few months but the company usually sends replacement wheels.
Putting the chair together is very easy, and you get to adjust certain parts during assembly, these parts include the width of the armrest and the distance of the seat to the backrest.
Once assembled, the armrest can only be adjusted for height, in an up or down motion.
What We Like
High-quality materials
Highly adjustable
Rollerblade wheels
What We Don't Like
Issues with ball bearings on the wheels
Favorite High-End Chair
If you're looking for a top of the line chair that comes with the best materials and newest technology, Herman Miller has just recently updated its best selling chair, the Aeron.
What really sets the Aeron apart from other models is the forward motion of the seat.
The seat can be tilted to an angle of 5 degrees which places you in an engaged position and allows you to stretch your spine while you work, a feature previously seen only in kneeling chairs.
Support and Adjustability
The SL spine and buttocks support is a combination of 2 pads that are pretty amazing.
One pad can be adjusted in the lumbar area and the other provides support to the bones of the buttocks. Both pads can be independently adjusted to follow the curve of your spine.
Another feature that truly provides support is the adjustable arms that move with you. You can push them to the front or back, lift them up or down, and pivot them both outwards and inwards.
The mesh backrest offers ample ventilation and the chair comes with an improved tilting function.
All in all, it's a solid chair that comes with only one real disadvantage, its high price point. If this is a problem, I'd highly recommend you taking a look at this of herman miller alternatives.
What We Like
Improved materials & tilt function
Great SL support of the spine
Adjustable arms
What We Don't Like
Best Office Mesh Chair
No products found.
No products found.
The SIDIZ T50 is a highly adjustable office chair featuring a ventilated mesh back that keeps you cool throughout the day.
The backrest features an S-shape design that follows the natural curve of your spine and comes with added lumbar support, adjustable for height and depth.
The back of the chair can be tilted to 5 different angles, the tilt tension can be adjusted and it can be locked in place. Included in the package is an adjustable headrest.
The armrests are also adjustable and can be positioned up and down, forward and backward, or swiveled to the side. The seat is height-adjustable between 15.7 and 18.7 inches.
The only downside we found with this mesh chair is the casters that could scratch hardwood floors.
What We Like
Mesh back provides plenty of ventilation
High-quality materials
Highly adjustable
What We Don't Like
The casters might scratch hardwood floors
Best Executive Chair
The Serta Big and Tall model was made for people who are over 6 inches tall and need an office chair that provides extra space along with ergonomic support.
This executive chair provides it all with its depth-adjustable lumbar support, waterfall-edge seat design that improves circulation while you work.
It has a cushion-padded seat and backrest, with padded armrests.
Its upholstery is made with bonded leather and the chair has beautiful wood accents that are not made cheaply and give it a high-end executive look.
It also features smooth-rolling casters that won't damage hardwood floors but some people still replace the original casters with larger ones.
What We Like
Made for taller & bigger people
Good ergonomic support
Nice looking upholstery
What We Don't Like
Best Chair For Reclining
There's quite a bit of evidence that supports reclining while sitting.
This Duramont reclining chair features a gorgeous bonded leather upholstery that gives it a truly high-end executive look.
It has a backrest that reclines to a 155-degree angle and a footrest that can be pulled out for maximum comfort, making it perfect for short naps at the office.
Regarding lumbar support, the chair features a standard tension knob that controls the pressure coming to your back. This is enough for most people, but some end up adding a lumbar pillow.
Together with the bonded leather upholstery, the Duramont reclining chair has a soft, leathery feel to it. The soft padding on the seat and the backrest adds to the overall comfort of the chair.
Most people get this reclining chair for their office, but this model is also very popular in the gaming community.
What We Like
Soft leather feel
Large tilting angle
Footrest gives optimal comfort
What We Don't Like
Could use better lumbar support
Best Drafting Chair
If you're a professional that needs a good drafting chair, this Flash Furniture chair is worth considering.
You'll get a quality chair that offers adjustability and proper lumbar support.
This chair is much taller than regular chairs and was designed to be used at drafting tables. It won't work with standard desks as its minimum seat height is 24'' and the maximum is 32'' off the floor.
It would work perfectly with a standing desk though, especially because of the adjustable foot ring that allows you to rest your feet while you work.
Design and Functionality
This drafting chair has an attractive design with a Melrose gold nylon base. It also features a mesh upholstery that not only feels good on your back but also provides the proper amount of support.
What we really liked about this model is the synchro-tilt feature that allows the backrest and seat to tilt independently.
The seat comes with a waterfall edge design that minimizes the pressure on your legs and helps blood flow to your lower extremities.
The padded arms feel comfortable and can be flipped up if you need to type at your desk.
However, they can't be adjusted for height which is a feature seen in higher-end models.
The only real downside we found with this model is the plastic smell you get when unboxing the chair, most people air it out for a day or 2 before using it.
What We Like
Attractive design
Comfortable for sitting
Useful foot ring
What We Don't Like
Needs to be aired upon arrival
Best Kneeling Chair
If you ever wanted to get a solid kneeling chair, we suggest you get this original Norwegian model, which is extremely durable and flexible.
The design of the chair may look pretty simple, but there is a reason it was ranked the #1 best selling chair in 2019.
The main idea behind this particular design is to tilt your lower back forward and place you in a more upright position.
The standard sitting angle is 90 degrees, but with the Variable Balans, you get to sit at a 110-120 degree angle which helps relieve painful issues like sciatica and/or hip pain.
Comfort and Functionality
Sitting on a kneeling chair is comfortable but it may take some time to get used to. It has a rocking motion that people seem to love and weighs only 14.35 lbs, making it extremely easy to move around.
Initially, the wheels used to scratch floors, but the manufacturer has now included a soft tape underneath. The chair is not adjustable in any way but it will be good for people around 5' tall.
While there's no official height limit on this chair, taller people might feel like it's a bit small. You'll find many attempts to copy this design on the market but no one has pulled it off so far.
What We Like
High-quality
Manufactured in Europe
Rocking motion
What We Don't Like
Fixed-size, not adjustable.
Ideal For Standing Desks
The Learniture Company has manufactured an attractive active stool that can be paired perfectly with any standing desk.
It features a curved base with a non-slip material that keeps you active while you balance on the stool. This way you not only stay focused but also strengthen your core muscles while you work.
Adjustability and Assembly
The height of the seat can be adjusted from 18.5 to 28 inches off the ground with the touch of a button and the seat cushion is made with molded foam, covered with vinyl.
Most people tend to get this chair for classrooms because they are incredibly comfortable and extremely adjustable.
Assembling the chair is super easy as well and should take you less than 2 minutes. You'll only have to follow 3 simple steps to put your new chair together.
What We Like
Solid active stool
Adjustable for height
Great for ergonomics
What We Don't Like
Comes with a learning curve
Best Saddle Chair
The Capisco chair features a smart design that allows for multiple sitting positions.
It can be used as a standard sitting chair, or you could sit in reverse. It will also allow you to stretch, lean, or perch.
This model is fully cushioned with plenty of padding, so it should be comfortable in any sitting position you choose.
Adjustability and Assembly
The seat is 19'' wide, height-adjustable, and can be used both with a regular and a standing desk. What we liked the most though is the rubberized coating on the casters that prevent scratching.
Assembly is pretty straightforward and you'll only need an Allen wrench (supplied in the package) and 5 minutes to put it together. People that use this saddle chair say that it has saved their backs.
What We Like
High-quality parts
Plenty of cushions
Easy assembly
What We Don't Like
Not as comfy as a regular office chair
Best Chair For Kids
The SIDIZ Ringo Kids model is the best kid's ergonomic chair suitable for growing children.
It can be adjusted for height and will accommodate children from 3.5 to 5.3 inches tall. The entire chair is rounded so there are no sharp edges that could be a potential hazard.
The unique thing about this chair is the 4 levels of backrest adjustment, this feature enables you to lift the support as your child grows and the seat also gets wider as you pull up the backrest.
Comfortable and Adjustability
Sitting in this chair is absolutely lovely and it provides the proper support needed to prevent sitting related issues. We actually noticed that a lot of smaller adults are getting one for themselves.
The chair also features a 5-star castor base with wheels that lock in place as soon as weight is applied to the seat. The minimum weight needed for the wheels to lock is 55 lbs.
Another brilliant design solution is the added footrest that will help smaller children perk up and hold a proper posture while sitting.
Assembling this chair is pretty easy and can be done in a few minutes. This is a bit of a pricey model but the quality does match the price.
What We Like
Great quality materials
Durable and safe
Adjustable ergonomic design
What We Don't Like
Other Recommended Chairs
The Gabrylly Ergonomic office chair is an elegant-looking chair that comes with loads of adjustable features.
It has an adjustable headrest, an adjustable seat height, adjustable padded armrests, and a recline of up to 120 degrees. It also offers decent lumbar support but that part can't be adjusted.
Additionally, the entire upholstery is made of mesh which should keep you cool while you work.
The Gesture chair is a new ergonomic solution for your back.
The backrest and the seat were designed to follow the movement of your body and contour to your back. The arms were also made to move 360 degrees and follow the movement of your arms.
The seat feels comfortable for longer sitting and is filled with molded foam. It has air-pockets placed underneath it and the height and depth of the seat are adjustable with the help of a knob.
The seat goes from 16'' to 21'' off the ground and it has a smooth tilt motion that's perfect for reclining. This is a high quality, futuristic looking, chair with a matching high-end price.
The Ergohuman High Back swivel chair comes with an adjustable headrest that will help people with neck problems and people who simply want to rest their head while they work.
The entire backrest is made of mesh and comes with smart support that is curved and feels comfortable on your back.
The seat is also made of mesh and provides enough support while also stretching a bit. The seat height is adjustable and goes from 18.5  to 22.2 inches off the floor.
The armrests can be pivoted to the side, or if you'd prefer not to use them at all you can simply omit them in the assembly process as it will not affect the structure of the chair.
The HON computer chair was created for comfort and offers two layers of padding on its seat. The backrest is made of breathable and comfortable mesh and comes with a synchronized tilt.
This means that when the back reclines, the seat also moves along with it, to a lesser extent. This might be problematic for people with lower desks as your knees might push under the desk.
Aside from that little issue, the HON chair comes with adjustable lumbar support that can be moved up and down and a comfortable seat that can slide back and forth.
The arms on the HON chair are also adjustable for both width and height.
The Ergo3D chair from NOUHAUS comes with rollerblade wheels that ensure smooth rolling on any surface in your home or office.
The entire chair frame was made from a single piece of iron alloy and offers many adjustable features.
Adjustability
The headrest can be positioned up and down, or at an angle and the armrests move in 3 directions, up and down, front to back, or pivot.
Unlike most models on the market that have a fixed or adjustable lumbar support, this one has a dynamic option. The lumbar support on the Ergo3D model moves as you move.
The seat doesn't slide but you'll be able to adjust the seat placement during assembly. Overall, it's a very comfortable chair that can be tilted to 135 degrees and will hold 275 lbs of weight.
The Ticova office chair was designed to satisfy the ergonomic needs of the modern office.
The seat is comfortable, it's padded with 3 inches of high-density foam, and it comes with a wavy design, this way the pressure on the tailbone area is minimized.
The minimal floor to seat height is 14.17'' and you'll be able to adjust the seat height up to 3.9''.
The lumbar support is also adjustable and it will successfully support your lower back. It can be adjusted for depth or moved up and down to fit your needs better.
The arms can also be moved up and down as well as the headrest. The chair has a tilting function, and you'll be able to recline up to an angle of 140 degrees.
Coming in at number two, the Argomax Mesh Ergonomic Office Chair features some of the most customizable options for your ergonomic chair. The Argomax Mesh Ergonomic Office Chair comes with a fully customizable arm height, low back support, neck support and even features easy glide wheels to help you maneuver throughout the office.
This is certainly one of the chairs you can spend much of your working day in without feeling the nagging effects of back and neck pain. The chair feels very comfortable and is easy to adapt its customization to your body and needs.
What we like
2 in 1 functional lever for tilt and seat height

Rotating arms make working on any desk height a breeze

Easy to wash and super breathable mesh

Strong design can support 330 pounds
What we don't like
Higher price tag

Some users report back support took time to get used to
The Argomax Mesh Ergonomic Office Chair is a chair to keep on your radar if you like highly customizable ergonomic chairs for long working hours.
The Modway Articulate Ergonomic Mesh Office Chair is your bread and butter for basic and dependable ergonomic office chairs. The mesh back support offers the functionality and customization of more expensive chairs, while the foam cushion features a common comfort we can all get used to.
Oh yeah, we almost forgot, the Modway Articulate Ergonomic Mesh Office Chair is one of the cheapest options on our ergonomic chair list.
Looking for an alternate design to the traditional back and lumbar support? Maybe you've started standing at your desk and are thinking of trying a more permanent standing chair.
The Varidesk Adjustable Standing Desk Chair is perfect for those looking to strengthen their legs, core and improve their posture. With a custom height adjustment and a cushioned chair, you can stand and partially sit for the entire workday – limiting your back pain.
If you prefer simplicity in your ergonomic chair design then the Topsky Mesh Computer Office Chair is for you. This chair features much of the look and support of the high-end ergonomic chairs but it lacks some of the customizations on height and other features.
Extra Benefits: The Topsky Mesh Computer Office Chair Ergonomic Design features a more comfortable and relaxing design. Those looking for a great ergonomic hair with a lower price tag can find the Topsky Mesh Computer Office Chair here.
Our top choice comes in with the Ergonomic High Back Mesh Office Chair from SIEGES. This chair is loaded with amazing features, beautiful design and a product build that is virtually unmatched by its competition. The SIEGES Ergonomic High Back Mesh Office Chair takes control of every aspect of back and neck pain with comfort settings, custom height adjustments, neck support and low back support.
For those looking for a chair that will help them to become engaged in their work for long hours without feeling the effects of back and neck pain, this will be the best choice. Custom height and adjustable lumbar support offer a specific touch to each person to ensure you always have control over how you work.
What we like
Seat swivel makes working on multiple displays a breeze

Adjustable lumbar and arm height is very easy and sturdy

Mesh design helps to increase blood flow

Comfy foam seat for long work hours
What we don't like
Price Tag is higher than some people would like

Seat height may not suit those over 6 feet
In the market for a comfortable, adjustable, ergonomic chair that will help to limit back and neck pain at work? Look no further than our top choice, the Ergonomic High Back Mesh Office Chair by SIEGES.
Best Chair Brands
Herman Miller
Herman Miller is a West Michigan furniture company that's almost 100 years old. The businessman Herman Miller helped his son-in-law, De Pree, buy the "Star Furniture" company.
His son-in-law worked as a clerk in the company at the time and after acquiring it, changed its name to Herman Miller.
This was done both to pay respect to his father-in-law, and because he knew that the Herman Miller name carried integrity in the society.
Today they are a recognized innovator in interior furnishings, healthcare, and related services. The company is headquartered in Michigan with manufacturing facilities in the US, UK, Italy, and China.
Steelcase
Steelcase Inc. has been around for over 107 years. Aside from Steelcase, they cooperate with numerous brands across the world like Coalesse, Designtex, Tunstone, Orangebox, and others.
Steelcase is a global brand present in over 800 dealer locations. They sell products in Europe, the Middle East, and Africa.
In 2022 Fortune named Steelcase the 'World's most admired company' in the Home equipment and furnishings sector.
SIDIZ
SIDIZ is the leading seating brand in Korea and has received many design awards throughout the years, these awards include the REDDOT design award, and the IF design award.
The design and development part of the company is situated in Italy, while its trend research branches are located in France and Germany.
They produce all of their chairs according to the US BIFMA standard which ensures that the manufacturer has met certain sustainability requirements.
The number of chairs produced each year is over 1.5 million, and they collaborate with major companies such as IBM, Samsung, and more.
Hon
HON has been on the market producing office furniture since 1944.
Their main idea is to surround themselves with smart people that know what they're doing and create quality products that are backed by their lifetime warranty.
They achieve this by obsessing over the strength of their furniture, and doing constant testing, like freezing the furniture to see how it will behave in extremely cold weather.
They take pride in creating green furniture that's free of chemicals. The corporate headquarters of HON is located in Iowa, and you can reach their offices Monday to Friday from 7 am to 6 pm CST.
Ergohuman
Ergohuman is the parent company of Square Grove LLC which was created by Jon Paulsen, a certified ergonomist and engineer.
Jon is a master mechanical engineer that worked as an ergonomic consultant for many Fortune 500 companies, helping them implement ergonomic standards into workspaces.
His company prides itself on being the leading online ergonomics provider and they have received many 5 star ratings so far.
They have a team of chair specialists and excellent customer care. Their main point of pride is the Raynor Ergohuman chair.
Types Of Office Chairs
Mesh Chairs
Mesh chairs were made to keep the body cool while you work.
They are mostly used in offices because they are breathable and keep you dry and cool. Most mesh chairs come with either integrated or adjustable lumbar support.
Some people need time to get used to the way mesh seats feel, but most people appreciate them.
Leather Chairs
The leather chair has always been the most exclusive option, and not much has changed. Aside from the nice leather smell, you also get a soft cushion that feels great when you sit on it.
Leather is also easy to clean and lasts a very long time. The main reason most people don't get leather chairs is the high price point. But now, there's a similar option called Bonded Leather.
Bonded leather is actually shredded pieces of leather bonded together (60%-80%), so you can get something extremely close to the original look and feel of a leather chair at a lower price.
Executive Chairs
Just as the name implies, the executive chair was made to leave an impression in the office. They are usually bigger, with loads of cushion and padded armrests.
Expect them to be made with superior quality materials and often have a waterfall edge on the seat to help with the blood flow in your legs.
Most of the modern models also come with lumbar support and a recline function. The upholstery is usually made of original leather, bonded leather, or PU.
Drafting Chairs
The drafting chair was made for professionals that spend most of their time standing. They are usually taller than regular chairs and work great with both drafting desks and standing desks.
They are made to be lightweight and easy to move around. Some of the drafting chairs might work with a regular desk but always check the minimal seat height.
You'll find some models with a backrest and some without one but all of them have a height adjustment feature and a foot ring to rest your feet while sitting.
Reclining Chairs
Reclining chairs are perfect for those who want to take a quick nap at the office. The largest angle of recline we found was 160 degrees and some models even include a footrest for a comfier nap.
When getting a reclining chair make sure you understand how the tilting mechanism works.
Some chairs will only recline their backrest, while others have a synchro-tilt where both the backrest and the seat move together.
Kneeling Chairs
The first kneeling chair was invented by a Norwegian designer in 1979. Kneeling chairs were made to redistribute the pressure points felt while sitting on a regular chair.
The seat on a kneeling chair was designed at an angle to push your pelvis forward and place you in a neutral sitting position.
Most kneeling chairs come with a rocking motion which is not only good for focus while working but also encourages movements that improve blood flow.
Ergonomic Stools
These types of stools are perfect when paired with a standing desk or bar desk. They adjust for height and keep you active while sitting or perching.
Active stools like these are usually less comfortable than regular office chairs but they keep you working longer at your desk with fewer side effects.
Saddle Chairs
Saddle chairs fall into the active chair category. Most saddle chairs lack the backrest, so they keep you in an upright posture.
You'll also be balancing your weight with your feet so you get an active sitting experience.
The seat design looks like a saddle and it places your thighs at a 135° angle which is supposed to line up with the lumbar area.
Saddle chairs are made taller than the regular ones and pair perfectly with a standing desk.
Balance Ball Chairs
Balance ball chairs are a nice addition to the regular office chair. They are usually made of an inflatable balance ball secured with a sturdy base at the bottom.
Some models even come with a backrest and casters. The main idea is to balance yourself and engage your core while you work. They cannot be used as a replacement for a regular office chair.
It is recommended to have a balance ball chair in addition to your office chair so you can switch. Otherwise, you could experience some downsides like slouching on the balance ball.
Gaming Chairs
One of the main features that make gaming chairs recognizable is the flashy, contrasting colors on the upholstery.
They usually come with a high angle of recline, a fixed headrest, and a winged backrest. Since gamers tend to move a lot while gaming, a highly adjustable armrest is a must.
Just like office workers, gamers tend to lose themselves in the game, spending 8-12 hours on the chair. This is why they often need detachable head pillows and lumbar support.
If you're a gamer that's also interested in ergonomics always go for a waterfall seat design.
Sitting Ergonomics
Poor Ergonomic Environments
A poor ergonomic set up in the work environment is the focal point to painful career or pain free career. We have to face the reality of it though. This is a top contributor as to why 95% of the earth's population experiences neck or back pain at some point in their lives.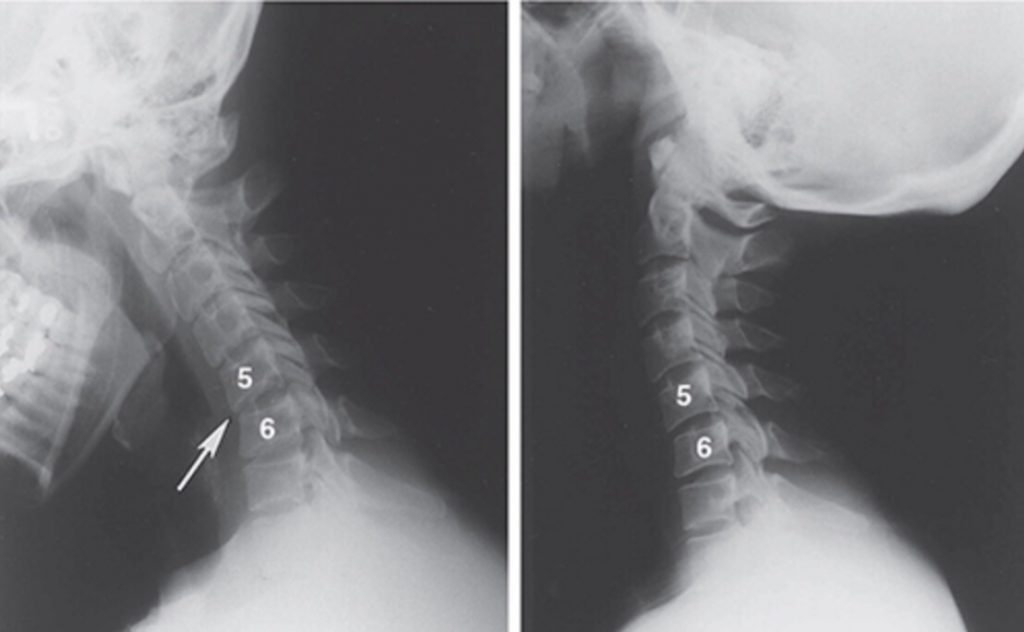 Complications include:
Poor posture

Accelerated degenerative changes (Joint disease, disc disease, osteophyte growth…etc)

Early onset arthritis that only gets worse with time and age

Forward Head Posture

Upper Cross Syndrome
How To Sit Properly
Here are some simple tips for sitting to do when you find the right one:
Push your hips as far back as they can go in the chair.

Adjust the seat height so your feet are flat on the floor and your knees equal to, or slightly lower than, your hips.

Adjust the back of the chair to a 100°-110° reclined angle. Make sure your upper and lower back are supported. Use inflatable cushions or small pillows if necessary. If you have an active back mechanism on your chair, use it to make frequent position changes.

Adjust the armrests (if fitted) so that your shoulders are relaxed.
Doing so, this will make sure that you remain in neutral spine.  Neutral Spine allows the spine to maintain its 3 curves to function and support your body most efficiently.
Ergonomic Chair Features
When it comes to dealing with your pain and discomfort it can be difficult to pick the right chair for your workspace. Those who are looking for an ergonomic chair may be confused by the design and wonder what the most important features are.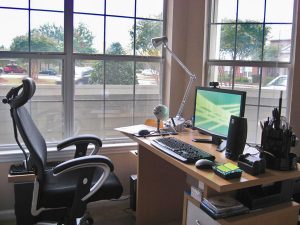 Here we list out some of the most important things to look for when picking the right chair for you.
Adjusting height & Armrests
A relaxed sitting position to restrict pain has your feet flat on the floor, arms resting on the desk at 90 degrees and thighs horizontal on the chair. You should be able to customize these height settings to ensure the best seating position.
Lumbar support
This is an important feature – but it needs to be adjustable. In some cases, lumbar support can actually cause more back pain so ensuring you can custom fit the support to your back is essential.
Try out multiple lumbar positions to find what is best for you – just ensure that if you feel the pain you move to another position.
As a general rule of thumb, lumbar support should be exactly that – support. If you feel the chair pushing on your low back it could aggravate the lumbar discs and lead to more pain.
Mesh material
Although you may want the look and feel of cushioned leather, a mesh chair will better shape and mould to your body, making it the better material for an ergonomic chair.
Mesh chairs also seem to last a little longer and are much easier to adjust to your specific needs of the ergonomic design. Mesh chairs also offer a much better breathability which can lead to a more comfortable work setting for longer hours.
Correct seat depth
Being able to adjust and customize your seat depth is important so that you have full back support, your thigh is glued to the chair and your knees do not touch the chair. If the knees touch, you should adjust the chair and ensure you have back support.
The seat depth on your chair also needs to match the lumbar support setting. Finding a chair that offers a good seat depth, enough for any height is important to your success in limiting back pain for longer work hours.
Range of movement
Any chair that is too stationary will not only turn off other working muscles, but it will limit your ability to move and function in the office setting. Having a chair that moves freely will help you to stay more functional.
If you feel yourself reaching for objects on your desk or it is difficult to find comfort rolling from one place to another, try to find a chair that has strong wheels and a swivel function that allows for greater range of movement.
Finding the right ergonomic chair for you will take time. Shop around, sit in different chairs and find what feels best for you – just be sure it will customize to your body and work needs.
Sources
https://www.ncbi.nlm.nih.gov/pmc/articles/PMC5889545/
https://www.researchgate.net/publication/328511296_Design_and_Development_of_an_Ergonomic_Chair_for_Students_in_Educational_Settings
https://www.ncbi.nlm.nih.gov/pmc/articles/PMC3552974/
https://www.knoll.com/document/1352940440338/wp_future_ergonomic_seating.pdf
https://journals.sagepub.com/doi/full/10.1177/2158244016685135
https://www.sciencedirect.com/science/article/pii/S0003687016300515
https://www.ncbi.nlm.nih.gov/pmc/articles/PMC6004963/