If you're sitting down for work, it might worth trying an ergonomic stool.
We'll go into more detail about the benefits of active sitting below, but an ergonomic stool has been proven to be a much healthier solution to normal sitting.
Choosing the right stool: Our review
Our ergonomics panel have reviewed the leading products on the market. We looked at factors like whether you're sitting or standing, quality, safety, customer reviews, and of course value.
Find out below our picks for the best ergonomic stool on the market.
Our Top Ergonomic Stool
If you've done any research about standing desks, you've probably already heard before of the Varidesk brand. They're well known for creating superior ergonomic products.
So it's no surprise that they've created the best standing desk chair on the market.
For sitting and standing
This ergonomic chair was built with active sitting in mind- making sure that your leg, back, and core muscles are all being engaged. This happens whether you're sitting or are leaning while the stool is raised.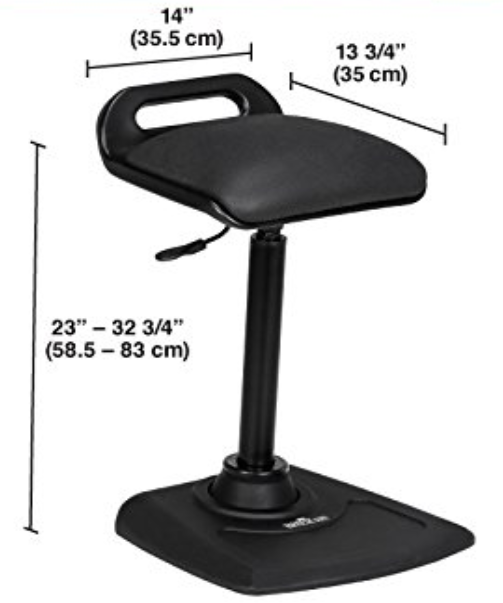 What customers are saying?
An overwhelming majority of people have nothing but praise for the chair. They're happy with the quality, the level of support, and how easy it is to adjust the seat from sit to stand.
Most importantly, they feel more energized from getting a workout while actively sitting.
Some customers complain that this chair is quite uncomfortable. The question is, were these people new to active sitting? If so, getting used to sitting and standing desks can be uncomfortable and take a while to get used to.
What we love
Great brand known for building quality products
Elegant design
Excellent build quality
No assembly required
Many satisfied customers
The issues
Some people find the chair uncomfortable
Second Favorite Choice
Whether you're sitting or standing, the Learniture Stool is a great option if you're trying out active sitting for the first time. There was something about this stool that made active sitting much easier- while getting a nice core workout. It will gently force you to sit with a correct posture, while strengthening your back and core muscles. You can rock, sway, or fidget to your heart's content without compromising safety.
Beautifully minimalistic
The design is also great- beautifully minimalist, it takes up almost no space. The black color will fit in with almost any office space. But you also have the option of gray or red.
Most customers comment on how the stool is great value and also how versatile it is. It's also easy to assemble too, which is great. You should be able to set it up in less than a minute.
What we love
It's much more affordable than most other "perching stools."

Constant movement keeps your core strong, especially back muscles.

It's easy to assemble and operate.

A lightweight design makes it easy to move or to store. 
What we don't like
You may find that the seat is not as comfortable as some of the others on the market.
Premium Active Sitting Chairs
There are a few very high quality and expensive stools on the market.
We'd only recommend these chairs if you've had some experience with active sitting and are 100% committed.
If you're looking for the premier active sitting chair, the Aeris Swopper has been winning awards for decades in this category. Like anything German engineered, you expect a certain level of quality and functionality.
It's stand out feature is your ability to bounce around in the chair. Although it also allows for all types of movement including leaning, tilting, and swaying.
Another top quality product by Aeris, the Muvman stool is really ideal for someone who users a standing desk converter.
Probably the biggest advantage of this stool its huge height adjustment range. The standard model can go from 20″ right up to 33″, so you should be comfortable both sitting and standing.
Although the strong base allows you to sit on this chair while upright, you're actually meant to lean back against it. This allows you to keep active, both in you legs, back, and core.
The Focal Upright Seat is another excellent option for active leaning at your standing desk.
The aim of this chair to keep you leaning at a 130-135 degree ratio, which gives you the workout benefits of standing, without the spinal pressure & fatigue.
The length of the chair can be adjusted to suit people of all heights. (From 4″11 to 6″10).
It comes with a high quality anti-fatigue mat, which will help you stay comfortable while working- and not stretch out too much with your feet.
What Is Active Sitting?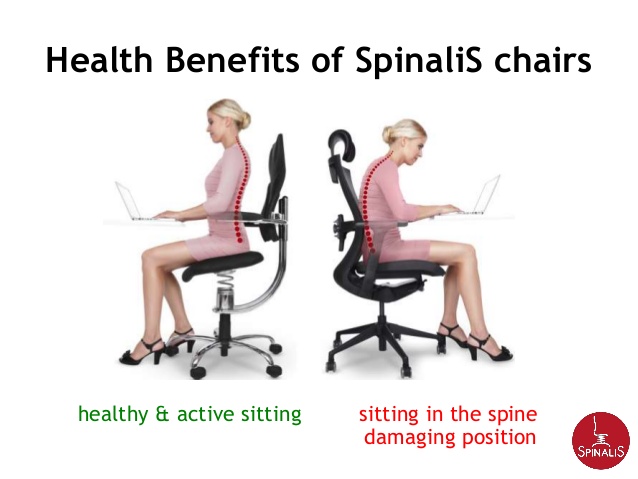 Active sitting is a way to emulate the movements of standing and walking, keeping those core muscles strong and avoiding that dreaded slouch.
Balance balls have been found to be a great classroom solution for children. But although they do improve attention, these don't do anything to help with healthy posture.
For adults, this is best achieved with a stable, backless stool. A stool like this allows you to safely move around while sitting. It's also just uncomfortable enough to stimulate good posture.
Because of limited seat space and no back, you are naturally motivated to adjust your posture periodically instead of slouching.
Benefits Of Active Sitting
If adults sit for eight hours a day, they are missing out on the movements of standing and walking which naturally strengthen our back and our core muscles.
Dangers of normal sitting
When we sit for long periods of time, we gradually lose strength in these muscles. Ultimately, this leads to muscle loss and disc degeneration, so that we end up with poor posture.
Even if we get up and move every so often throughout the day, this is not enough to undo the damage of sitting all day long.
Active sitting gets us using those muscles that remain static all day when we sit in a normal chair.
Improve focus
Besides the health benefits of reducing our risks for obesity and musculoskeletal injuries, active sitting has also been shown to improve our focus and concentration.
Other Great Ergonomic Stools
This unique item is a swivel chair, balance ball, and stool all combined into one. The upper half of an anti-burst balance ball is placed on a swivel stool with a stable, secure base.
Perfect mobility
Your movements while sitting automatically work to strengthen your core and improve your circulation. The base allows you to easily swivel at a 360-degree range.
The design
The stool is lightweight with caster wheels that can lock into place for even more stability, but which glide smoothly to allow freedom of movement. An inflation pump is included to easily keep the balance ball seat in great condition.
The High Rise model adjusts to a height of up to 33 inches, fitting virtually any standing desk.
This stool is not only easy to sit on; it's also easy to get up from, a benefit that's often overlooked when evaluating office furniture.
Another bonus: a small footprint means you can purchase several of them for your office without worrying about the amount of space they will take up.
The design
The round, frameless seat adds to the comfort level, as does the molded foam cushioning. The non-skid base gives you maximum stability, moving with you to allow for rocking, swaying, or simply sitting.
Perfect for all flooring
The rubberized coating will grip almost any surface. It naturally rests upright and does not require constant effort for balancing. It's also easy to assemble in just four steps with no tools.
No products found.
The base of this wobble chair is gently rounded, allowing easy and stable movement. It balances upright naturally, allowing you to sit normally as well as rock or sway safely.
Great height range
It's a simple way to exercise your legs and core muscles while sitting. The Executive Plus model adjusts to an amazing range of 21-35 inches.
The design
The rubberized, non-skid coating means ultimate safety, as it grips most surfaces. Be aware that the seat does not swivel and is also a bit smaller than some of the other items listed here.
It's also not quite as soft and "cushiony" as some of the others, but if you prefer a harder seat, this may be the one for you. It's ideal for a "perching" position which takes pressure off your legs and feet.
Ergonomic Drafting & Professional Stools
This is an excellent stool for hairstylists or dental hygienists who have to sit while working on patients all day long. Many have reported that it provides relief for lower back pain.
The hydraulics allow you to adjust to a higher or lower range than many other seats. The lever for seat adjustment is in the back, which may take some getting used to. The wide saddle shape forces you to sit upright.
This seat gets top marks for its unique saddle design, which relieves pressure on the spine caused by long hours of sitting. Every element of its design reflects comfort, durability, and stability.
This simple stool has some great ergonomic features, including a 360-degree swivel and an adjustable seat height. It maneuvers smoothly thanks to a five-legged arched base and heavy-duty dual-wheel casters.
The base is made of gleaming chrome to give it a contemporary look. The disc-shaped cushioned seat is upholstered in black bonded leather, classy and comfortable.
Besides comfort and ease of movement, this stool has a very distinguished and professional appearance, making it a great addition to any office.
Another plus is that this stool is amazingly easy to assemble compared with similar products on the market. It comes with a limited one-year guarantee, ensuring that you'll be satisfied with this wonderful drafting stool.
If you love the basic drafting stool but need just a little something more, this is the stool for you.
 It gives you all the benefits of the AmazonBasics Drafting Stool listed above: smooth maneuvering, comfortable leather seat, unique five-legged chrome base, and limited one-year warranty.
However, this also comes with some extra features. A gentle, curving back cushion provides added support, and a ring around the base can be adjusted for height to serve as a sturdy footrest.
The footrest improves the circulation in your legs, reducing the risk of pinched nerves. The back also detaches, so you have the option of using this as a backless stool, too. It also has a professional and classy appearance that will look great anywhere.
This stool can be adjusted for an amazing range of 20-26 inches, thanks to its hydraulic lift design and a lever that can be easily reached from any position.
A round saddleseat is ideal for reducing pressure on your spine and legs and improving circulation. This design is perfect for forcing you to sit up straight rather than slouching.
A sturdy, five-legged metal base with dual-wheel casters means easy movement and unbeatable stability. The seat comes in black or gray. It's easy to assemble, move, or store.
The chair has a sleek, sophisticated appearance. The  2-inch sponge upholstered cushion makes for a thinner, harder seat than some other choices listed here.
Even with adjustments, this stool is shorter than some of the others on our list and works best for those with a more petite stature. It's very light and easy to assemble.