If you've recently made the transition to a standing desk, you'll want to arm your new ergonomic setup with a suitable standing desk stool.
And experts agree that is just one of the ergonomic precautions you should take according to the Mayo Clinic.
at a glance:
our top 5 picks for standing desk tools and chairs
So how do you choose the right stool or chair?
Well firstly- build quality, comfort, and overall features are all important factors.
But the most important aspect is active sitting. Are you engaging your core when sitting?
To make your decision easier, we have listed below a number of options on the market.
These stools and chairs will keep your posture safe while burning some calories at your desk.
Quick Comparison: Our Top 5 Picks for Standing Desk Stools & Chairs
IMAGE
PRODUCT

Best Standing Stool

Seat height: 18.5-28"
Seat width: 12 5/8"
Weight limit: 265 lbs

Best For Active Sitting

Seat height: 22-32.26"
Seat width: 16.9"
Weight limit: 220 lbs

Best Quality Stool

Seat height: 23.5-33.5"
Seat width: 16"
Weight limit: 265 lbs

Best Value Desk Stool

Seat height: 23-32.75"
Seat width: 14"
Weight limit: 270 lbs

Most Ergonomic Stool

Seat height: 22.5-46.3"
Seat width: 18"
Weight limit: 220 lbs
How We Tested
After consulting with some independent massage therapists, other practitioners, and doing our own research, we made our recommendations based on five key factors.
These factors included seat comfort, build quality, adjustability, stability and overall value into account.
Seat comfort
One of the most important features in terms of user satisfaction is the seat comfort of the stool.
First of all there are ergonomic chairs on the market that will allow you to work longer hours without getting cramps.
Some stools come with additional padding that can be on the soft or hard side. Some people prefer a softer cushion while other would choose a harder one.
This is a completely personal choice, but if you want to give your back proper support you might want to go with the harder cushion.
Build quality
No matter what product you are buying you want it to last as long as possible and have the same performance level to the very end.
However not all standing desk stools are created equal. The cost of the standing desk is not always a key factor that determines if something will last.
This is why we turned to the users that have already tried these stools and listened to what they had to say.
Adjustability
Most people want a certain degree of adjustability from their stool. This is especially important of more than one person will be using the stool.
The basic feature you need to be able to adjust is the height of the stool. People using a standing desk should be able to lower their chair together with the desk.
Some drafting chairs offer lumbar support which can be adjustable for height and depth to accommodate a larger span of body types.
Stability
Most standing desk stools are rated to withstand 300 lb of body weight. If you add 8-10 hours of work to the mix you will see why stability is important.
It means your chair will give you the proper support, daily, after many hours of use. Sitting on an unstable chair stool that was manufactured poorly in any way can cause you more harm than good.
Overall value
Having a great overall value means you got the best chair available within that price range. This is where we asked ourselves, is this stool worth the cost?
| | | | | | |
| --- | --- | --- | --- | --- | --- |
| Stool | Material | Seat Material | Seat Width | Minimum Height | Maximum Height |
| Songmics Stool | Polypropylene, PVC | High-density foam | 15'' | 19.7''  | 27.6'' |
| Modway Veer | Polypropylene, PVC | Leather, Mesh | 20'' | 21.5''  | 29.5'' |
| Flash Drafting Chair | Nylon, Steel | Foam, Mesh | 20'' | 17.5'' | 25'' |
| Learniture Stool | Polypropylene | Vinyl | 12.6'' | 18.5'' | 28'' |
| Varier Move | Polypropylene | Fabric | 16'' | 22'' | 32.25'' |
| Vivora Luno | PVC | Machine washable cover | 22'' | 22'' | 24'' |
Our Favorite Standing Desk Stool
Sale
Weighing up comfort, price, and core strengthening, this stool is my personal favorite.
The Learniture Active Learning Stool has a simple yet attractive design. It was made for adults, but children over 10 can use it.
The base of the stool is made from thick foam, and is slightly curved to allow you to rock back and forth while working. This is supposed to exercise your core muscles while you're sitting.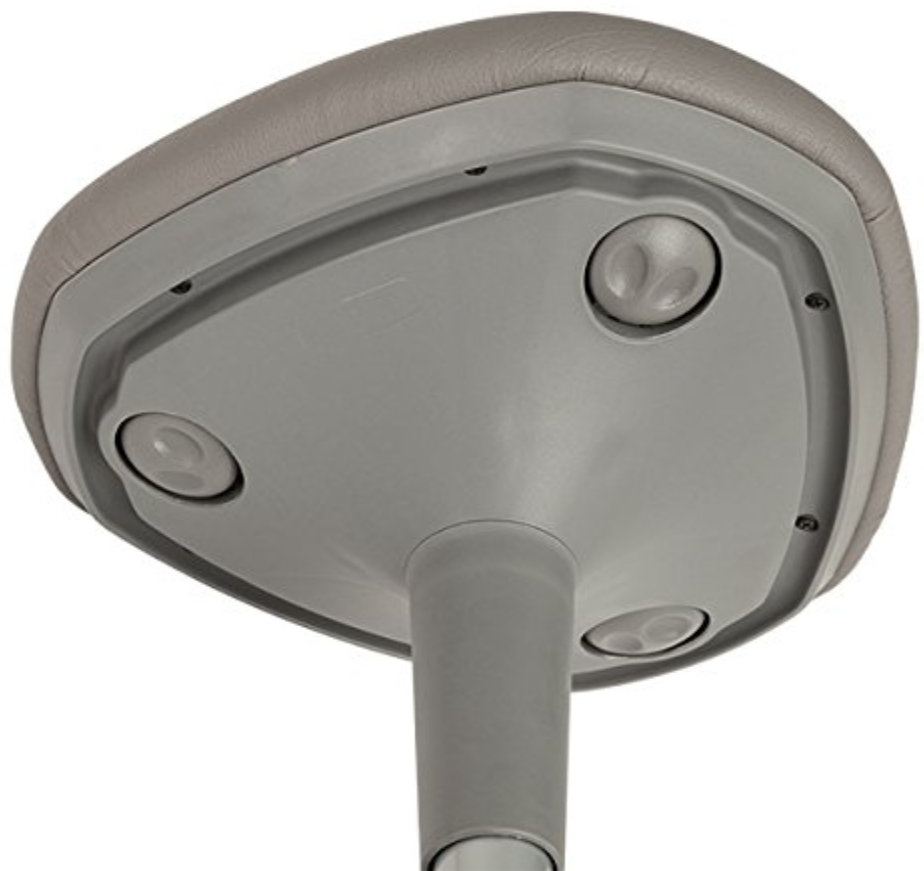 It's is easy to move around, and should perform great for individual purposes as well as group work.
You'll be able to choose from 5 different colors. This chair was inspired by teachers that wish to keep the classroom active.
What customers are saying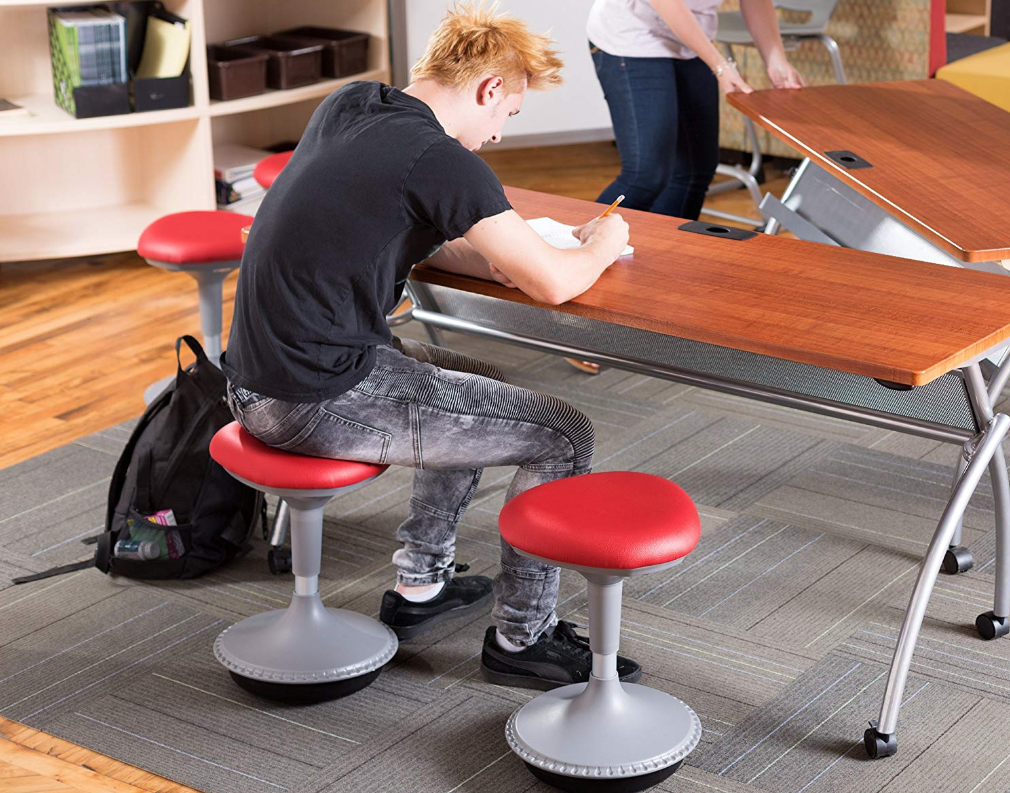 Most people that bought this stool really like it, and they do feel it strengthens their core while sitting.
The thing is, you have to be determined to keep your posture the right way otherwise you'll slump down.
Slight problem setting up
The assembly got frustrating for some people, since there are no instructions in the package.
What we like
Sleek design that looks good
Easily adjustable and movable
Helps with your posture
What we don't like
Some frustrations with the assembly
Best Value Desk Stool
VARIChair Pro
Most reputable standing desk brand
Offers a wide range of movement
Comes pre-assembled
Works with air-lift piston that raises the seat
For those that know anything about standing desks, you've probably heard of the Varidesk brand before.
These guys have been making standing desk products for a while, and they've built up a reputation for making great products.
And the Varidesk Standing Desk Chair is no exception.
It's made to keep you active while working.
It has a low back that keeps your posture straight, and just like the learniture model, you'll be able to rock back on it.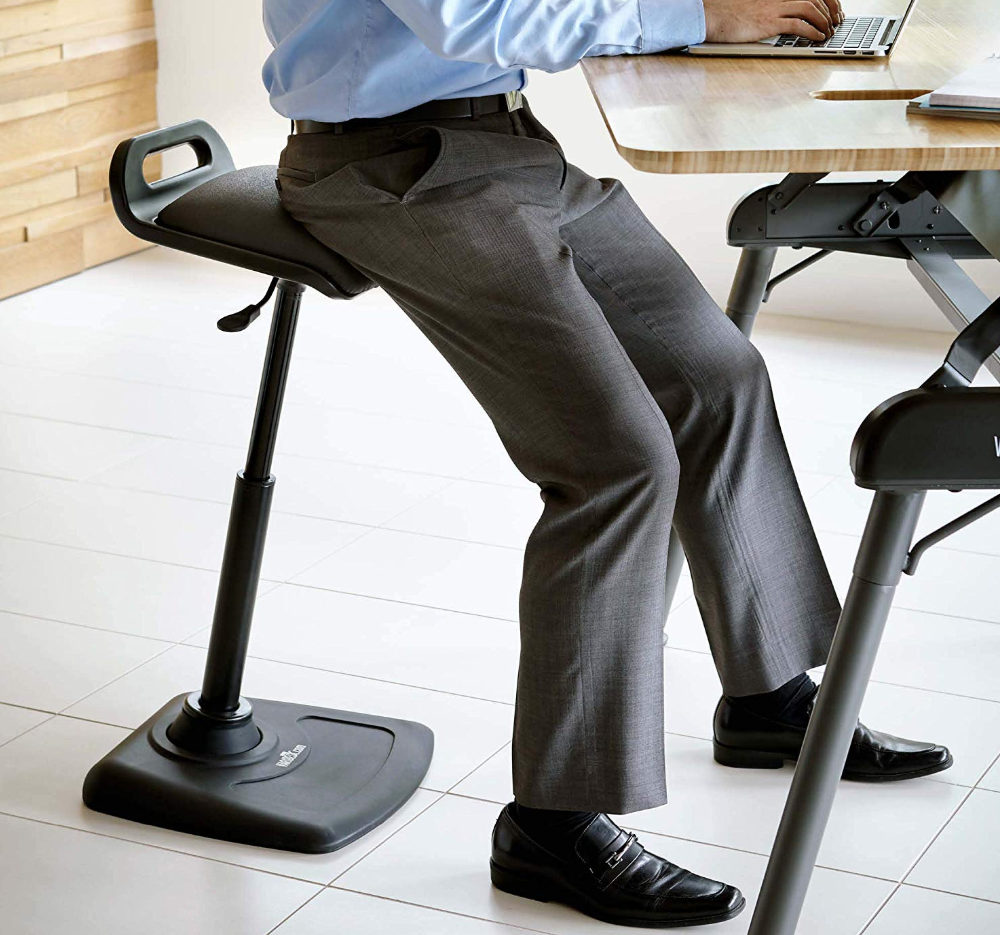 It comes in black and offers a nice looking design with a cushioned seat.
It is positioned on a pedestal, and you'll be able to raise it up, or lower it down.
Comes fully assembled
No need for tools with this one, it gets delivered to your home fully assembled. All you need to do is lift it up, and place it where you need it. It will hold up to 220 lbs.
WHAT CUSTOMERS ARE SAYING
Most customers that tried this product thought it was uncomfortable at first, but the ones that gave it a week liked it.
Is the price really worth it?
Another thing that people might be hesitant about is the price range.
The Varidesk brand has earned its name both for building quality standing desk products.
So if you're not too fussed to pay a little more for the best in the business, this is your stool.
What we like
Great looking design
Comes fully assembled
Great for active sitting
What we don't like
More info
If you want to hear more about the Varichair, check out our in depth review on the Varichair series.
Product Comparison Ratings
Overall

Usu nulla dissentias at asvini. Nam ei facer probatus.

Quality

Comfort

Usu nulla dissentias at asvini. Nam ei facer probatus.

Ergonomics

Usu nulla dissentias at asvini. Nam ei facer probatus.

Value

Usu nulla dissentias at asvini. Nam ei facer probatus.
Premium Standing Desk Stools
The makers of the AERIS Muvman Sit-Stand Stool are the proud winner of the 2011 RedDot award for design.
There's two options available
Standard seat that rises up to 33'' and comes in black
A high seat that goes up to 36'' and comes in grey
The Muvman uses a pneumatic lift and can be tilted forward. This allows for dynamic movement while you stand and work.
We really liked the rubber base that won't slip.
What customers are saying
Aside from the good looks, the customers are raving about how comfortable this stool is. They like the option to be able to sit fully, or lean on while standing.
Being able to lean while standing is highly regarded in certain professions (dental, medical) but realistically it does help anyone that works a lot in front of the computer.
The stool is sturdy and feels like it will last a long time.
The only real complaint is the higher than usual price tag, but people also say it does pay off.
LeanRite Standing Desk Chair
Adjustable active stool
Allows multiple positions while standing
Comes with a anti-fatigue mat
10 minute assembly
The Ergo Impact Stool is another premium stool that comes high recommended.
Instead of having to getting a chair and a standing mat separately- this one has both.
Flexible movement options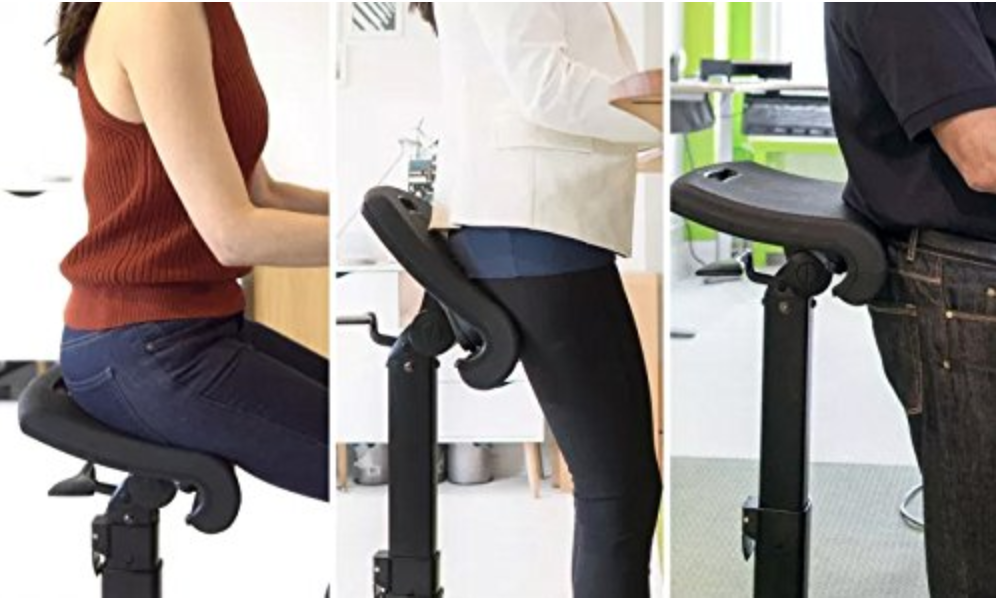 The chair allows you to switch between 3 positions: lean, sit or perch. This feature will grant you more control over how much of your weight you'll to transfer between your core and legs.
Endorsed by Orthopedists
This product was tested by Orthopedists and they recommend it. It will be good for people from 5'0'' to 6'4'' tall. It will hold up to 270 lbs.
This chair can be adjusted up to 46.3'' making it the tallest chair on our list so far. This model has also won some awards for design.
WHAT CUSTOMERS ARE SAYING
Most of the people who bought the stool definitely recommend it.
The assembly is quite easy. In a few cases the screws that come along where mismatched so the lucky few got themselves a foot pillow as well.
Sitting position not so comfortable
One complaint that keeps repeating – some people are not happy with the comfort of the sitting position.
Some customers really enjoy the mat that comes along. Also working in your socks or barefoot can be quite relaxing, just be careful not to slip.
WHAT WE LIKE
Award winning design
Recommended by Orthopedists
Easy assembly
WHAT WE DON'T LIKE
Sitting position not comfy for everyone
The Varier Move Tilting Saddle Stool was actually tested by the Mayo clinic and they proved this chair increases calorie burn.
It is a unique chair designed to follow your body's curves. It is lightweight and you'll move it around with ease.
If you'd like to know more about these type of chairs, feel free to see our saddle stool guide.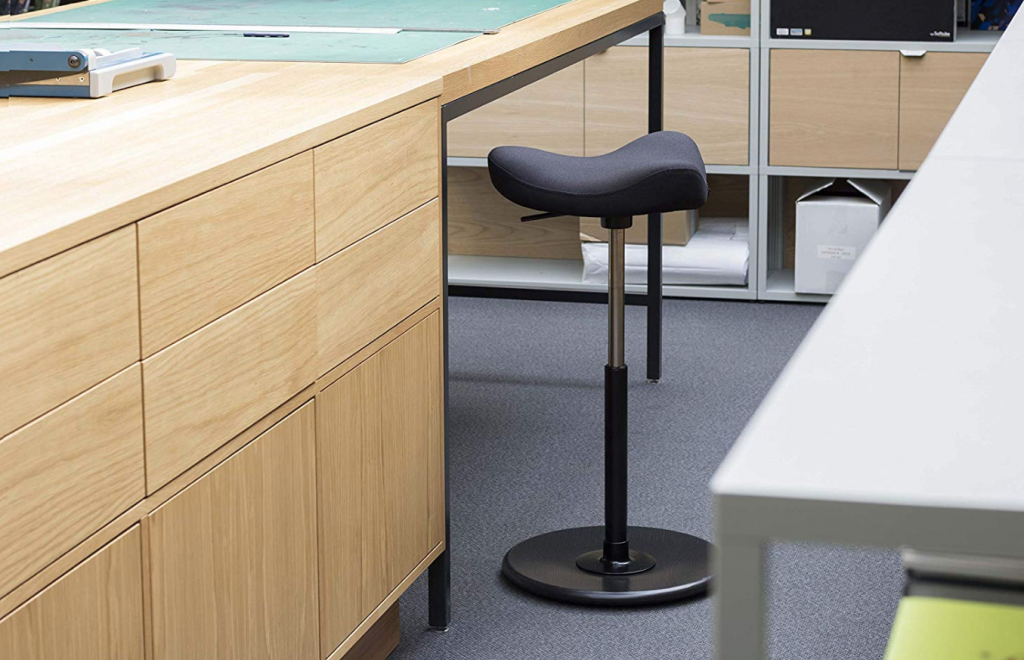 You can adjust it by pulling the lever that works with a gas lift. The idea behind this product is to minimize space, and waste. It will hold up to 242 lbs.
The HQ of the company is found in Oslo, Norway. They made sure the seat cushion is extremely soft with almost 2" of padding. The cushion is replaceable as well as the seat.
What customers are saying
The people just love the saddle seat design. They say it works great for moving around your work space. If you have work areas in front and behind you, it's easy to turn. Also it works great for drummers.
The seat cushion is truly comfortable while supporting your back. This stool will keep you active and straight. The only downside; not everyone can afford this one.
WHAT WE LIKE
Booty friendly seat design
Thick cushion
Swivels for ease of use
Other Chairs For Standing Desks
Sale
The Songmics Swivel Standing Stool offers a truly good looking design, and it auto-returns to its position so you can reap the benefits of active sitting. There are two handles on the side that serve to move it, or if you wish to rest your arms.
Under the seat you'll find the button that adjusts the seat height. The chair swivels 360 degrees and can be tilted by 8 degrees. The PVC base was made to stay in place, and to protect the floors from scratches. The seat is padded with high density foam that should last a long time.
This chair will be suited for people taller than 5′ 11″. There's another model available if you're shorter than that.
WHAT CUSTOMERS ARE SAYING
The opinions are divided when it comes to this chair. Some people like it, but they also say leaning gets uncomfortable after a while. If you wish to sit down your legs just hang in the air.
WHAT WE LIKE
Works great for taller people
Friendly price
WHAT WE DON'T LIKE
Customers get confused over recommended height
The Stand Up Desk Store Active Sitting Chair looks simple, but it will keep you active while you sit. Its base works by counterbalancing your moves and it will allow you to rock, lean and tilt while working.
The seat should be comfortable with its 3'' of padding. The assembly is simple, and doesn't require any tools.
WHAT CUSTOMERS ARE SAYING
The customers enjoy the padded seat, but definitely think you couldn't sit on it for hours. That's why this chair is a great match for a sit/stand table.
They like the relief this chair provides and also that it doesn't require much time to get used to. Most of them like the core workout, and feel it's easy to switch from sitting to standing with this model.
WHAT WE LIKE
Great value for the money
Simple unobtrusive design
Works as expected
WHAT WE DON'T LIKE
Doesn't support longer sitting
If you're looking for the most minimalistic design on our list then the Kore Office Wobble Chair would be a good match. Just like the previous models, it was made to keep you active while you work.
The base works by counter-balancing your weight which should keep you perched and your core muscles strong. The base of the Kore Office chair has a rubberized coating that won't slip or scratch your floor.
WHAT CUSTOMERS ARE SAYING
The customers that bought this product are happy with its quality and didn't need to 'adjust' to it at all. They like how it keeps their core active, and compare it to a Pilates ball.
It is easy to assemble, and can be used for longer hours without feeling tired, but if you're using it for a standing desk you won't be able to lean on it.
WHAT WE LIKE
Nice minimalistic design
Keeps your core engaged
No need to get used to
WHAT WE DON'T LIKE
Sale
The Modway Veer Drafting Chair's design surely looks like something out of the future.
We really liked the foot ring where you can rest your feet while working.
The back of the chair can be locked in the desired position to support your body weight. If you pull the lever that you use to raise and lower the chair, you unlock its middle area allowing you to lean.
The height is adjustable with the help of a one touch pneumatic lift. The armrests are adjustable and can be flipped up to 90 degrees.
The Modway manufacturers encourage the customers to use it at home, at the office or classroom. This chair will support up to 330lbs which makes it the strongest on our list so far.
WHAT CUSTOMERS ARE SAYING
There's definitely a lot of people that use this chair. The thing they like the most is the affordable pricing.
This drafting chair is as sturdy as advertised, and feels comfortable to most of the customers that get it. The double casters allow you to roll it around with ease.
Some people had issues on assembly, it is easy to place the seat the wrong way and get a weird angle. Even if you make a mistake, it's easy to fix it. Overall customers feel they got a good deal.
WHAT WE LIKE
Affordable price
Quality heavy-duty parts
Comfortable for most people
Comes in 4 colors
WHAT WE DON'T LIKE
Assembly might get confusing
Sale
The Flash Furniture Drafting Chair is quite similar to the Modway. It is also made of mesh material that helps the body breathe. The design is similar as well, but in this case you don't get to choose colors. It only comes in black.
This chair has an interesting design on the front edge of the seat called 'the waterfall' that is supposed to relieve the pressure from your legs and help with circulation.
Marketed specifically for professions where people need to be seated above the usual height or make eye contact with the client. It will hold up to 250 lbs.
WHAT CUSTOMERS ARE SAYING
Most customers that bought this chair are happy with the comfort it provides. They use it up to 8 hours and say it doesn't hurt their back. The mesh is a great thing if you live in a warmer climate.
Some people are not happy with the height of the arms, and they're not adjustable, so they stay flipped over most of those cases.
Overall it is a good budget chair that should last you a long time.
WHAT WE LIKE
The mesh material keeps you cool
Good looking waterfall design
WHAT WE DON'T LIKE
The arms are not height adjustable
The Modway Stealth Drafting Chair is yet another budget chair that is comfortable and will look good in your office. It also pairs nicely with your work space at home, regardless if you are practicing music or arts.
Just like the previous model it has the waterfall seat and will provide lumbar support due to the added padding. This one supports 330 lbs and has added padding for your comfort. The dual wheel casters help you roll it around with ease.
WHAT CUSTOMERS ARE SAYING
People generally choose this chair because they believe it provides good value for the money spent.
With that being said there's a certain issue that some customers have experienced – the chair arrived without pre-drilled holes (there's 4 of them) and even after numerous complaints, the manufacturer isn't fixing this problem. So the customers end up drilling holes themselves.
Also some customers felt the chair is not of the highest build quality.
WHAT WE LIKE
Affordable price
Adjustable seating
WHAT WE DON'T LIKE
Problems with assembly
Not of the highest build quality
References
https://www.mayoclinic.org/healthy-lifestyle/adult-health/in-depth/standing-workstation/art-20088544
https://pubmed.ncbi.nlm.nih.gov/29865102/
https://www.monash.edu/ohs/info-docs/safety-topics/ergonomics/sit-stand-desks
https://ergonomicshealth.com/active-sitting-guide/