Honestly, I have been toying with the idea of getting a standing desk for the past year and a half.
This mainly involved reading countless online reviews, trying out a friend's desk, and imagining myself effortlessly losing weight while working for the man.
But as of three weeks ago, I'm the proud owner of the Varidesk 49900 Standing Desk Converter.
How is it so far?
Overall it's been great, but it definitely takes some time to get used to. My legs were very tired for the first few weeks.
I took the advice of some other standing buddies and decided to do two hours standing and then 1 hour sitting.
Anyway enough about me, which standing desk converter is right for you?
Well that is a tough question, which you find out very soon.
For now, here is my take on the best standing desk converters on the market today.
My Favorite Standing Desk Converter
One of the reasons why the Varidesk 49900 is my absolute favorite is because it was so easy to set up. The entire desk, stand, and structure came out of the box fully assembled with absolutely no effort involved on my part. I like that it looks modern and professional with space for an extra monitor as well as a lower surface for a keyboard or mouse.
This desk has a spring-loaded lifting mechanism, so you can easily lift up to 35 pounds in three seconds. It allows you to sit down too and to quickly adjust the height again if you want to stand up. This is helpful especially if you are still getting used to standing desks and may want to spend some of your time seated.
Another big plus is the number of positive reviews that customers have given it, which indicates general user satisfaction. Many people with back issues also say they have found their back pain disappearing while those recovering from surgery also find it a very comfortable way to work. It also comes at a really good price, so it is my hands-down winner.
Look and feel: Black and sleek, this converter would look great in a study, office environment or even in your living room. It offers quite a lot of space for holding extra books, tablets etc. and has a professional design feel to it.
Best thing about it? It is really easy to use. From the moment you take it out of the box and put in on your desk, you will find yourself able to work comfortably and efficiently.
What else do I like about it?
It looks really neat and tidy
Taller people are also able to use it with ease
Simple to operate
What don't I like about it?
Some users have complained about needing a sturdy desk when using this converter, which makes sense. I wouldn't put this on a flimsy fold-up table and expect it to hold two monitors and laptops.
My Second Choice Converter
No products found.
The FlexiSpot M3B Standing Desk comes in close second space. Basically, it is a bit bigger offering you more space in terms of a desktop area and for adding extra things to your workspace, while also enabling you to move the height of the trays up and down.
Although bigger, it does not move out sideways, making it more compact that one might expect. It has received many excellent reviews and the vast majority of customers seem very satisfied with this standing desk.
For me, this desk makes sense for those professionals who would like to have more monitors, laptops and other devices in their work area. Because of the smooth adjustment up and down, it is possible to use both when standing or seated and you can effortlessly move the trays up or down if you want to stand for a bit, or conversely, if you feel like working sitting down for a while.
Look and feel: The FlexiSpot M3B Standing Desk has a very nice, professional look about it with a smooth black finish. It would work well both at home or in an office environment.
Best thing about it? It can take up to three monitors, says one customer.
What else do I like about it?
Works well whether you are seated or standing
Simple to operate
Slides out of the box and ready to use
What don't I like about it?
A few people have commented that this is quite heavy and not that easy to set up.
Great Value Converter
The VIVHeight-Adjustable Standing Desk deserves a special mention too as it comes at really great price offering most of the functionality of other standing desks on the market. While it does not have the sleek look of the more expensive models, I like that the majority of users comment on how sturdy this desk is.
Another small difference is that you will have to attach the feet to the structure, but this is really minimal effort involved on your part. If your office won't pay for a desk or you find yourself on a tight budget but really needing a standing desk – then the VIVO Height-Adjustable Standing Desk is really a great option.
Best thing about it? At a fraction of the price, you can get a desk that allows you to be both seated and standing when working.
What don't I like about it? The keyboard tray space will hold a standard keyboard but if you have a larger keyboard then the tray may be too small for you.
Standing Desk Converter Basics
Once you have decided to go for a standing desk converter there is quite a bit to consider. For instance, whether you want to go for a fixed dual platform, which basically has a monitor platform and a keyboard tray, and is usually below the screen. The height of the monitor is usually determined by springs or gas lifts. The base can come in different shapes – a Z shape, double Z shape, X shape or double X shape.
Some standing desk converters are operated by levers or electric buttons and this is also a consideration. Instead of a fixed platform there are also standing desk converters that have large trays and others have a floating design, which means you have more mobility and can shift or turn your keyboard and monitor right around.
You could also opt for a single platform converter as these are usually quite affordable. But they don't look as nice and are not that ergonomic. You also can't adjust the height and it is for standing only. So, in my opinion, I'd rather fork out a bit more and get a standing converter that gives you more options in terms of adjustment possibilities and won't end up giving you back pain.
What is a Standing Desk Converter?
Quite a lot of thinking and design goes into the way that modern standing desk converters are built. While being practical, solid and attractive in appearance, the main aim is to make the working experience comfortable, ergonomically sound and healthier, ensuring more productive hours at work and no pain and discomfort while working.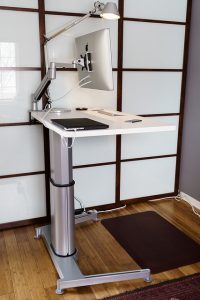 How To Stand Properly
It is important to stand up straight when you are standing at your workspace. You should not lean forward or look down at your screen – it should be positioned at eye level, about 21 inches away. If you have more than one screen and use them equally often, these should be placed as close together as possible. Your wrists should be straight and able to reach the keyboard without any strain. A footrest can help you to shift your feet and reduce pressure on your feet.
How To Choose A Desk
The key factors that will guide you on which kind of converter you want to get will probably be your budget, the amount of space you have in your study/office, how you want to position your keyboard, how much stability matters to you and how ergonomically sound the converter is.
Other vital considerations include the setup time, some converters come readymade and can be simply taken out of the box and used right away. Others have minimal assembly involved, from putting on feet or screwing in monitor arms. Quite a few of them can be heavy while still in the box and you may need help in getting it out of the packaging and onto your desk.
Standing Desk Configurations
X-Shape Adjustable Desks: These converters usually move the desk up and down and feature some of the newest designs in standing converter desks. The double x shape will give you more speed in the adjustment process and a big plus is that these desks require minimal assembly and are usually ready to use at arrival.
Z-Shape Adjustable Desks: The z shape is the more traditional design and the first standing desks came out with the z structure. These usually have the keyboard moving out and back, which basically means having to step back when using the keyboard while standing.
Electric Operation: These are a good option for people with injuries or disabilities as the height is controlled by simply pressing a button. Think about whether you really need to use it though, as the hand levers tend to work well too and cost much less.
Post & Tray Design: This kind of design is simple and more minimalistic. It works best with a single monitor and for laptops that aren't too heavy. There is extra space for keeping phones, tablets etc.
Floating Arms: While these look really nice, floating arms are generally more expensive and require some assembly on your part. They also tend to be less stable than the fixed converters.
Laptop Oriented Designs: A laptop-type stand is at the lower end of the price spectrum. It may work on the short term but if you are planning on more heavy use, you may begin to develop discomfort.
Other Great Standing Desk Converters
This desk converter offers great value for money as well as a design that is good-looking and functional. The electric workstation is adjustable, and you can easily move from sitting to standing by simply pressing a button. There is enough space for two monitors on the top tray. Many happy customers rate the VIVO very highly too.
This converter has a Z-structure and many users say it is very sturdy and silent. It gives you a 25-degree range of keyboard tray adjustments while switching from standing to sitting is facilitated by gas struts that can go up to 20.5 inches, useful for very tall customers too.
This desk has extremely high approval ratings, mainly because it is sturdy and also because it has unlimited settings for height. Another customer also said her back pain disappeared after she started using it. It is quite heavy, however, so if you do order it, have an extra pair of hands to help you set it up.
The handy thing about this desk converter is that it is made to fit into corners to save on space. In addition, it has a dual spring mechanism and a fair amount of desktop space. It allows for seated and standing use and has 8 pre-set height adjustments.
It is definitely worthwhile to take a bit of time to find the right standing desk for you. No two people are the same, and what may work for your wife or colleague will not necessarily be comfortable for you. Considering that this is where you will spend the best part of your day, rather be sure you find the right fit for you.