If you're a medical professional, artist, or office worker, choosing an ergonomic saddle chair requires some careful consideration.
The stool or chair needs to be practical for work, ergonomically comfortable, highly adjustable, and can be easily manoeuvred.
This is imperative according to Mary Gale, Occupational Therapist, who believes saddle chairs allow you to sit with the best possible posture, to avoid deformities developing or deteriorating.
More importantly, it should encourage active sitting.
So if you're concerned with the dangers of prolonged sitting, this type of chair is definitely worth considering.
To save you some research time, here are some of my favorite saddle chairs on the market.
Best Overall Saddle Stool
"High Quality Multi-Purpose Saddle Chair"
Used by hair stylists, tattoo artists, dog groomers, the FRNIAMC adjustable saddle chair is our favorite all round choice.
Its height can be set to up to 29.5" which is notably higher than most other saddle chairs, making it one of the best choices for tall people.
Focus on comfort
The seat and the backrest are both comfortably padded and covered with high-quality leather that's great in both cold and hot weather.
All that is placed on top of a sturdy aluminum base and legs that can withstand up to 350 pounds of weight.
The heavy-duty nylon wheels too are of great quality and can effortlessly and quietly move the chair on most indoor surfaces.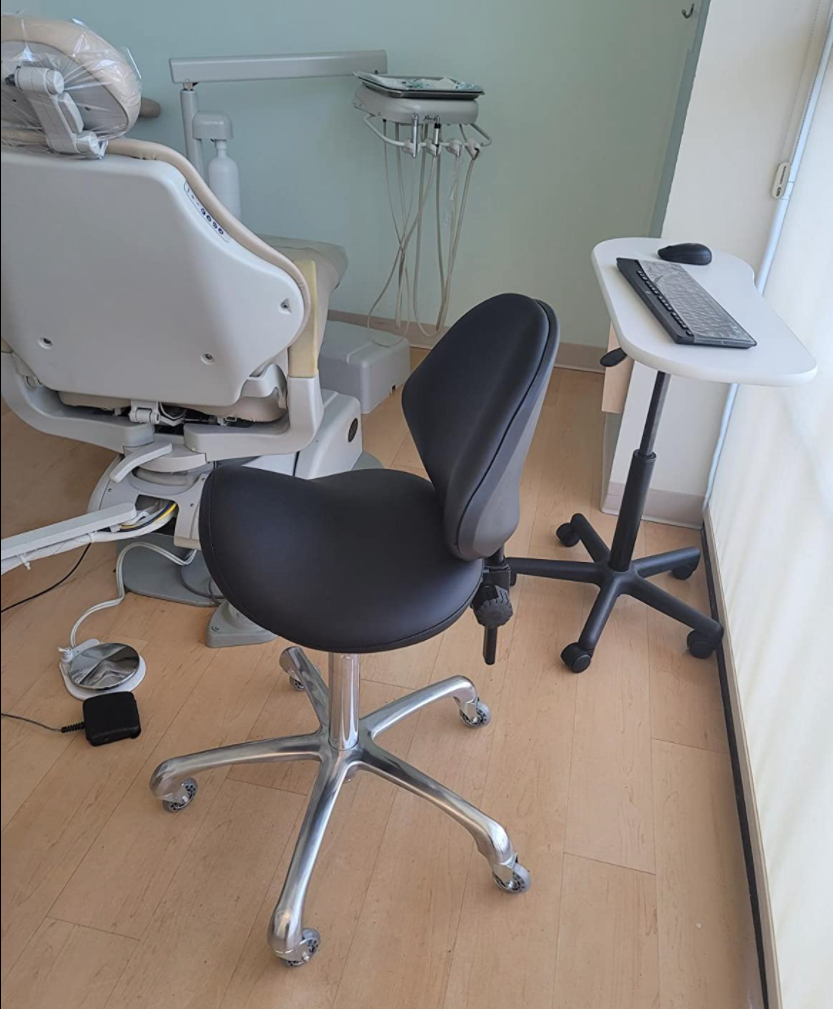 What customers are saying?
While this saddle chair is more comfortable than others, some customers still find it hard getting used to the seat.
In saying that, those who gave the chair some time to get used to it, all seem to be very happy with it.
Pros:
The seat's height is adjustable to anywhere between 20" and 29.5", great for tall people.
The 5 heavy-duty nylon casters are sturdy and noiseless enough even at maximum weight pressure.
The padded seat is covered with quality leather for maximum comfort.
Cons:
While the seat can be set high enough for taller people, it's not big enough for wider folks.
Most Ergonomic Saddle Chair
"The Rolls Royce Of Saddle Chairs"
If you're looking for best quality saddle chair, it's hard to go past the HAG Capisco chair.
Full disclosure, this is kind of a hybrid of an ergonomic chair and a saddle stool.
But that's what makes the chair so innovative, comfortable, and special- it combines the best of both worlds.
That's why it was famously endorsed by Joe Rogan, a guy who spends over 10 hours + seated each day.
Of course, it comes with a moderate to high price tag, but you won't be let down by the value and comfort you get from this chair.
If you want to read more about the finer details of this chair, check out our HAG Capisco review.
Best Active Sitting Saddle Stool
"Great Option For Both Sitting & Standing"
This high quality Norwegian ergonomic stool will get you sitting correctly while engaging your core.
In fact, the Mayo Clinic have tested it- reporting that you will burn 18% more calories while using this stool.
Created in the design of the original tilting saddle stool of Per Oie from 1985, this stool is made to follow every movement of your body.
The seat swivels and the base can tilt for quite a bit, offering great flexibility.
This chair is also a great option to be used as a standing desk stool.
It is also soft and comfortable to sit in, plus it's specifically designed with smooth and rounded edges to further enable your movement with the chair.
What customers are saying?
There doesn't seem to be any customers dissatisfied with this Varier chair other than the few that simply aren't used to saddle stools.
We've reviewed some other Varier products and we're not surprised that the consensus is overwhelmingly positive.
Pros:
The versatile construction of this stool moves in all directions together with your body.
The materials and Norwegian design of this saddle stool make it exceptionally durable and long-lasting.
The seat offers impressive comfort. Its rounded edges are designed to give your body maximum freedom to move around.
Cons:
This saddle stool lacks a backrest as well as wheels for mobility.
Saddle Chair With Back Support
"The Most Comfortable Saddle Chair"
The Salli split saddle stool has a unique design that supports the hands and upper bodies of professionals while they're doing repetitive tasks that require precision.
The seat can be tilted backward and forward at a 30-degree angle, or placed in an upright position.
It is designed to redistribute the pressure that builds up in your buttocks and to strengthen your core muscles. The seat height can also be adjusted.
This chair is recommended for surgeons, dentists, tattoo artists, and other professionals who often put their upper limbs under stress.
The main difference between this model and the other Salli models is its multi-adjuster which allows you to further adjust the two parts of the saddle by changing their width and angle.
What customers are saying
Customers love how this chair was designed, the base is made of black aluminum, and you can choose to receive it with a chrome finish.
The only downside customers report is the high risk of damaging the ErgoRest handles which could happen quickly if you use them for support when getting out of the chair.
This is why the ErgoRest handles come with only a 2-year warranty, unlike the seat that comes with 10 years of warranty.
Pros
It has a unique design made for professionals.
It features unique ergonomic solutions.
It is highly adjustable.
Cons
There's a risk of damaging the ErgoRest if they're used for support when getting out of the chair.
Best Portable Saddle Chair
"Ideal For Beginners & Transporting To The Office"
Just like Salli the saddle chair, the Humantool chair was also designed in Finland and aims to give office workers a daily ergonomic experience.
The best part about this chair is its portability, it can literally be used on any type of seat. Simply place it down on your existing seat, and you get an instant saddle chair that has no weight limit.
This saddle chair works with a swinging motion that is supposed to relax your back but also keep you in an upright position.
The saddle swings in all directions and engages your core and muscles as you try to stay upright.
What customers are saying
The Humantool is mostly used by yoga practitioners, office workers, and people that work around high counters.
Customers say that the saddle seat will raise you up 3.9'' in height and should give you relief while sitting.
The only thing some customers didn't like is the carpeted base of the saddle that doesn't seem to last. The manufacturer might wish to consider adding some grippy material.
Pros
It is portable and easy to take to work.
It keeps you upright.
Works with a swinging motion.
Cons
The base needs a better grip.
Best Dental Saddle Chair
"Preferred Among Dental Hygenists"
The Dr Lomilomi hydraulic massage stool wins top honors in our dental category.
Its height can only be adjusted up to 27" and the wheels are made of rubber but everything else in it exactly how you want it.
For the price you cannot go wrong- the seat is incredibly comfortable and gives your back ergonomic support
It's filled with a CF-free molded foam and it's covered with a nice PU leather.
The base and the frame of the chair is very sturdy and made out of high-quality materials, giving the chair a weight capacity of 350 pounds.
What customers are saying?
The plastic wheels of this chair appear to be the only thing customers dislike about it. They are sturdy enough but they are not suitable for every surface.
Aside from that, the vast majority of the customers are more than satisfied by the feel and the performance of the stool.
Pros:
The seat is very well designed and offers great back and spine support even for prolonged sitting sessions.
The base and the seat plate of the chair are very powerful and sturdy, guaranteeing a long and effective life for this chair.
The foam in the seat is a CFC-free molded foam and is covered with a coated PU vinyl.
Cons:
The wheels aren't really up to standard compared to other saddle stools in the same class.
Best Split Saddle Stool
If you're looking for a high quality split seat chair, look no further than Kanewell's twin saddle stool.
It has a superior ergonomic design, which will keep you comfortable in whatever task.
The split also helps for a great airflow under and around the seat, making it ideal for hot summer days.
And while the padding is minimal due to the split nature of the seat, the leather upholstery is of excellent quality.
What customers are saying?
Most people are quite satisfied with this chair, especially for the budget-friendly price for which it's sold.
Those that aren't used to split saddles can find the seat to lack padding but that's normal for this type of chair.
Pros:
The leather upholstery of this chair is top-grain and is extremely comfortable and durable.
The chair can come in several sizes, the largest one of which can be adjusted to up to 37" of height.
The split saddle on this chair is excellent for reducing the stress on your pressure points and relieving any back pain you may have experienced from other chairs.
Cons:
As a split saddle chair, the cushion can be a bit lacking for some people.
Other Recommended Stools
The rolling saddle chair is a budget option for people that need to improve their sitting posture.
The seat can be tilted to allow the user a sitting angle of 135 degrees which follows the S-shaped curvature of your spine. The chair can be adjusted for height and paired with a sit-stand desk.
Judging by customer experiences, this model comes with a bit more padding but still takes some time to get used to.
It's used by a pretty versatile crowd such as lab scientists, dentists, college students, and office workers. The chair is easy to assemble and also easy to maneuver with its 5 castor wheels.
The Capisco ergonomic saddle style chair was designed for people that need extra softness added to their sitting experience. Both the seat and the back are cushioned to give you that extra comfort.
The seat height can be adjusted from 23'' up to 33'' from the floor and the manufacturer recommends pairing it with a standing desk.
The best part about this saddle chair is that you can reverse your seating position and lean into the backrest. It has a weight capacity of 250 lbs.
The Master massage ergonomic stool is lightweight and should prove helpful for daily use.
It is recommended for massage therapists and tattoo artists to help them ease the strain that comes from staying in one position for too long.
This is a split style saddle seat without a backrest and the seat is cushioned with 2'' of small cell foam. The stool can be adjusted for height with the lowest setting being 21'' and the tallest 28''.
Some customers say that sitting on the Berkeley is definitely more comfortable and stable than similar models on the market.
Unlike the Salli ErgoRest model that featured upper limb assistance, the Swing fit model was designed to relieve lower body pressure.
This model is highly customizable, so upon purchase, you'll get to choose the base color, upholstery, pole height, and which type of casters you'd prefer.
You'll also be able to adjust the width of the middle split.
The manufacturer offers 5 years of warranty for the base, tilt mechanism, lift, and casters plus 10 years of warranty for the seat component.
The Perch saddle stool comes with rubberized casters that can be rolled over tile, ceramic and wooden floors without damaging them.
This chair is a good choice for people who need to sit upright but also need to lean into a backrest every now and then.
The seat and backrest are height adjustable and can be paired perfectly with a standing desk. You can also raise the stool and tilt the seat with a one-touch lever. It will hold up to 300 lbs.
The Perch stool was made in the US with high-quality materials that come with a 12-year warranty and cylinders that have a lifetime guarantee.
Jobri BetterPosture's saddle chair shines with its ergonomic "waterfall effect" seat design. The base and legs of the chair are exceptionally durable even though that's slightly undermined by the lackluster wheels.
For a heavyweight option, Master Massage's saddle stool can withstand up to 550 pounds of weight while still providing excellent comfort with its padded seat.
It's also very versatile thanks to its swivel mechanism and adjustable seat height.
Grace & Grace bring us another great option with their versatile and durable saddle stool. The metal base and frame make it very sturdy while the comfortable seat is a pleasure to use even for prolonged sitting sessions.
Last but not least, here's Antlu's ergonomic saddle chair. It has a soft and firm seat that's covered with high-quality leather.
It can also swivel in every direction and have its height adjusted to a maximum of 29.5".
Medical & Spa Stools
Not all saddle chairs were created equal, and you'll really have to look at the fine details to figure out which style works best for your professional needs.
To help you out in your search we looked at the best medical & spa stools on the market.
The Mica Dental chair is fully adjustable and offers improved lumbar support. It was made for professionals that need a good looking quality chair that will keep them seated upright.
You'll be able to adjust the seat height, the armrest height, and the backrest height separately.
Both the seat and the backrest can be tilted for your comfort. The seat is cushioned with molded foam plus the upholstery is made of waterproof, oil-resistant, and scratch-resistant PU leather.
The nylon casters allow you to move the chair silently. So what you get is a sturdy ergonomic chair that is easy to move around and will hold up to 300 lbs.
The Spa Luxe rolling stool is extremely attractive and boasts a PVC vinyl upholstery that is very easy to clean.
It has 3 adjustment levers that are easy to use and let you control the seat tilt, backrest position, and the height of the chair.
Although it takes some time to get used to, the seat is designed to offer comfort and give you a more natural posture. You also have the option to remove the backrest if you choose to do so.
The only downside to the Spa Luxe chair is the hard plastic wheels that tend to be stiff.
Some customers have noticed that the anatomic design of the seat wouldn't be recommended for males since the center of the saddle is way too high to be comfortable.
The Kaleurrier salon chair was made to provide extra comfort on a busy day. Its seat and backrest are padded with a high-density sponge that provides extra comfort for the user.
The castor wheels are rubberized to protect hard floors and the seat is height adjustable.
It works with a gas lift cylinder and can be raised from 22'' to 30'' of height. It also rotates a full 360-degree circle and can hold up to 400 lbs of weight.
The backrest on the Kaleurrier is curved to provide an ergonomic benefit for your spine. This chair comes with good customer service and a 1-year warranty.
The SkinAct saddle stool is contoured to provide lumbar support. It works by allowing you to evenly distribute your weight.
The high-density lumbar cushion is connected to a spring mechanism that adjusts to your body when you sit on it. The seat can be tilted and adjusted for height from 21'' to 27'' tall.
This is a good daily chair that is especially helpful if you constantly lean over while working.
Saddle Chair Features
One Seat Vs Split
Saddle seats come in two styles, the one seat style, and the split sea stylet.
The split seat is preferred by people that feel too warm when sitting for too long and wish to stay cool longer.
The width of the split seat can be further adjusted to relieve any pressure on your pelvic area or prostate.
Firmness
No matter which saddle chair you pick, in the beginning, they will all feel firm.
It takes time to adjust to the firmness of the saddle seat, but the more you use it the more you feel the benefits. Give yourself some time, your body will soon adjust to the new saddle seat.
Saddle tilt
When it comes to comfort, being able to adjust the tilt of your seat can be a game-changer.
Some people prefer to tip it forward and others backward. The best way to adjust the tilt is to try a few different positions until you find the one that feels the most balanced for you.
Leg position
When choosing the best saddle chair, keep in mind that your legs will play a huge role in supporting you, and giving you balance.
Some models place the balance point at the front making it more difficult for people with stiff limbs to stand up, while others will have the balance point underneath the body.
Seat height
When using a saddle chair, adjusting the seat height to fit your needs is extremely important. Make sure you are seated a little higher than your usual sitting height.
Unlike the standard 90-degree angle recommended with standard chairs, when using a saddle chair leave about 135 degrees between your thigh and torso.
Contour
People that use saddle chairs for the first time would do better with less contoured designs until they're sure what suits them best.
The less contoured designs will fit the wider population and are more forgiving if you mess up on sizing.
More contoured saddle chairs will do a better job at supporting you, but if you choose an incorrect size they will be very uncomfortable.
Width
Most beginners feel like saddle chairs are too wide, which is exactly the point of this type of chair.
They were designed to be wide so that they can keep you stable and in an upright position, just like when riding a horse.
People with stiff hips will have the most difficult time adjusting to a saddle seat. So they should start using the seat for 1 hour every day and gradually increase the timing.
After a while, their hips will start loosening up. This is especially beneficial for people with arthritis.
References
https://www.bambach.com.au/about-us/history/
https://www.ncbi.nlm.nih.gov/pmc/articles/PMC6296655/
https://www.dentalproductsreport.com/view/ergonomic-benefits-saddle-style-stools
https://pubmed.ncbi.nlm.nih.gov/17942990/
https://www.researchgate.net/publication/329722472_Assessment_of_the_ergonomic_risk_from_saddle_and_conventional_seats_in_dentistry_A_systematic_review_and_meta-analysis