As a parent, it's never too early to start thinking about your child's ergonomics and the safety of their workstation.
Which is why a children's adjustable and chair and desk set is so important.
Leading furniture manufacturers have also caught with the ergonomic demands for children, even young as two years.
In this article, you'll find my favorite desk and chair sets on the market for children.
My decision was based ergonomics, quality, safety, price, and customer reviews.
November Update: I've received so many questions specifically about children's furniture. If you're looking for something specific, here are some other relevant guides below:
Favorite Children's Desk & Chair Set
The VIVO interactive desk features a smooth writing surface, and even that can be adjusted by tilting it from 0 to 40 degrees in any direction.
The reason we loved this desk so much is because of its smart design. The manufacturer included a 1″ stopper to guard little hands from pinching as they tilt the desk.
Underneath the desk there's a spacious drawer where your little one can store all their items.
We say it's never too early to teach a kid how to be organized!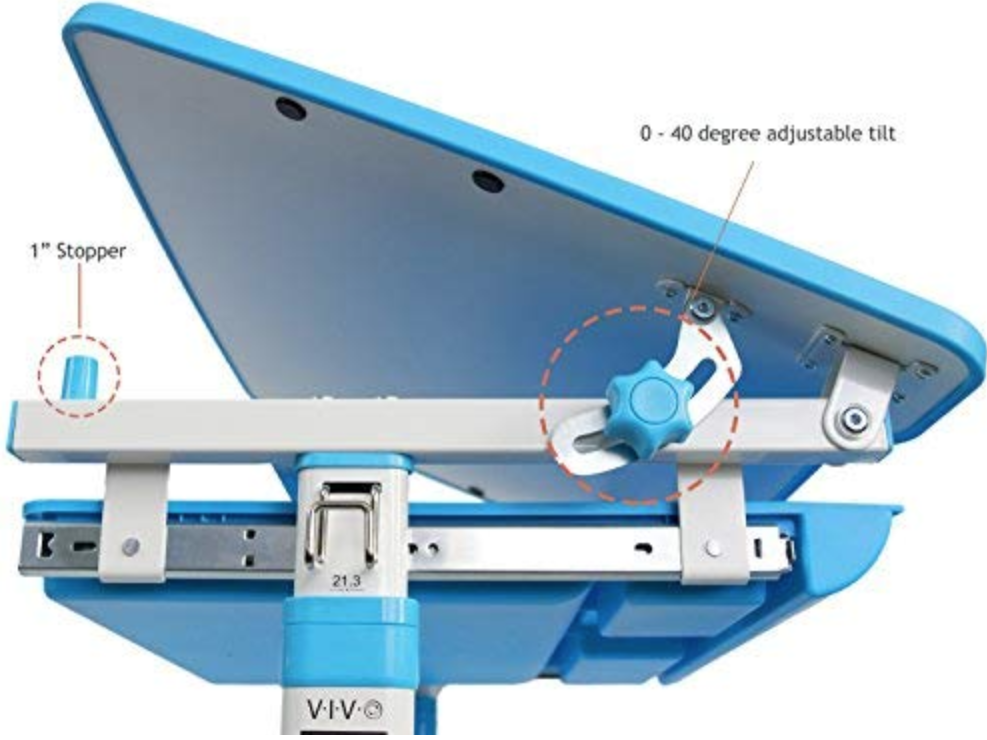 What customers are saying
People that bought the desk love how little space it takes up in their house.
There's no hassle in setting it up, you'll work with 16 screws in total.
The manufacturer even included the tools needed for set-up, and easy to follow instructions. It should take you less than hour to assemble the station.
What we like:
Sturdy & Safe – it was built to last with your child's needs in mind
Adjustable – It can be used from 3-12 years old
Smart design that will keep your child's back straight
Most Adjustable Desk
The Baby Joy kids desk & chair set is perfect for drawing and writing, that will surely make your child happy.
Both the table and the chair are height adjustable. The table can be raised from 21'' to 28'' off the ground, and the chair goes from 12.5'' to 18.5''.
We love the seat which is curved at the backrest to give your child an ergonomic seating experience. The winged backrest encourages proper posture which is essential for a healthy spine.
Aside from the height, you'll also be able to adjust the tilt of the tabletop with the help of a knob. If your child is writing, you can set it at 0-15 degrees, and if they're drawing, set it at 30-40 degrees.
Storage space
Inside the table, you get a pull-out drawer where you can store your pencils markers and other stationery. You also get a convenient hook on the side of the table where you can hang stuff.
Kids seem to love sitting at the desk and doing projects, which makes the parents happy as well. The tabletop will also support a lap without issues.
What We Like
Keeps kids entertained
Ergonomic table & seat
Should last a long time
What We Don't Like
A bit bulky to move around
Ideal For Boys
No products found.
No products found.
The overall look of the Einstein Desk Set will definitely make your child happy.
More importantly it will provide a safe ergonomic environment for drawing and doing homework.
It is very similar to the VIVO station with one major difference. It features an attachable book or tablet rest .
Features of the desk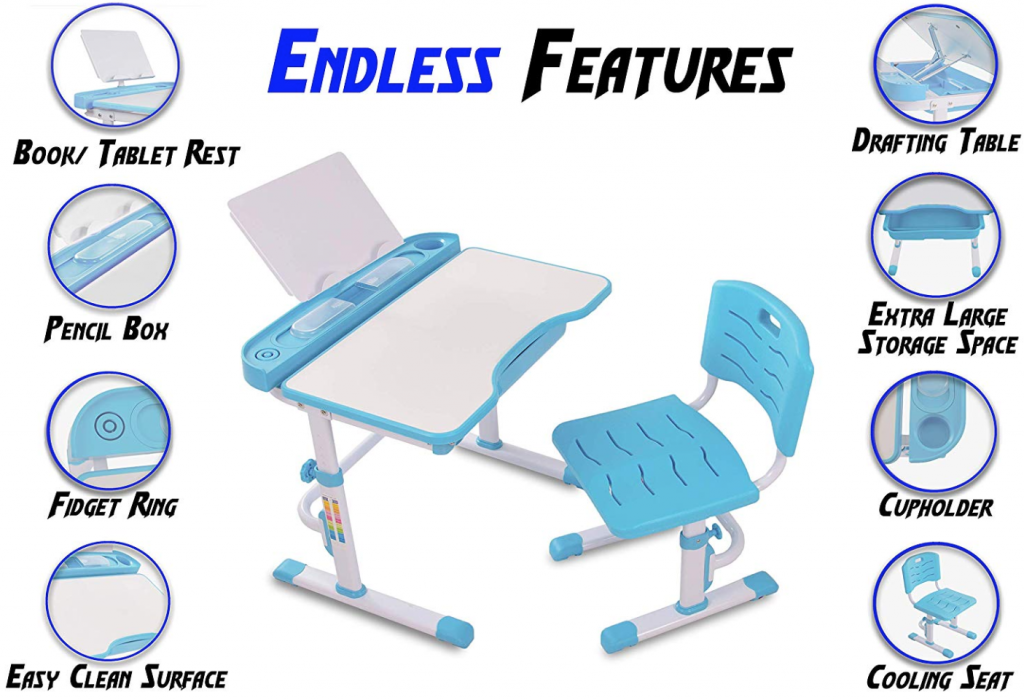 The drafting surface can be tilted to 45 degrees, and both elements can be adjusted to support your child's growth. They might even want to draw standing up.
Whatever the case, take note that it isn't super easy to adjust the table, it does require muscle.
You'll be able to attach or add extra accessories to your kid's station such as a clamp-on lamp.
How to adjust the desk height
You will need to pull UP to free the locking mechanism, and then push down with ease.
The drawer is as spacious as our previous choice, and it comes out 6 inches from the desktop, which is about half-way.
What customers are saying
The parents that have purchased this product are very pleased with it. The children love the blue color and how sturdy the desk feels. Also the extra tablet space is very convenient.
Can be difficult to assemble
On the negative side, some parents had issues with the assembly, and feel that the instructions provided were a little confusing.
Also a few people had a problem with the pull-out drawer. The stopper got placed backwards, and it prevented the drawer from opening.
But overall, the majority of parents agree it is a good quality product.
What we like:
Tilting feature provides a better ergonomic posture for your child
Sturdy desk that will support your children as they grow
Pretty design that comes in blue and pink
What we dislike:
With a small amount of desks- the drawer won't open unless it's additionally adjusted
Difficult to assemble as the instructions are not clear
Best Computer Desk
No products found.
No products found.
The Mecor height adjustable desk set is a story of success. It used to have design flaws, but the manufacturer listened to reviews and went back to the drawing board to create a better product.
This new and improved set consists of a height-adjustable table and chair made with a high-quality plastic that is sturdy and should last for many years.
We believe that most children would truly appreciate the LED light that's fixed on the side of the table. You can set the level of brightness with its touch sensor or hold it for longer to switch it off.
Design and storage
The seat has a bit of a curve and is extremely comfortable to sit on. At the back of the table, you get a metal holder that is perfect for storing books, plus there's more storage room under the desk.
The table itself is pretty sturdy and will be able to hold a laptop. In fact, both the tabletop and chair are so sturdy that some moms admit they have started using the set as well.
The only thing some parents would love to see on this set is wheels with locks for mobility.
What We Like
Good quality materials
Sturdy and durable
What We Don't Like
Most Spacious Desk
No products found.
No products found.
If you're looking for an extra-wide work surface for your kids, the Joymor set might be worth looking into.
You get a workspace width of 31.5'' which is larger than most tabletops on the market, and you get a larger tilt angle for drawing.
Ergonomics
The whole set is height-adjustable, the desk can be raised from 20.5'' to 29.9'', and the chair goes from 11.8'' to 17.1'' off the ground.
Both the chair and the desk have knobs on the sides to safely fix the desired height without worrying that they might fall down.
The seat was also made with safety in mind, as the back legs are longer to prevent it from tipping over.
Storage
Just like most models on this list, the desktop comes with front storage, and you'll find a convenient hook on the side to hang accessories.
This set was made with plastic and has a metal under-frame making it extremely durable. The only thing that raised some concern was a couple of sharp edges that might get in the way of a toddler.
What We Like
Safety legs prevent tipping
Large work area
Adjustable & durable
What We Don't Like
Best Kid's Desk Chair
This award winning chair features a superior design that is fully adjustable for height, shape AND weight. It is a bit pricier than the other models on our list, but if you need a chair that will be a champion at every level, this is the one.
The Ringo chair was made for children aged 6 to 13 and can be moved with ease if there's no weight on it. Once your child sits down, the castors lock in place, giving your child the much needed stability. In order for this to work smoothly though, your child needs to be over 55lbs.
What we really like is the 4 level backrest and seat adjusting function (on both sides!) that will keep your kids back healthy even after a longer use.
Also this model comes with an option to choose a detachable foot rest, much needed for children under 5 ft. Make sure you select that option when you order, the foot rest is not included in the price.
Another neat feature is the replaceable back and seat covers, something the other chairs do not have. Realistically, if your kid ends up using an adjustable chair for many years it is only natural to have a way to keep the hygiene on a high level.
A Danish study performed on 29,424 individuals found that children from the age of 12 to 18 have a 50% increased chance of suffering from back pain. Here's a quote of their conclusion: 'The study of the causes and prevention of low back pain needs to be focused on childhood and adolescence.'
This is exactly the reason why ergonomics is more than important for children. Having the right chair and desk can mean the difference between carefree adult VS a life-time of chronic pain.
Best Ergonomic Stool For Children
The Learniture active learning chair is designed to keep your child active while they work on their daily tasks.
The bottom of the chair is slightly curved to produce a rocking motion which prompts kids to balance and spend energy continuously.
This chair is especially helpful for children that have difficulty focusing, but the backless design helps maintain a proper posture and strengthens some muscles as well.
The Learniture has been used in many classrooms with success, and the kids seem to love it. The chair is made of sturdy plastic and is safe for kids to use.
The only issue you might have is the cushion adhesive that gets worn down after much use.
What We Like
Good for active kids
Doesn't wobble too much
Easy to use and maintain
What We Don't Like
Best Art Desk & Chair Set
If you ever wanted to give your kids space for productivity and creativity, we warmly suggest Guidecraft's art center.
There's no need to discuss the quality of the build as Guidecraft has been around for 50 years and definitely know what they're doing.
Storage
The tabletop is scratch-proof and scuff-proof. It has storage space for drawing tools on one side, and you get a large shelves unit on the other side.
Included in the package are one roll of paper and six fabric bins that will hold a lot. The paper roll you'll need for the art center is 18'' wide and 50'' long, so make sure you stock up in time.
Ergonomics
You also get two stools that don't have much back support, this is a great feature as it helps your kids sit up straight.
The height of the chair seat is 12'', and the desktop surface is 21'' off the ground.
The main thing to consider when buying this set is whether you'll have enough space for it in your child's room. The total dimensions are 47 x 31 x 32 inches.
What We Like
Well organized kid's workspace
Lots of storage
Well made and durable
What We Don't Like
Most Sturdy Kids Furniture
The KidKraft study desk and chair has an extremely elegant design and should match any color in your kid's room.
Both the table and chair are manufactured with medium density fiber wood, and the tabletop is built from high-quality engineered wood.
This set is not height-adjustable but would still be comfortable for kids between the ages of 8 and 13. The height of the chair is 26.75'' and the height of the table is 32''.
Storage
The desk comes with a storage drawer underneath the work area, plus two deep cabinets that should hold plenty.
On top of the desk, you'll get a corkboard organizer which would be a fun way for your kids to keep track of their tasks. The tabletop also has some additional storage spaces for your kid.
The only downside with this set is that although the featured size says it's meant for kids aged 8 through 13, some of the parents say that it would be better suited for a toddler up to 8 years old.
What We Like
Good quality materials
Plenty of storage space
Corkboard
What We Don't Like
Convenient Bed & Desk
If you're thinking about getting a multifunctional loft bed with a pull out work area and plenty of storage space, we recommend looking into the Donco set.
The three drawer chest that comes in the set is deep enough for storing clothes or even extra bedding. The dresser and the bookshelves are separate units and are not attached to the bed.
The dresser can be placed anywhere under the bed, and the shelves could go on either side of the bed. The work desk is attached to the bed area, and the ladder is also fixed.
Compact design
This set provides a compact work and sleep area with storage spaces that are easy to get to.
For the bed frame you'll need a twin size mattress, to be on the safe side, make sure it's not thicker than 8''. The frame of the bed has wooden slats and is mattress ready.
Assembly could be a bit tricky since you only get pictorial instructions. You'll also need to have a Phillips screwdriver and hammer in hand.
What We Like
Compact work/sleep area
Lots of storage spaces
What We Don't Like
Instructions need more work
Other Recommended Desk Sets
This study set comes with a crossbar that helps with stability. The work surface is scratch-resistant, which is amazing especially if you have really young kids.
There are no sharp corners or edges; everything has been rounded and rubber-banded. The chair can swivel 15 degrees left and right when casters are locked.
The study desk comes with a split top which tilts to 75° degrees offering incredible support for writing, reading or drawing. The chair is adjustable and you will be able to lock the knobs, a feature that the Forest Green chair was missing.
This particular Ergonomics set was made to be used in classrooms for children from elementary to high-school age, and now you can get it for your home.
The legs of the chair, and the desk are adjustable to your child's height. The lowest setting for the chair is 16″ and the lowest desktop setting is 28.5″.
The top of the desk doesn't lift up like our previous models, it actually has an opening underneath where your child can stuff their books, homework, etc. Some parents like this feature because it reminds them of the 50s.
The chair was made of heavy industrial plastic that is durable, and it will hold a lot of abuse. It supports weight of 200 pounds for sure, and it is very difficult to tip it or knock it over.
The assembly is a bit difficult, but your package should arrive with the tools included. Make sure you have someone with strong biceps to set it up. Once you do assemble it, it is rock-solid and won't budge.
No products found.
No products found.
If you're looking for a durable children's study station that also offers incredible design, and is adjustable – this could be the perfect set for you.
The desk is adjustable and it will support the growth of your child form 3-10 years old. You can tilt the drawing surface up to 40 degrees and a safety stopper is included. You can choose between 2 options: with or without a drawer.
The chair was made with Ergonomics in mind, giving your child a comfortable and stable work area. We really liked the chair leg pad that prevents it from slipping.
Both the chair and the desk were made of plastic that was reinforced with metal. What you get is a stable and durable product that will support your child's health.
No products found.
No products found.
We're confident that kids will appreciate this set due to the dry/erase board that comes with it.
The entire workable surface is 20.5'' x 16.5'', which should be enough to develop the creativity of children between the ages of 3 and 15.
Both the table and the chair are height-adjustable. The table goes from 33'' to a maximum of 40'' off the ground, and you get to choose between 8 levels of adjustment.
Storage and assembly
The FDW Kid's table comes with a storage compartment located underneath the table and a hook on the side to hang a bag.
Assembly is pretty straightforward and easy. Just make sure you have a Phillips head screwdriver around as it is required for the last step.
The only thing you need to be cautious about is the drop desk that has some pinch points. You'll need to teach your kid how to work with the top slowly and how to mind the pinch points.
Other Recommended Desk Chairs
If you're a parent that appreciates comfort above all for your children, we have a very special chair for you.
The SitRite chair comes with a thick padded seat for extra comfort while providing good ventilation even after a few hours of sitting down. It also features a rounded arm rest, and a detachable foot rest that prevents little feet from dangling around. Super comfy indeed.
This chair can be adjusted for height and size, to give your child full comfort while keeping their posture straight. It will hold up to 300lbs of weight.
Parents looking to protect their wood floors will appreciate this chair as it comes with wheel caps. They will serve both for protecting the floors, and to prevent motion. If you wish to keep the little one in a fixed position, this is the way to do it.
The assembly of this chair is a simple two step process: first you insert the cylinder in the base, and then you place the seat part on top of it. You should be able to set it up in less than 5 minutes.
Are you in need of an ergonomic chair that also looks super cute? This one comes with a flower design that your kids will love.
The Eurosports armless chair features an iron frame combined with mesh and a foam padded seat that is very comfortable.
It doesn't have a foot rest like the SitRite chair, it is adjustable for height only, but it looks adorable.
This chair comes with 5 castors that were made of nylon that provides a smooth sliding on your floor. Some people spend a few extra bucks and insert rubber wheels in it.
The lowest height it adjusts to is 15.4 inches and the highest setting goes up to 20.1 inches. The only issue some parents have is an unstable backrest that loosens up after a while. Do not expect customer service if you have any additional issues.
The weight limit is set on 200 lbs, but some parents report that the instruction manual that came with the chair places the weight limit at 130 lbs. The chair is definitely on the small side and would fit smaller desks. Not intended for adults.
No products found.
No products found.
We really like this kids ergonomic chair because it is easily adjustable to your child's needs.
They will be able to raise or lower the seat as desired to keep their back straight. This is especially important if your child spends many hours at their desk.
Another great feature is the mesh fabric that is skin friendly. The wheels are really smooth and easy to roll around due to the nylon casters.
The chair comes in a variety of bright colors which means it will be a delight to match it with any desk. You can choose between blue, pink, purple or green.
What customers are saying:
An important thing to mention is the company's amazing customer service. Whatever issue or problem you might have, they will solve it.
They really go out of their way to provide a great experience.
Some people had an issue with the wheels constantly falling off, and this can be fixed by pushing really hard until they click into place.
What we like:
Good looking design in a variety of bright colors that people like
Adjustable and ergonomic to support your kids back
Great customer service
What we dislike:
Several technical issues keep repeating: coasters might not rotate
You might have to drill some holes that were forgotten in the manufacturing process
No products found.
No products found.
The POTBY is a beautiful adjustable desk & chair set that is perfect for children aged 3 to 15. It has a metal frame that is covered with plastic and MDF panels.
The maximum height of the desk is 30'' and the chair can go up to 17''.
You'll be able to adjust the height by pulling all the way up, pushing all the way down and then lifting it again to the desired height. This has to be done, or it will keep sliding down on its own.
The desktop is not a large one, but you do get 26'' of width, and you can also tilt it up to 60 degrees. Underneath the desk, you get a slide-out storage compartment to keep pencils or toys.
The Calico study zone set will be an excellent addition to your child's room, especially if they love purple.
What you get is a fixed size desk and a height-adjustable chair that can be rolled around. You also get some storage space on the side of the desk.
People who bought this set like the quality and look of the desk, they also love how comfortable the chair is. The only downside was the worrying 'toxic-materials' sticker that comes with the chair.
The Little Soleil is an ergonomic kid's chair that is highly adjustable and made with comfort in mind.
The seat can be adjusted for height and goes from 12'' to 21'', this means your child needs to be at least 46'' tall to use this chair effectively.
The backrest is contoured to give your child the best ergonomic experience and can also be adjusted from 21'' to 32'' in height.
The 5 star base of the chair comes with five casters that can be locked if necessary. Once locked, the chair can swivel to the left and right, up to an angle of 15 degrees.
What customers are saying
People that bought this chair were pleasantly surprised by its sturdiness and comfort. The assembly is also quite easy, with only three pieces to put together.
The only issue some parents had with this chair was wedging the plastic handle at the top. This chair would go well with a height-adjustable desk.
Ergonomics For Children
Children spend countless hours on their work desks, slouching most of the time. They might not experience any back-pain while they are young, but as soon as they turn 12 the problems could emerge.
That's why there's a growing focus on ergonomics for children.
For a long time of our history we believed that a child should sit upright in front of their desk, in one position, without fidgeting. Turns out, this is ALL wrong.
Ergonomics teaches us that we need to adapt the working environment towards the child, and not the other way around.
Correct Posture For Children
It is not important for the child to sit up straight.
They can go ahead and move their position naturally while they work, as long as they are not slouching.
Fidgeting is harmless as well and doesn't mean that your child is hyperactive. This unconscious form of behavior actually promotes child's health.
Adjustments
Getting one desk for your kid's entire childhood is also a thing of the past. If you're out there trying to do the best for your kids, get them an adjustable desk and chair. You will want to adjust the chair first, and then the desk to your child's needs. A desk is set up properly if your child can rest their arms at a an angle that's slightly higher than 90 degrees.
Tasks – Depending on the task your child is performing, you will want to tilt the drawing desk at a certain angle:
0-5°  for artistic drawings and sketches;
Around 10° if they're writing home-work;
Set them up with a 20-30° angle for reading books or watching videos.
Sources
https://www.ergonomics.org.uk/Public/Get_Involved/Details/Childrens_Ergonomics.aspx
https://ergo.human.cornell.edu/Pub/HFPresentations/NEEkidsweb.pdf
https://www.researchgate.net/publication/303692608_Ergonomics_for_Children_Designing_Products_and_Places_for_Toddler_to_Teens
https://jkainc.com/wp-content/uploads/Ergonomics_for_Children.pdf