We can all agree that the classic Herman Miller Aeron Chair comes with a pretty hefty price tag.
Over the years it has become a status symbol among the corporate elite. It's also the seating of choice among Silicon Valley programmers.
But apart from having a rockstar executive chair– is actually worth the extra cost?
More importantly, is this chair actually ergonomically superior?
We take a in depth look at everything about this chair- from ergonomics, features, add ons, and what customers are saying.
If you're still weighing up your options, take a look at this Herman Miller alternatives article for my ideas. Alternatively, have a look at our review of the Herman Miller Embody chair.
Herman Miller Aeron Rating: 9/10
Overall Quality- 9/10
Overall Comfort- 7/10
Lumbar Support- 8/10
Ergonomic Adjustments- 7/10
Warranty- 9.5/10
Assembly- 10/10
Sale
Pros
Award winning American design
Superior ergonomic features
Ideal for working long hours
Excellent reclining function
Excellent warranty
Cons 
Comes at a hefty price
Can take time to adjust to (Comfortability)
No seat depth adjustment
No back height adjustment
How Good Is The Ergonomics?
The focus on ergonomics is the reason for the high price tag.
So let's go through some of the design & features.
Lumbar Support
One of the major selling points of the Aeron is its well thought out lumbar support system. It was made to relieve you of any stress associated with sitting.
The original chair already had the best lumbar support available, and the new model managed to top that off.
The biggest health issue associated with sitting is slouching or placing your body in a C shape which definitely hurts your back.
The re-designed PostureFit SL mechanism follows the natural S shape of your back while you sit. It was added to Aeron in 2000 and removes any pain connected to pro-longed sitting.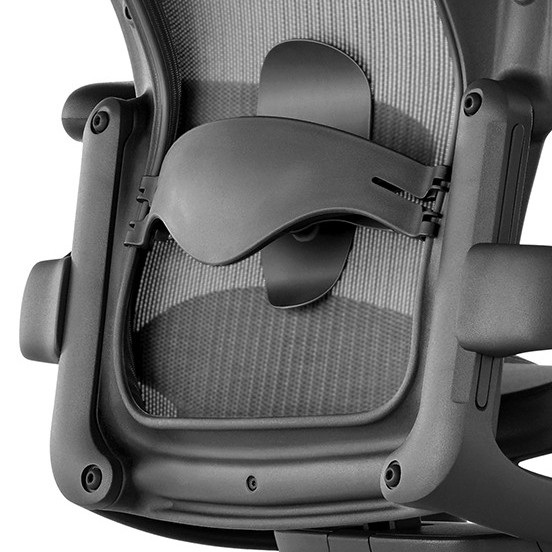 The lumbar mechanism is positioned in the lower back of the chair. It is made of high-density foam that supports your back and is the only spot where you won't have the pellicle membrane to cool you off.
You might feel a bit warmer in those 2 areas, but given the health benefits, it's totally worth it.
Correcting Posture
One of the areas where the Aeron excels the most is posture-correcting. And let's be honest, this is probably your main priority when searching for an ergonomic chair.
The Aeron chair was designed to follow your natural posture. Actually it is the PostureFit SL technology that gives your spine a comfortable position.
Each element of Aeron supports healthy sitting habits without adding any unnecessary pressure to your back. 
Increased Circulation
Sitting for 8-10 hours a day can hurt you in many ways, especially because most office chairs come with a design that cuts off your blood flow.
One of the most beneficial ergonomic features of the Aeron chair is its waterfall design which helps increase your circulation.
Increased circulation will help bring more oxygen to your brain, increasing your focus and productivity.  This means you can achieve more with less work.
Woven Pellicle Material
The makers of the Aeron chair understood the inferiority of the classic foam padding and introduced a new breathable membrane – woven pellicle. Both the seat and the backrest are made of this material.
The pellicle doesn't allow pressure and heat build up, giving you the best seating experience, even if you sit for long hours.
The pellicle was woven with 8 specific tension points in mind, so it supports your back in certain areas and relaxes it in others.
Durable Design
Back in 1994 the designers Bill Stumpf and Don Chadwik set out to create the most effective and durable chair in the world.
The fact that this chair comes with a 12 year warranty (Unheard of!) proves just how much they believed in their product.
Their design efforts paid off in every way.
First of all, the chair became a status symbol- the Bentley of office chairs.
In 2010, their chair was placed in New York's Museum of Modern Art with the title "America's best-selling chair."
Unfortunately Bill Stumpf passed away in 2006, so the Herman Miller brand hired Don Chadwick to go back to the working board and upgrade the chair with new-age materials.
The new Aeron chair also comes in 3 sizes, to accommodate different body types. You can choose between S, M and L body type.
We really liked the new Mineral color as well. If you're getting this chair as a status symbol prepare for a lot of head-turning from your clients, especially the ones that know this chair was only available in Graphite and Carbon colors since 1994 till 2016.
Tilt Mechanism
The tilt mechanism was created to follow the natural curve of your body and adjust to it as you move. The first Aeron chair used a rubber coil spring and the re-mastered one comes with a leaf spring.
The difference between those two, you might ask? The leaf spring system is stronger and more stable. The coil spring comes at a cheaper price, and delivers inferior results.
Aeron Chair Features
When you buy the basic Aeron Chair, you will receive a fully-assembled chair with several cool features:
Standard tilt: Unlike the original Aeron model that worked with a spring coil, the new model delivers a tilting mechanism to allow you seamless support when you're reclining in your chair. You'll be able to adjust the curve of the chair by choosing + or – just below the sitting area.
Stationary arms: If you go for the stationary armrest you won't be able to make any further adjustments, but if you're a person that likes to fidget in their office chair, stationary arms is exactly what you're looking for.
The standard arm pads are made of Vinyl ad high-density foam. They feel great under your arms, and for an extra cost you can choose leather. The vinyl doesn't last as long as the leather, but this one looks like it will last a long time.

Zonal back support

Graphite frame and chassis finish

2.5-inch standard carpet casters: Even the standard version of the casters is superior to other office chairs. Customers that chose this option report the casters almost feel rubbery and stable.
Extra & Optional Aeron Features
Tilt limiter with seat angle adjustment is an important option, especially for people that stay all day in the office. Some people prefer being able to limit the distance they can lean back.
Fully adjustable arms: with this option you'll be able to swivel the armrests to the right or to the left, and push them forward or back. Some people find this feature very helpful, others prefer the stationary arms. If you're the kind of person that likes to rise from the chair by pushing on the armrest you might want to choose the stationary arms.
Leather arm pads: This option doesn't involve any special health benefits, but the leather material feels great under your arms. 
Adjustable PostureFit SL support: Some people might have additional needs when it comes to spine correcting.
The Mineral frame finish looks amazing especially for open-concept offices that were made with wood or glass.
Polished aluminium chassis that looks good and lasts you a long time.
2.5-inch hard floor or carpet casters with quiet roll technology that comes especially handy if you're sharing office space, or have babies at home.
Customer Reviews
The Positives:
The bottom line is that most customers are extremely positive with the Aeron Chair. It clearly is not the cheapest chair on the market, so most people do a lot of research and have high expectations of the chair.
People love how comfortable it feels and report feeling better in the first week of using it. Many of them have replaced chairs every 2-4 years only to end up dissatisfied.
The Aeron gives them an opportunity for a long term investment that feels just about right.
One thing that is appreciated is Aeron's 12 year warranty. The chair does feel very sturdy and you can notice it was made with high-grade materials as soon as you see it.
Overall everyone agrees the chair is expensive, but considering the time it lasts and the benefits it brings along, it is completely worth it.
On the negative: There are not many negative reviews of the Aeron Classic. Most of the criticisms are from people who bought second-hand chairs or through third party sellers.
Other Herman Miller Chairs
Sale
Herman Miller Embody Chair
Tilt Limiter and adjustable seat
Adjustable armrest
Longer headrest
12 year warranty
Comes fully assembled
If you're looking for extra neck support, then the Embody chair might be a better choice for you. This element is especially helpful when you're reclining.
If you already purchased the Aeron chair, you'll be able to get an additional headrest for it.
According to business insider, this is the most expensive chair that Herman Miller makes but it's worth every penny.
Distinguishing Features
The innovative spine is one of its most distinguishing features of the Embody chair. If you spin it around, its behind (and underside) look like something from outer space.
Another interesting element is the pixelated support built into the seat making it extremely comfortable. As the writer of Business Insider states, 'I would sleep on a bed made out of my chair.
You can choose to rise or lower your seat is well as increase or decrease tension. This means how much resistance the chair gives when you recline in it.
No products found.
No products found.
The Mira 2 comes with almost all the adjustments that Aeron offers. The main difference is the butterfly suspension back on Mira 2.
If you're looking for the same comfort and health benefits, but are also interested in looking at different designs, and a larger variety of colors, do check the Mira 2 out.
The Mira 2 office chair has a friendlier price, so it would be a more acceptable option for people on a budget. The truth is no matter which Herman Miller office chair you choose, you are doing a wonderful thing for your health and daily comfort.