If sitting is the smoking, you might as well be smoking a fine cuban cigar.
But seriously, having an ergonomic chair is very important.
And with a budget under $300, you can get a great chair.
Here's my favorite ergonomic chairs within your budget.
My Favorite Ergonomic Chair
Sale
Many ergonomic chairs have quite a strange look to them but this one is built to fit into any office and provide you with the care and comfort of traditional ergonomic chairs.
Welcome to the Duramont Ergonomic Chair – the most comfortable ergonomic chair we have tested to date.
Lumbar Support Mechanism
This chair features much of the traditional comforts, but it offers much better lumbar support, a tilt function, arm rests, and a very high backrest.
All of these important qualities come together to create a very comfortable, yet reliable chair.
The seat adjustment and tilt tension provide a level of customization that when paired with the Arc seating design lead to more productive work for longer periods of time.
Great Flexibility
What we like
Very comfortable seat
Cushion design and the leather feels very durable and comfortable
Build design is very durable
Easy-glide wheels make office navigation a breeze
Runner-Up Ergonomic Chair
Sale
This chair is the Mercedes of chairs- but could do with a better name.
The La Z Boy chair features many of the comforts of ergonomic chairs without the absence of style or class. The chair is big, soft and feels like you've fallen into a cloud when you sit in it.
The features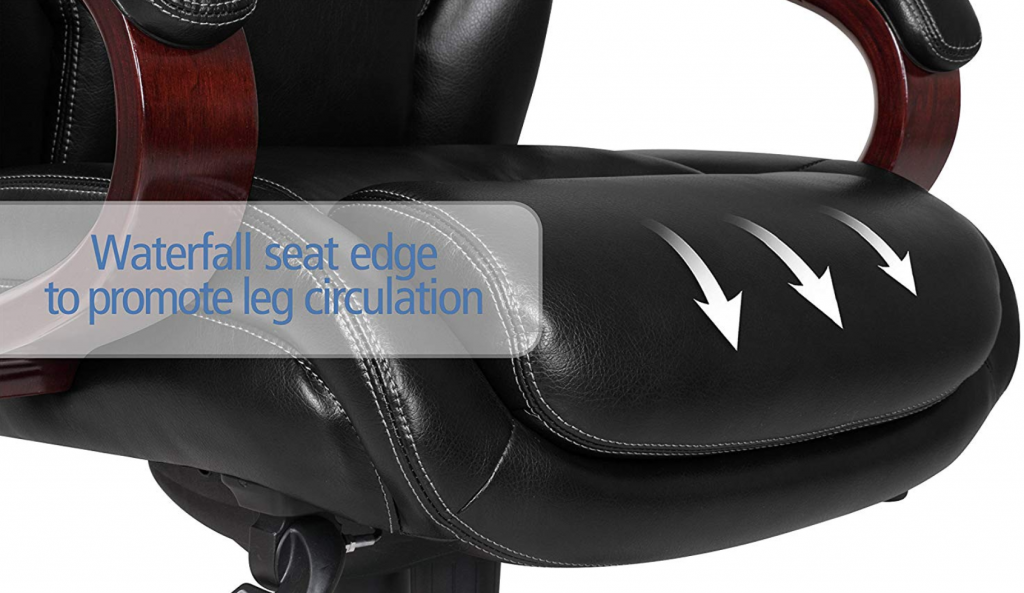 Extra lumbar support, high backing, and upholstered cushions provide the sense of ergonomic design that is built to last.
While the look and feel of the cushion lead to some long work hours without pain or discomfort.
The heavy-duty leather is wrapped with a meshing to help you from sweating or feeling hot in the chair and the armrests have just enough padding too.
What we like
Comfort options for lean and swivel feel very sturdy
The durable leather feels like it's built to last
Just enough softness in the cushion
Neck support is great for those who have a high monitor
What we don't like
We wish the arms were adjustable
Other Great Office Chairs
Still haven't found what you are looking for?
Here are some other great office chairs are under $300 that are loaded with ergonomic features.
This chair is a breath of fresh air away from the big leather-style chairs. The Argomax Mesh Ergonomic Office Chair features many of the traditional ergonomic build cues, including mesh backing, neck support, extra lumbar support and a swivel feature.
What this chair lacks in comfort, it makes up for in usability. The chair comes standard with adjustable armrests, and also has a very comfortable and breathable cushion. These features come together to create one of the most comfortable yet ergonomic designs we have seen in a mesh chair.
One thing to keep in mind; some Amazon reviews say that the chair could be a little sturdier and built better for heavier people.
Amazon really never lets us down when it comes to checking all the major boxes you need in a great product. Their Big and Tall executive chair is nothing short of perfect when it comes to comfort and usability.
At a much cheaper price point than other executive chairs, this chair comes with leather, adjustable height settings, very strong wheels and a cushion design that is built to provide support and endless comfort.
The brown leather may not look so nice in the picture but when you unbox the chair it really stands out and provides a sense of class to your office space. Those looking for an office chair that comes with the most reliable design and very economic price should find value in the AmazonBasics Big & Tall Executive Chair – just keep in mind, the design is not as ergonomic as some of our other chairs.
Once again, forget the name.
The Hon hits all the main categories when it comes to comfort, reliability, and ergonomic design.
The chair is mainly built with mesh features, although they are soft and provide you with the same feeling of comfort as big leather chairs – plus they breathe much better.
The chair is nearly fully customizable, armrests, seat height, tilt, even the neck-rest can be altered for taller or shorter individuals.
We really like this chair (Apart from the name) and we were very close to making it one of our top choices.
Have you seen most of the chairs on this list and keep thinking, "these all look a bit much"? We get it, and the Modway Articulate Ergonomic Mesh Office Chair comes in as one of our cheapest recommendations, plus it features much of the traditional ergonomic build qualities.
The chair is a little bit shorter than many of the chairs we looked at today but the cushion and added lumbar support still offer a great sense of comfort and top-notch quality. As standard, you still have tilting, arm height, and seat height. When you add this to the array of colours, this could be your best shot at an economic chair that meets many of your needs.
For all the big boys out there, this is your best shot at some ergonomic design without breaking a chair or hearing squeaks all day. The Sadie Big and Tall Office Computer Chair is just like many of the ergonomically designed chairs but has a wider and longer seat design and offers a much larger weight allowance of around 350 pounds.
We really like the combination of a cooling mesh backing with the added soft cushion bottom – this leads to a high standard of comfort that you can work in for hours.
This is one of our most underrated chairs on the list. The Vanbow High Back Memory Foam Leather Office Chair has many of the great familiar features you have come to love in other chairs but it also excels in comfort design.
We love the back cushion design, it feels like you are planted and can be comfortable for long hours, all while the traditional ergonomic features like adjustable seat position, tilting feature and smooth rolling wheels allow for your to maneuver your workspace with ease and efficiency.
Our favourite part about this chair has to be the flip-up arrests. It is a more unique design on chairs, and although they do not raise or lower to specific heights this does make the chair easier to get in and out of and leads to extra customization.