Imagine being able to have a massage on demand in the comfort of your home.
If this sounds amazing, a massage cushion might be right for you.

at a glance:
Our Top 3 Picks For Massage Cushions
They're inexpensive, highly convenient, and they're strong enough to give you great pain relief.
Here are our favorite massage cushions on the market in 2019.
Quick Comparison: Our Top 3 Picks for Massage Cushions
IMAGE
PRODUCT

Our Favorite

4 adjustable neck massage nodes with a heating function
4 adjustable shiatsu back massage nodes with a heating function
Vibration seat massage with two levels of intensity

Second Favorite

4 neck rollers with adjustable patterns and a heating option
4 back shiatsu rollers that offer three distinguishable massage styles and a heating option
The seat offers a vibration massage option

Best Massage Pad

10 massage motors
The cushion is flexible and easily foldable
The cushion is made out of soft plush fabric.
Our Favorite Massage Cushion
Sale
Snailax Shiatsu Neck & Back Massager With Heat
4 adjustable neck massage nodes with a heating function
4 adjustable shiatsu back massage nodes with a heating function
Vibration seat massage with two levels of intensity
Easy to use with various sofas, couches, chairs, recliners, etc.
What shot the Snailax Shiatsu heat massager to the top of our list is the combination of quality and versatility it offers. The massage nodes of the Snailax are capable of delivering a precise and well-targeted, deep tissue shiatsu massage that comes as close to imitating a professional masseuse as possible.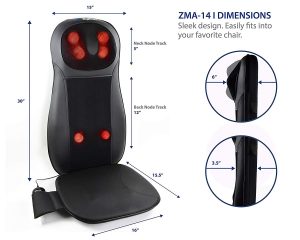 The shiatsu neck massage has an adjustable rotation, while the back nodes can offer full back shiatsu, lower back, or upper back shiatsu massages, as well as a spot massage or a rolling spine massage.
The width between the nodes and their direction can be adjusted, while there is also the optional heating function.
There is also a vibrational seat massage, a comfortable and easy-to-use remote control, and detachable and washable covers for the neck and the lower back, allowing to further adjust the amount of pressure you get, as well as to easily maintain the cleanness of the massage cushion.
Keep in mind that the massager is designed for people that are 5'1 – 5'4 high and can't be adjusted for taller people.
What customers are saying?
Most customers are unanimously praising the majority of the features of the Snailax Shiatsu massager. The most liked part is the way the neck and back nodes deliver the shiatsu massage in a powerful yet comfortable manner.
One thing that some customers complain about is that the seat is a bit slippery but that can be managed with the right pants or a piece of cloth.
What we like:
Neck and back nodes deliver excellent shiatsu experience.
There is a heating option for both the neck and back parts of the cushion.
There are plenty of control options.
What we don't like:
The seat appears to be a bit slippery.
Second Best Massage Pad
Zyllion Shiatsu Neck and Back Massager Cushion
4 neck rollers with adjustable patterns and a heating option
4 back shiatsu rollers that offer three distinguishable massage styles and a heating option
The seat offers a vibration massage option
There is a 15-minute automatic shut off function
A very close alternative to the Snailax, the Zyllion offers a similar experience for people of a much different height range. Where the Snailax is better-suited for people around the 5'1 – 5'4 range, the Zyllion is optimal for people that are 6' and more.
The height can be adjusted slightly but not that much.
The Zyllion Shiatsu massager also stands on its own, however, as its 4 neck rollers and 4 back rollers offer excellent and adjustable shiatsu experience.
You can choose between rolling, spot, and kneading massage styles, and you can adjust the width and the rotation of the massage experience.
The seat offers a vibration massage while the remote control eases the use of the entire cushion. There is also a 15-minute auto shut-off function in case you forget to turn the massager off.
What customers are saying?
Most people enjoy the quality and additional features of the Zyllion Shiatsu massager, although some are unhappy with the pressure power of the roller nodes and wish they weren't so strong.
That can be mediated by placing a secondary piece of cloth on top of the cushion, although the chair itself doesn't have such a detachment. Aside from that most customers note the quality of this massage cushion.
What we like:
The neck and back rollers offer plenty of pressure and good adjustable shiatsu massages.
The heating options in the neck and back parts of the cushion.
The adjustable height of the massager makes it excellent for as many people as possible.
What we don't like:
The eight roller nodes are too strong for some people and it's hard to deal with that in an easy and straightforward manner.
Best Massage Pad For Resting
Sale
Snailax Massage Mat Therapy
10 massage motors
4 heating pads
The cushion is flexible and easily foldable
The cushion is made out of soft plush fabric.
This massage mat from Snailax offers an excellent vibration massage and a satisfying heating therapy for a full-body experience.
It doesn't have a Shiatsu or kneading options but is instead ideal for resting massage experiences delivered through its 10 potent vibration motors and its 4 separate heat zones.
The massage pad has 5 different massage modes to choose from and 3 different intensity levels. There are 4 zones on the mat that can be independently controlled via the hand controller.
The entire pat is also easy to fold and store in its pouch.
What customers are saying?
The majority of customers are satisfied with the comprehensive experience the mat has to offer. Most of the displeasure seems to come from those customers that thought they were buying a powerful shiatsu or kneading massager and not a resting massage mat.
What we like:
The combination of the 10 massage motors, the 4 heating zones, and the soft and comfortable fabric of the mat offers a great, comprehensive experience.
With multiple massage modes and intensity levels, as well as separate massage zones, you have the freedom to customize the experience however you prefer.
There is a 30-minute auto timer for safer use.
What we don't like:
It's a bit too loud for a vibration relaxation massage mat.
Other Great Massage Cushions
Sale
If you are looking for just Shiatsu neck massages, this Zyllion pillow has the power and versatility to offer just that. It's equipped with 4 roller nodes that deliver excellent Shiatsu experience.
They are also equipped with a heating function and change the direction of their rotation automatically. There is a 20-minute auto shut-off function, as well as adjustable strap handles to help you use the pillow wherever you want.
No products found.
The Gideon offers a customizable and powerful vibration massage experience. With its 8 vibration massage modes, it can deeply penetrate your muscles and relax your shoulders, back or thighs.
It also has a heating function if you want heat therapy together with the massage, and it's very easy to place on various pieces of furniture, chairs, and seats.
This Perfect Touch massage cushion offers a lot of different experiences – a kneading Shiatsu massage, a soft rolling massage, a strengthening percussion massage, or a Shiatsu-percussion combination.
The cushion has a sleek design with adjustable height and an optional heating option. It comes with a wired remote control but also offers a smartphone app for even easier control over your experience.
Sale
The multidirectional 2D/3D functionalities of the Comfier massage cushion makes for a very comprehensive and satisfying experience. It has a vibration seat, 4 neck massage nodes, and 4 back massage nodes.
It also offers heating and air compression functions, as well as detailed control options for you to customize your experience with. There are also detachable, washable and adjustable cloth flaps to soften the pressure of the nodes.
No products found.
This full-back Gideon Shiatsu massager is equipped with 14 massage nodes for full-back experience. It doesn't offer neck massages but it covers everything from the top of your shoulders to your waist.
It has a heating function if you want it, as well as 15-minute auto shut-off function. There is also a vibration seat and the whole cushion is very easy to fold, move, and use in different types of chairs, car seats, and furniture.
Benefits of massage cushions
In many ways, massage cushions are one of the best gifts you can give to most people. When they are chosen properly they can deliver intense pleasure while also having significant health benefits when used correctly and regularly.
What's more, massage cushions are also fairly affordable, especially if you don't purchase a whole new chair for them, they are usually flexible enough to fit in different chairs, seats or pieces of furniture, and as they are easily foldable, they don't take too much space.
Health benefits of massage
Massage cushions are not a replacement for a physically active lifestyle and they can't maintain your back muscles healthy indefinitely if you keep sitting on a desk for 8-12 hours a day.
Nevertheless, massage cushions can offer quite a few health benefits to help you along the way as you improve your overall physical condition. Massage cushions can help with:
Reducing stress
Managing pain
Improving circulation
Treatment assistance for conditions such as spondylosis, vascular disease, and others.
Massage style of pads
There are several different styles a massage cushion can utilize. A lot of cushions specialize in just one style which helps them achieve good quality but it also means that you should be careful as to what you're buying. Still, some massage cushions have pads that offer all of the following styles:
Shiatsu style that offers deep concentration on pressure points for relieving stress and pain.
Percussion style for invigoration and strengthening of deep-tissue muscles.
Kneading style to work away aches and muscle discomfort.
Air bags compression that relieves muscle tension.
Where can you use a massage cushion?
A good massage cushion should be usable in as many places as possible. Some types of chairs and seats may be more optimal for a massage cushion, but the cushion should be designed well enough to work almost anywhere.
If a vendor is trying to sell you a whole chair for the cushion and claims that it won't work with it, then he's either scamming you or the massage cushion is of sub-par quality.
Good and versatile massage cushions should work well on:
On almost any couch or sofa.
In a bed, against the bed frame.
In office chairs, allowing you to take the cushion with you to work.
In standard car seats.
Conclusion
Massage cushions are not the be-all and end-all of dealing with back or neck pain but they are great tools to have at your disposal as you are trying to battle such discomforts.
They can relieve pain, reduce stress, and improve both muscle strength and circulation. As long as the massage cushion you've got is of high quality and fits your body, height, and physical needs, you'll likely love using it.