It's one of the worst ways to start the day- waking up with shooting pains in your neck, tight muscles in your back, or sore shoulders.
If you're in pain, I would recommend purchasing a suitable ergonomic pillow.
Below you'll find some great options that will help prevent and treat neck and back pain.
Best Pillow For Side Sleepers
This pillow does not look like much, but it has a proven contoured design to help reduce neck pain and provide optimal cervical support. It is stable and wide, so it won't move around while you sleep.
Ideal for back & side sleepers
Both types of sleepers can use it and we like that people are able to adjust the pillow to individual firmness in both the back (for the neck) and side sleeping areas. There are two zippers that allow you to access the pillow filling, removing or adding as is comfortable for you.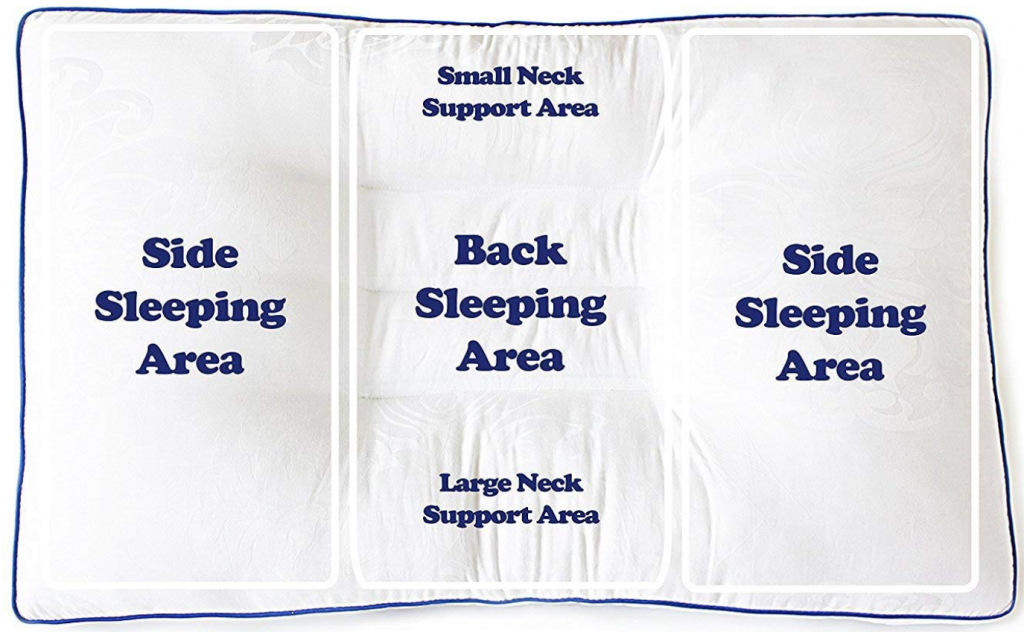 What customers are saying
This is not the cheapest product on the market, but by looking at the product reviews, it is clear that this pillow has brought plenty of relief to people suffering from neck pain. One customer said after trying every product on the market for over two years, this was the pillow that finally took the pain away.
Look and feel
This pillow has a wide, square shape. The inside is microfiber filling for increased airflow while the pillow is covered in superior cotton fabric with a silk gusset trim.
Best thing about it?
We really like that the product comes with a 100% customer satisfaction guarantee. That means if you are not entirely happy with it, you can return it in 30 days for a full refund.
What else do we like about it?
This pillow is built for support
It is made of hypoallergenic materials
There is no funny smell
What don't we like about it?
The manufacturers do warn consumers that it is not a fluffy pillow but designed for the neck and spine. So, it may take you a while to get used to the firmness.
Second Best Ergonomic Pillow
This pillow is on the expensive side, which is the reason why we put it in second place. It is, however, an excellent product and many people say they have seen all of their pain and discomfort disappearing after sleeping on it.
Designed by a Chiropractor
It has a slightly bigger, unusual-looking design that has been created by an ergonomic designer in consultation with a chiropractor. It aims to keep the spine in perfect alignment so that sleep is more comfortable, whether you are sleeping on your back, sides or both.
Very durable
The pillow claims not to lose its shape and it must be true as one very happy customer said they had bought one 14 years ago and only now bought another! It comes with a zippered pillow cover that is machine washable and contains non-allergenic, non-toxic foam.
Look and feel
The pillow is big and does look rather different, with an indentation in the middle. The manufacturers note that if your mattress is very soft, you may want to order a size smaller to allow your body sinking into the bed (which changes the angle of the neck).
What else do we like about it?
Many people say this is the best sleeping pillow on the market
It really offers help to customers who have neck pain
Some people see a vast improvement after only one night
What don't we like about it?
Not everyone will like the unusual look of this pillow, it also takes up quite a bit of space in the bed, which may affect your partner. So, bear this in mind before purchasing.
Cervical Pillow For Shoulder Pain
This pillow has an unusual look, one customer used the word "funky" but it certainly works! Customers with cervical or spine issues seem to be especially pleased with it. It is made of 60 density slow-rebound memory foam and is firm to provide support for the head. It shapes around the head and neck to prevent any tilting while you are sleeping.
It accommodates the body while sleeping and also decreases tossing and turning due to its shape. There are cut-outs on each side to make it more comfortable for the arms. The pillowcase is hypoallergenic to promote airflow and you can remove it and wash it via the zipper.
Look and feel: The pillow has a standard pillow size and a length of 24.4 x 13 x 4.7 inches. It is a bit higher though due to the memory foam shaping.
What else do we like about it?
Many positive customer ratings
Very good value for money
People say the quality of their sleep improves all over
What don't we like about it?
According to the manufacturers, it will take 3-5 days for your neck and body to adjust to this pillow. It has to do with the memory foam shaping according to your neck contour.
What Causes Neck Pain Sleeping?
The main reason for neck pain while sleeping has to do with the positioning of the body and pillows that are too soft or too hard. The best sleeping positions are on the back or on your side – avoid sleeping on your stomach.
Pillows that are too big or plump may look nice but can cause great discomfort, which you can avoid by buying ergonomic pillows that focus on correct spinal alignment.
Many cervical pillows are made of memory foam, which shapes according to the contours of your head and neck.
Tips For Buying The Right Pillow
Many people have favorite pillows and for good reason. All pillows are not the same and what is comfortable for one person could be very uncomfortable for the next. Generally speaking a good pillow:
Supports your head at its proper height, whether you are sleeping on the side or back
Your neck (and spine) should be neutral, so as straight as possible
There should be no gap between your neck and pillow
Your cervical and thoracic spine should be supported too
It can take several days and even weeks to get used to a new pillow
Experts recommend getting a new pillow at least once a year
Waterbase pillows: Are they worth the hype?
Many people swear by waterbase pillows not only for pain relief but also for comfort. They also say that it improves the quality of their sleep. The benefits of waterbase pillows are, amongst others, that they are cheaper on the whole and also very comfortable for most people. The pillows offer responsive support as you move during the night and the spine is properly aligned the whole time. Chiropractors often recommend waterbase pillows and there is some research offering evidence that it reduces pain.
Popular Waterbase Pillows
This pillow looks like any other pillow but that is where the similarity ends. It consists of two layers, one that is either fiber, down or memory foam and then there is a water based at the bottom. You add or remove the amount of water according to the pressure you like. The pillow is recommended by many users who claim it has taken away their neck pain.
No products found.
This pillow is recommended by people with back injuries and neck problems following operations or car accidents. It has a cushion of hypoallergenic polyester fiber as well as a water layer. It responds to head movements while you sleep, always supporting your head and neck. There is also a thermal insulator to prevent body heat loss.
Other Great Cervical Pillows
This pillow will suit those who like firm support and not too much movement in their pillow. The Tempur Pedic Neck Pillow has an ergonomic shape developed by doctors and targets shoulder muscles too. The cover is 100% polyester knit for a soft feel.     
This product has some of the best customer ratings of all pillows, so it must be doing something right! Apart from a very good price, this pillow is adjustable in terms of height and made of foam that shapes according to your body. It keeps its form and has a bamboo cover, which is hypoallergenic, with a 100% satisfaction guarantee to boot.
If you prefer sleeping on your side, then this may be the pillow for you. The price is very attractive, and many customers say they no longer have neck pain after using it, even after one night there is an improvement. Made of memory foam, the pillow is firm yet has a luxurious feel, a definite winner.