You already know that Varidesk has solid reputation when it comes to standing desks and related accessories.
And you probably also know that reputation comes at a decent price.
So the question is, are there some worthy Varidesk alternatives on the market?
As of 2019, we can honestly say that there are a number of solid brands that are competitively priced- but are still high quality.
Below are our top 10 favorite alternatives.
Our Favorite Standing Desk Converter
The Vivo Height Adjustable Standing Desk 36" is a top selling riser that has earned 4.4 stars on Amazon among 900 people that rated it. It is a dual platform riser that offers enough space for 2 monitors on the upper platform (along with some storage space), and a keyboard and a mouse on the lower one.
You'll probably like the smoothness of movement, as you adjust your riser desk from 6.5" to 16" high. The keyboard area is not adjustable, but it can be removed if you choose to do so.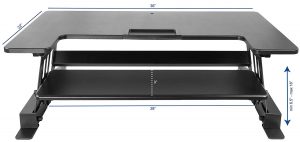 Make sure you limit your load to 37.5 lbs for the entire workstation.
Assembly should be easy, all you have to do is attach the feet with the tool that comes included in the package, place it on top of your current desk, and you're good to go.
The desk comes in black color, and holds a 3 year limited warranty. The manufacturer also promises a friendly customer care.
WHAT CUSTOMERS ARE SAYING
Most of the customers that bought this product were looking for a decent Varidesk replacement for a budget price, and they strongly believe they found it. The desk is incredibly stable, and doesn't wobble at all.
Some people had issues with lifting and lowering the VIVO workstation, but after discovering the wing nuts in the back and turning them counter-clockwise they were able to loosen the gas spring lift tension.
The only real complaint is the keyboard area, as some people that need it feel it is too small. We did mention the friendly customer support that was promised, and are happy to say VIVO excels in it.
WHAT WE LIKE
Stable desk at an affordable price
Easy to assemble
Spacious upper platform
WHAT WE DON'T LIKE
Not enough space on the keyboard platform
Our Second Choice
No products found.
If you felt a bit uneasy due to the small keyboard area on the VIVO desk, the c has the issue sorted out. The FlexiSpot keyboard area will fit a large keyboard, a mouse and you'll still have lots of room available.
Another great attribute this product offers is the vertical lifting and lowering, so the desk stays within its own footprint and will be a great choice for anyone looking to save space. The upper platform can fit up to two monitors.
The weight limit for this product is 35 lbs, which is the standard for similar products on the market. It is manipulated with dual gas spring motion and comes in black colour.
WHAT CUSTOMERS ARE SAYING
80% of the customers that got the FlexiSpot LOVE it, and some of them even had a chance to compare it with the Varidesk.
In their opinion this one is better, especially when they compare the price range, the smoothness of the lifting and lowering and how perfectly it fits in a cubicle area.
The big issue some customers had was assembling the keyboard tray. It comes with pre-drilled holes to position the keyboard tray, and they either got smaller screws, or have received half of the screws needed. Customer care has reached out to some of those customers, but others were left hanging.
WHAT WE LIKE
Spacious work desk with large keyboard area
Affordable pricing
Vertical lifting that saves space
WHAT WE DON'T LIKE
Keyboard platform assembly issues
Best Full Standing Desk
If your dream ever was to be the coolest kid on the block, then the Seville Classics Electric Standing Desk has got you covered. It is as fancy, as fancy can be.
The tempered glass top looks as amazing as it sounds, and it can hold an incredibly 264 lbs of weight. That is 6 times the standard rising desk.
The makers of this product included two USB charging ports which is super-convenient and practical feature. The touch screen in the front of the platform is tiny, but it certainly helps a lot, since you can raise or lower your desk by pushing a button. The led display comes in blue colour.
A feature we found amazing is the dry-erase top of the platform where you can scribble, take notes and wipe it all away once you're finished. The assembly is easy, and you will have 16 screws to work with.
Did we mention the pull-out storage space?
WHAT CUSTOMERS ARE SAYING
Customers have given this product 4.7 out of 5* on Amazon which is the best rating so far. The thing they praise the most is the sturdiness of the desk, and how good it looks.
With that being said costumers would love to see some kind of cable management in the future, since they end up dangling everywhere.
Also the assembly wasn't super easy for some customers, but they had it ready in about 30-40 minutes.
WHAT WE LIKE
Beautiful looking standing desk
Firm as an ox
Efficient USB charging docks
Easy to lift and lower while sitting
WHAT WE DON'T LIKE
Other great desk converters
If you're not a fan of big fancy desks, and need something simple yet effective, take a look at the AmazonBasics Height Adjustable Standing Desk Converter.
Unlike other keyboard trays that hang over the upper platform, this one can be tucked away if you're not using it. The AmazonBasics desk offers a large keyboard area that will satisfy most customers' needs.
The work area will hold up to 2 monitors and the entire product fits most standard work desks and cubicles.
We weren't quite sure what the manufacturer means when they say the weight limit is 10 to 35 lbs. as it might be the limit of weigh if you decide to add a monitor arm.
We really like the cable management system (7 cable channels), especially since it keeps all your cables safe while you're lifting or lowering the desk.
WHAT CUSTOMERS ARE SAYING
If we may repeat a phrase from one of the customers: 'A vanilla stand that does the trick,' and we absolutely agree on this one. It is simple and effective. The desk is stable, and doesn't wobble at all.
The thing customers didn't like was the height of the desk when in sitting position. Some of them felt it is too high, and not very ergonomic.
Also the keyboard tray is not adjustable, but most of the customers that have bought similar products with adjustable trays in the past have had stability issues. Not with this one.
WHAT WE LIKE
Sturdy and made to last
Spacious upper and lower work area
Affordable when on sale
WHAT WE DON'T LIKE
Keyboard tray is not adjustable
Sitting position a bit high
The Fancierstudio Standing Desk Extra Wide 38″ is a bulky riser desk that supports up to 30 lbs, and weighs 60lbs. It is definitely heavy duty, and you might need a bigger desk for this one.
The height is adjustable by pulling the levers to the side, and lifting up. You'll be able to choose between 8 levels of height. The keyboard is not removable, and is 3inches apart from the upper platform.
It arrives fully assembled; just make sure you're not lifting it up alone.
WHAT CUSTOMERS ARE SAYING
The thing people love the most is the ample keyboard space. You can place a mouse on one side, and another gadget left of your keyboard.
Some people didn't like the bulkiness of the Fancierstudio riser, and felt it could get a bit wobbly.
WHAT WE LIKE
Heavy-duty riser that saves money
Large keyboard area
Simple and sleek design
WHAT WE DON'T LIKE
No products found.
It goes a bit higher than standard riser desks, and it will accommodate people up to 6'5''. Some might experience problems with the keyboard area being a bit low, and seem to have fixed the problem by placing the keyboard on the upper tray.
We're not sure if that is the best ergonomic solution. What do you think?
WHAT CUSTOMERS ARE SAYING
72% of the people that bought this desk gave it 5* on Amazon which is not a bad score. They like its pneumatic power, and how they can adjust the gas spring lift tension. Check for the wing nuts in the back!
Just like the previous model on our list, this model does get hate for being bulkier, so it will pair better with people that own larger desks.
WHAT WE LIKE
Sturdy structure that doesn't wobble
Friendly price
E-Z release keyboard platform
WHAT WE DON'T LIKE
The iMovR ZipLift+ Standing Desk Converter is the most people oriented desk on our list. It will accommodate anyone from 5' up to 6'7'' tall.
The keyboard is adjustable and can be tilted up to 15 degrees. It will comfortably support one monitor on the upper desk, and a keyboard and mouse on the lower.
If you wish to place 2 monitors on the upper platform, go for the C-clamp.
The makers 'nested bar' design should give it a lot more stability than crossed ones.
This could be the perfect desk for the office, or if you're working late ad you don't want to disturb the surrounding. It is silent, and doesn't let out any clicking noises.
WHAT CUSTOMERS ARE SAYING
Most customers that bought this desk wanted to love the product because it is a good idea, but some people find the positioning of the upper platform odd, especially when they switch from sitting to standing.
The lower keyboard platform might be small for some people. It can hold an ergonomic keyboard but doesn't allow much room for the mouse.
WHAT WE LIKE
Creative design
Sturdy and good looking
WHAT WE DON'T LIKE
Needs to go back to the drawing board
Other great full standing desks
If you're more of a single-desk kind of person and you like love choosing colors, then Jarvis Standing Desk Bamboo could be just the thing for you. This award winner desk comes with a lifting column that has wider foundation that adds to its stability.
The Jarvis standing desk looks simple yet classy, and it comes with an extra gadget. On the front side you will find a memory hand-set that will remember your perfect height needs.
WHAT CUSTOMERS ARE SAYING
People just love the design of the Jarvis Bamboo Desk. It comes at a higher price than the sit/stand adjustable desks on our list, but if you don't have a base desk and need to get 2 desks, then this is an acceptable alternative.
WHAT WE LIKE
Popular among customers
Good quality bamboo finish
Lifting mechanism works properly
WHAT WE DON'T LIKE
If you're on a tight budget, and are not ready to invest in Jarvis, then the SHW Electric Height Adjustable Computer Desk might be a decent replacement. Sure, the platform is not high-grade wood, but you can always customize it, if you're crafty.
The cable management system comes in handy; you don't want cords dangling everywhere. Another added bonus; There's room to screw a sliding keyboard tray under the desk, if that's what you wish.
WHAT CUSTOMERS ARE SAYING
Most customers that got this desk had the need to also purchase the dual-monitor tower, which raises the price of the set-up.
The only thing most customers don't realize before buying this desk – the table top is made of two pieces. Also some customers had issues with bolts not fitting correctly on assembly.
WHAT WE LIKE
Great for tight budgets
Sturdy and efficient
WHAT WE DON'T LIKE
Could be tricky to assemble
If you're not a fan of electric desks, take a look at the Stand Up Desk Store Sit to Stand Up Computer Desk. It goes up and down with the help of a crank.
It will hold two monitors on the upper platform, and is movable, meaning it comes with 4 rolling casters. It will hold up to 154 lbs.
WHAT CUSTOMERS ARE SAYING
As we suspected, customers are not big fans of the crank system, so if you need to switch a lot, it will get annoying to crank for a minute each way.
Some people solve this issue by getting a high stool, and switch between chairs, instead of moving the desk.
Other than that, the desk is sturdy, looks nice and has very good quality.
WHAT WE LIKE
Good looking design
Affordable pricing
Ergonomic dual platform
WHAT WE DON'T LIKE
The crank system gets old after a while
So we reached the end of our list, and hopefully you found what you need. If not don't despair, we have other Varidesk alternatives on our website.