It is sometimes overlooked, but the position of your computer keyboard can have a huge effect on posture.
And we all know that bad posture can lead to a number of health problems.
So if you're working at a desk, do yourself a favor and get an ergonomic under desk tray for your keyboard and mouse.
What is our favorite keyboard tray?
To make our decision, we looked at key product elements such as features, design, customer reviews, and prices.
Below is our list of the top products on the market as of 2022.
Our Favorite Keyboard Tray
If you're not that handy with a screwdriver, this keyboard tray is for you. And because the Stand Steady is our top choice, you should know that we're not that handy ourselves around the office!
Very quick assembly
Perhaps its biggest advantage is the fact that it is so easy to put together – most people say it took them three minutes to fit the tray to the desk.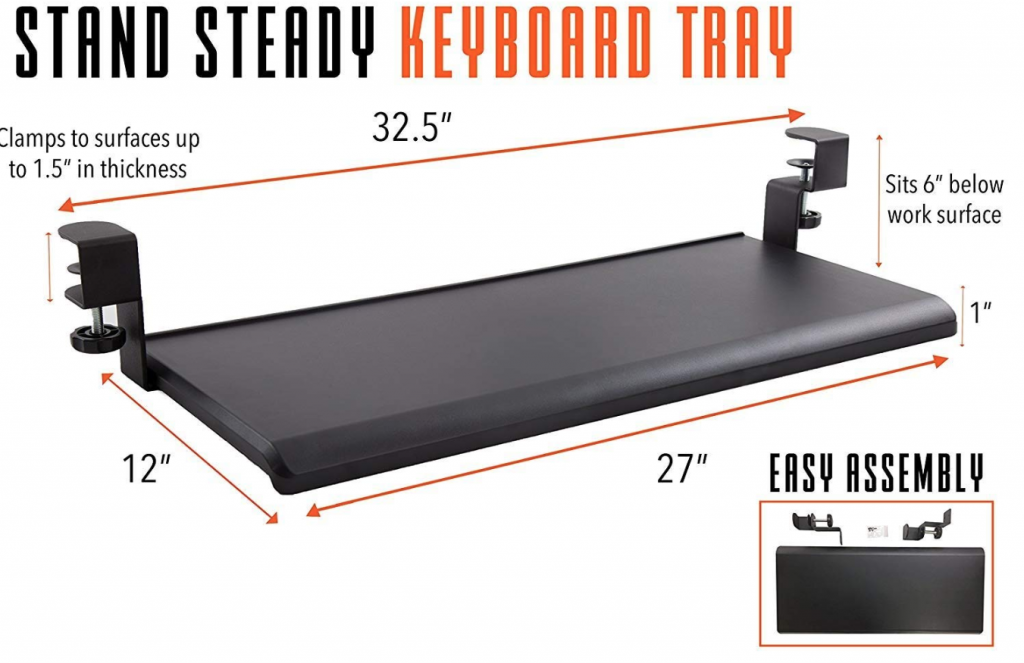 Large enough for a keyboard, mouse, and office items
But it's not just the easy assembly that's won our hearts.
It's also a modern but very practical design, the tray is wide and allows you to put not only a keyboard on it but also a mouse and other objects on it (like a phone).
Other happy customers commented that they bought the Stand Steady Clamp after being disappointed with other products.
What we like:
The quick, uncomplicated assembly
Plenty of room for keyboard, mouse, and more
There is no damage to the desk as the clamps go onto the padding
The ergonomically textured edge is gentle on the wrists
What we don't like:
It may not work as well on desks or workspaces that are low, as it takes up a bit of space under the table, which could make the sitting space a bit tight.
Runner Up Choice
If you're one of those people who likes putting things together, the Kensington tray could be a good fit.
The Kensington brand makes a huge range of quality ergonomic products. They are a well-known, trusted brand which in many cases can be a comfort when purchasing expensive items.
The design
The tray has an elegant look and fits entirely under a desk surface, which is handy for people working at home.
As soon as the keyboard tray slides underneath the desk, there is no sign of brackets or bulky screws and the whole tray is out of sight.
It is a sturdy product that does not jingle or move and in terms of price, it is very affordable – which is another big perk.
What we like:
A good design with an edge to keep the keyboard in place
It can move entirely out of sight
Excellent price
It is light-weight but still sturdy
What we don't like:
Some people have complained that this keyboard is not the easiest to install or set up.
Benefits Using A Keyboard Tray
Did you know that ergonomic experts say that a correctly positioned keyboard can be as important as a good office chair in terms of fixing posture issues?

Ergonomic benefits of using a keyboard tray
Better positioning of your hands and arms: Your arms should not stretch towards the keyboard, but instead fall naturally towards the keys. Additionally, your elbows should be bent but still allow your wrists to be higher than the keyboard while typing.
Improved body alignment while working: The keyboard and mouse should be placed close to your body with a tilt downward of at least 15 degrees. Perhaps, go in on a tray that can fit both the keyboard and the mouse for the angle consistency.
How To Choose The Right Tray
Have a look at your desk or the kind of table you are working on. If the table has an L-shape, you will need a corner sleeve to extend the surface and to make the keyboard tray placement sturdy.
Most keyboard trays are fitted onto a track that you can install yourself underneath the desk. You will need six or eight screws.
There are tracks of various sizes and width available, so look at your desk and see what will work for you.
If your desk is not very deep, the keyboard may not be able to slide completely out of view – so bear that in mind.
Need to adjust: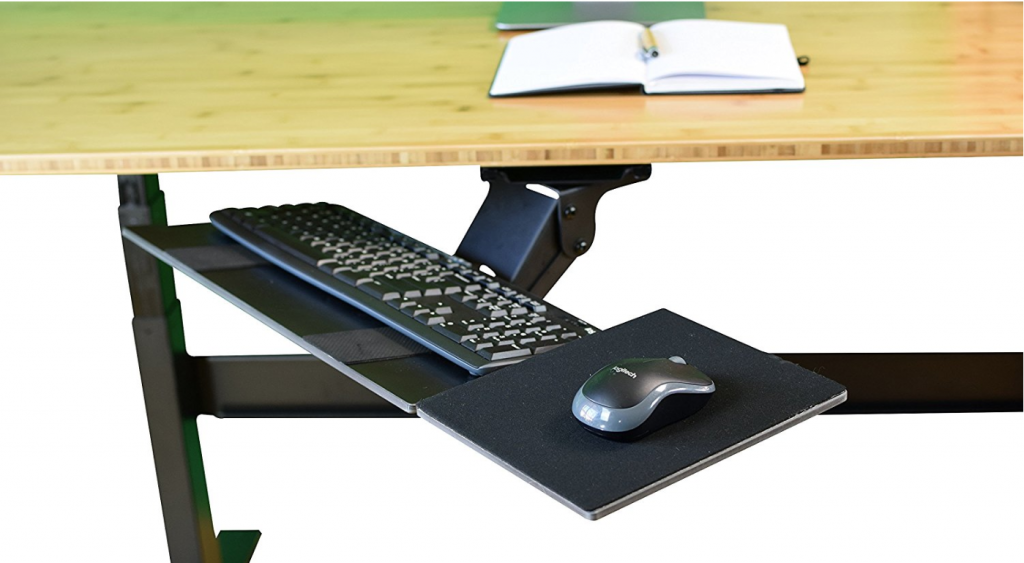 When looking at the keyboard tray you would like to fit, consider the height of your table and the angle of your keyboard. Most keyboard trays can be adjusted in terms of height via a mechanism called the "arm".
This part is connected to the keyboard tray and can be either a standard size (about six inches) or slightly higher or lower.
A double swivel arm can move the keyboard in different directions.
Ease of assembly: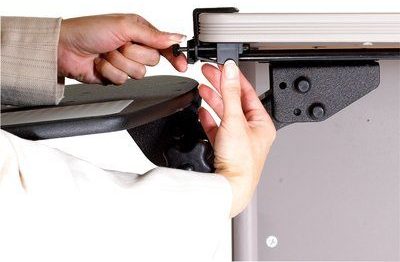 It is also important to consider the assembly process. Most keyboard trays come with either clamps or screws. Keyboard trays that come with clamps are easier to install and don't damage the desk or table.
This is very convenient in offices and for people who don't want to struggle with instructions or manuals. The keyboards that are installed with screws will involve some drilling of holes or more intensive installation but will result in a cleaner look.
These kinds of keyboards are usually able to slide out of view completely. 

Separate mouse tray: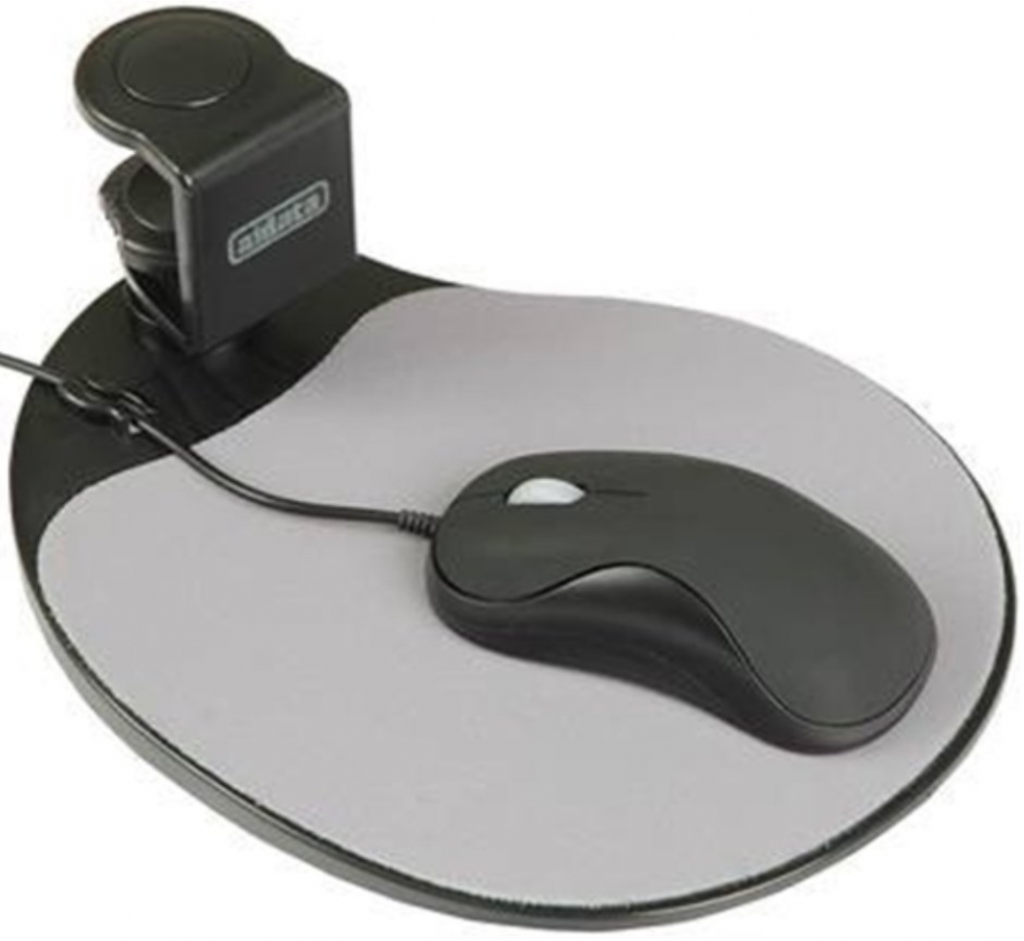 It is also worth thinking about whether you will want a separate mouse tray or a platform that is wide enough to include both keyboard and mouse.
Many keyboard trays are extra wide to allow for more items to be placed next to the keyboard.
This is ergonomically advisable as you don't want to reach for the mouse but have it close by.
Are Trays Useful For Carpal Tunnel?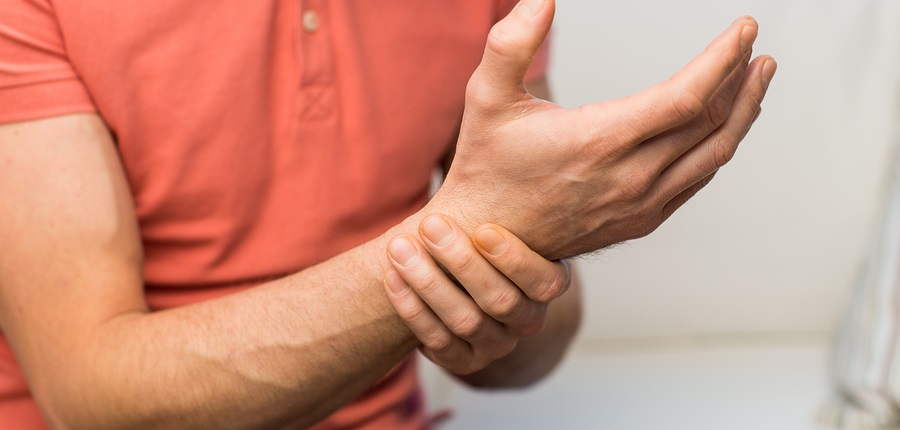 According to MedlinePlus, the latest research has not proven that repetitive office-related movements (i.e. typing, clicking a mouse, writing) directly cause carpal tunnel syndrome.
However, these repetitive movements, especially performed in poor positions, can increase the risk of tendonitis and bursitis in the wrists and hands. 
Both medical conditions can also narrow the carpal tunnel in the wrists and cause carpal tunnel-like symptoms. 
What is Carpal Tunnel?
The carpal tunnel, located in both wrists, is a very narrow passageway that the median nerve routes through in order to provide movement and sensation to portions of the hand.
How problems start
If the carpal tunnel becomes too narrow, the median nerve gets pinched off causing pain and abnormal sensation to the thumbs, index fingers, middle fingers, and the thumb side of the ring fingers.
Functionally, carpal tunnel can drastically reduce an individual's ability to perform finer movements required for office-related work.
Poor office habits
Typical keyboard placement forces a person to keep their wrists in a prolonged extended position, which can narrow the carpal tunnel and place unnecessarily strain on the entire structure of both hands. 
Additionally, the fingers cannot effectively perform typing or clicking movements with the wrist extended.
Having a tray allows the user to place their wrists in a neutral, or slightly downward (or flexed) position, freeing up any tension in the wrists and hands and optimizing long periods of typing with the fingers.
Other Great Keyboard Trays
The Fellowes underdesk is recommended for people who have limited funds or who don't want to spend too much money on a keyboard.
The mouse tray can be fitted to the right or left of the keyboard and can also be stowed underneath.
It is a strong design and takes standard keyboards. Another cool feature is that it is made of 100% recycled material.
While being on the more expensive side of the spectrum, the Vivo tray has some additional benefits that other products don't have.
For instance, there is a bigger range of motion with a 180 degree swivel action and five different height adjustments. There is a lot of flexibility here and it slides neatly under the desk.
The tray has a steel base, which is a bit heavy but definitely ensures durability.
Although marked up higher, the price on this keyboard can be well worth it for those seeking more adjustability. 
You can raise, swivel, tilt, and slide the tray allowing you complete control over the position of your keyboard.
The tray comes with an ergonomic mouse pad, which tilts separately from the keyboard and can be installed on the right or the left side. 
Furthermore, this rather bulky looking tray can be slid completely out of sight.
It is a bit on the costly side, but this product has very good wrist support, which many other products lack.
Redesigned for comfort and usability, the keyboard tray slides easily along a 13-inch track and fits smoothly underneath the desk when not in use.
The platform can be tilted and positioned at a 180-dgree angle, which is very handy. 
This tray is not directly aimed at customers in search for a platform designed to hold both a keyboard and a mouse.
Instead, the Skyzonal tray is an addition to the workstation that allows padded space for the arms and the elbows. 
The tray can be clamped to the desk, folded down for stow-away purposes, and angled in 10 degree increments to allow for customized and comfortable positioning.
Keyboard Mouse Platforms
This is a mouse platform that can be attached to a desk or table and can rotate 360 degrees. The adjustable clamp makes it easy to put the mouse pad where you want it.
The product is soft on top but sturdy underneath, making it more durable. It is also ergonomically designed to ensure good posture.
This platform is quickly fitted to a desk without any big installation or the need for drilling holes. It has a stylish look and clips on to almost any desk, regardless whether the user is right or left-handed.
It can be rotated 360 degrees and be stored under the desk when it is not being used.
Under desk keyboards are definitely an innovative take on the modern workspace – with many health benefits to boot.