Whether you want relieve some back pain or just relax at home, an ergonomic recliner is a great way to put your feet up.
Below you'll find the best 15 ergonomic recliners available in 2022.
Our Favorite Recliner Chair
Our favorite relaxing chair for the living room has to be the sleek FDW Recliner Chair.
This is a very elegant looking piece of furniture that looks great, is very affordable, and is ergonomically sound.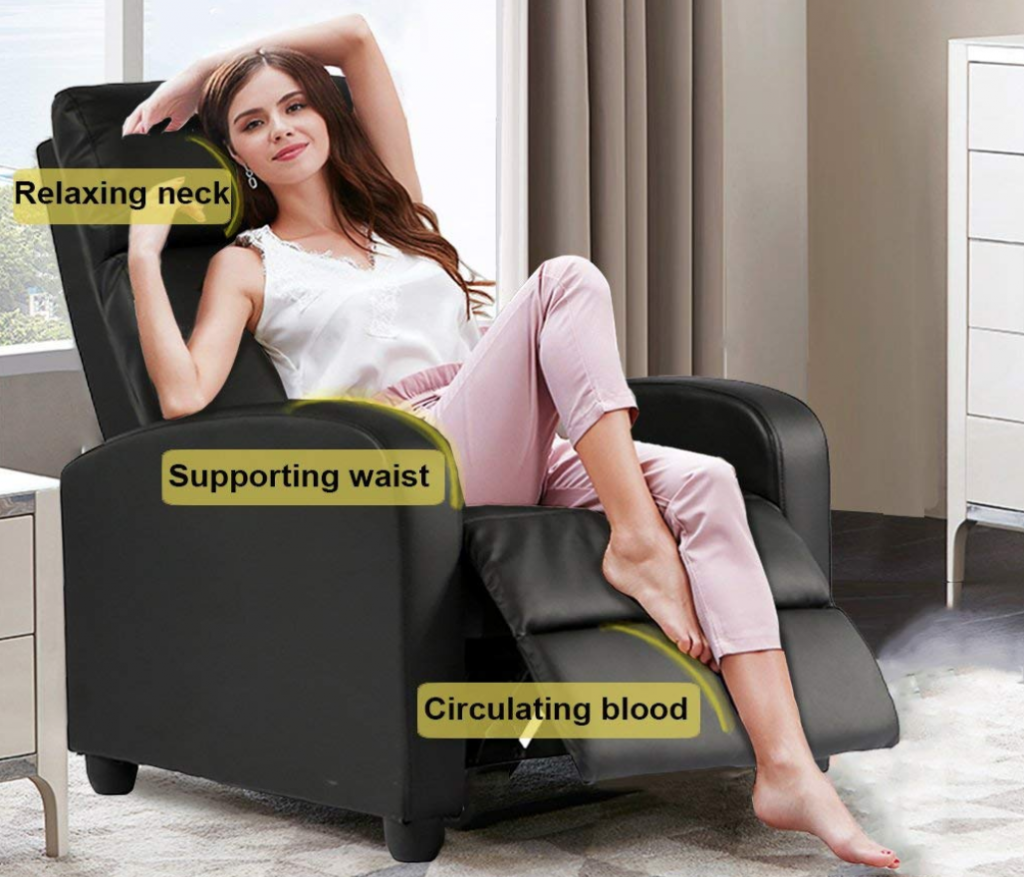 The recliner has an attractive look, with classical lines in a timeless black color.
Adjusts for your body
It has thick padding and wide arms while the lever allows you to move backwards and forwards with a wide ottoman for the legs and feet.
Can be used around the home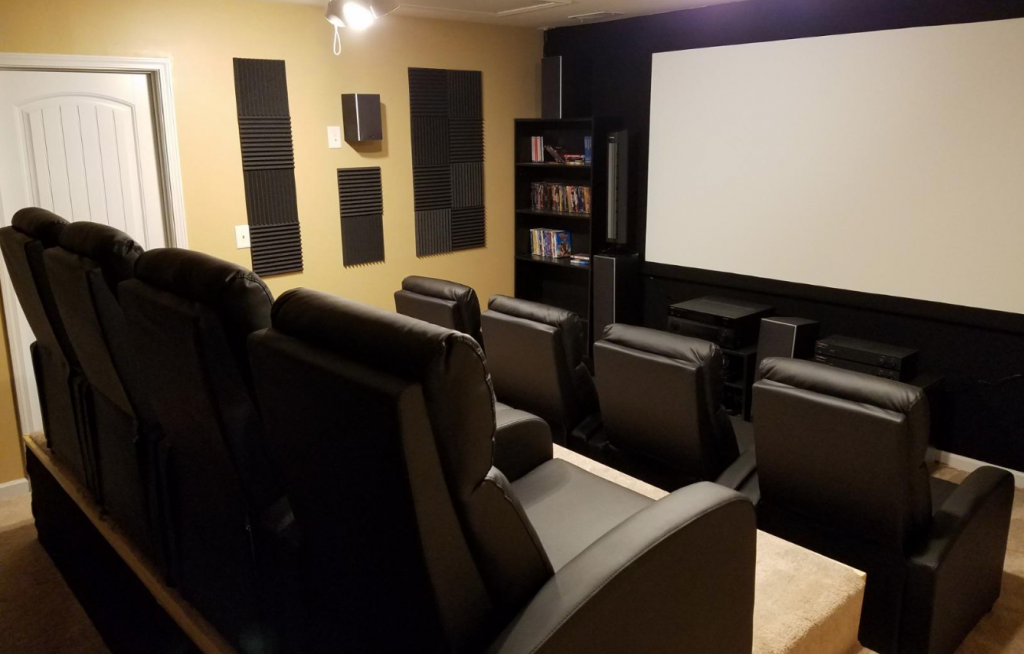 Actually this chair can be used not only in the living room, but also in dens, study spaces, theatres, and gaming rooms.
What we like is that this chair gets overwhelming praise, regardless of where it is used in the home.
Second Favorite Recliner
At a quarter of the price of our top choice, the Homall Single Recliner Chair Padded Seat could be the best bang for your buck in home comfort. This reclining chair offers much of the comfort you would come to expect – but it does lack some of the added benefits of higher-end models. For one thing, it is not electric but the reclining feature still feels very comfortable and strong enough to hold bigger people.
The upholstered leather comes with a fresh-air scent and does not smell of leather. It is double-bonded leather to ensure quality in the stitching and is padded with great comfort. The build is quite strong and features 3mm steel supports – much more than some of its competitors at this price range.
Our favourite position is the full-back napping position. The chair is quite long and can support most users.
What we like
High-quality PU leather feels soft yet durable
A steel frame is strong and sturdy – supports up to 265 pounds
The footrest is soft and strong
Lighter than most chairs – makes it easier to move around your home
What we don't like
Back cushion could have more padding
Some Amazon customers report the wide seat and arm rest make you feel like you're falling into the chair
Considering that this chair comes in at a price just over $100, there really isn't a worry here. Although you may not find it is as soft as more expensive models, this chair won't break your bank and the build quality is built to last. Enjoy long hours of relaxing at home in the Homall Single Recliner Chair.
Best Massage Recliner
No products found.
The Esright Chair is definitely our choice when it comes to massage chairs.
Not only does it look terrific, but it provides you with an awesome back massage too.
Excellent features
Many customers say they were surprised at how good the massage functionality was.
It is also able to heat, vibrate and rock and you can adjust the heat and movements with a remote control.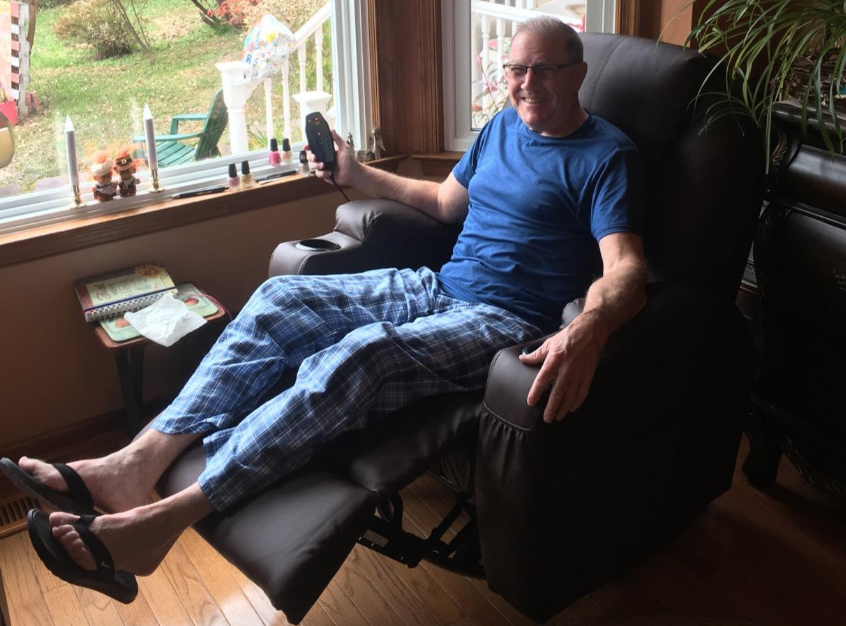 The chair has a sturdy design and is padded with extra thick sponge for the back cushion and armrest.
There are also two cup holders and four storage bags to keep TV guides or books.
Look and feel
Even though it is not made of real leather, it is very similar looking PU with fabric suitable for intensive use.
It comes in different colors, so it will suit any scheme or interior decorating. Its dimensions are 33.1 x 35.8 x 43.2
Other Great Recliner Chairs
Haven't been able to settle on the right chair for your home space? We totally get it. Your recliner chair needs to be perfect for you and your comfort settings.
Continue reading to find more information about some of the best ergonomic reclining chairs for relaxing at home.
If you are looking for a comfy chair to watch TV in and even fall asleep in, then this may be the chair for you. With a bonded leather look and a traditional design, this product fits into any space in your house and will definitely appeal to men looking for a chair for their man cave or den.
You are able to fully recline the chair into a flat position, just right for an afternoon nap. The rocking chair has an extra-wide design that is wider than most, and the overstuffed padded seat and arms provide even more support.
What we like about it
Looks like a leather chair
Provides good value for money
Designed for heavy use
The Baby Relax Mikayla Recliner would be a lovely focal point in any nursery or baby room.
With a beautiful gray color and smart welt trim and button tufting, it really is pretty to look at too.
Customers say they like sitting in it, with new dads even falling asleep in it while holding their babies. There is an enclosed ball bearing mechanism for rotating, swiveling and gliding.
The seat has a supportive spring core and is filled with foam. Customers who are taller say they find the chair able to support them with ease.
What we like about it
Very appealing aesthetically
Ideal for new families
Extra features, like swiveling
No products found.
While this may not be the sexiest or cheapest chair out there, customers love it.
It appears to work very well for elderly people and those with knee or hip problems, who struggle to get in and out of chairs.
Many customers say they are very happy with the recliner after buying it for parents or elderly relatives. 

Moreover, it is made of a soft touch fabric which one customer saying it felt like she was getting a hug once she sat down on it.
There is a remote control to operate the lift & recline feature, and a pocket on the right side to keep remotes and phones.
What we like about it
Great warranty on the fabric, frame and reclining function
Taller people have no problem with this chair
Extra storage pockets that help keep a room tidy
Finding a perfect spot right in the mid of our budget, the Flash Furniture Contemporary Black Leather Recliner comes packed with features. The ottoman enables even the biggest users to still feel a sense of comfort while the swivel chair options allow this chair to be sued in many settings around your home or office.
The mahogany wood base and floor glide ensure that anyone will feel comfortable and sturdy in this chair. Although you do not get any of the familiar heat or massage options the superior look and build quality makes this chair a stand-out for your home.
Starting off our list of the best ergonomic home chairs for relaxing is the Divano Roma Furniture Classic Plush Recliner. This chair features much of the familiar comforts of traditional Lazy-Boy recliner chairs at a fraction of the price.
At just under $400 this chair features many of the comforts of high-end chairs. The chair comes with durable bonded leather and features an electric chair lift and reclining system that can help anyone become more comfortable.
The best part – the chair also leans forward into an easy-stand position to help injured or immobile users get out of the chair with ease. Available in black and brown, delivered to your door and in a comfortable and plush soft cushion design this chair is one of the most comfortable and convenient purchases you can make.
What we like
The backrest is very comfortable in seated and lying position
An easy-stand position is very simple to use
Upholstered and bonded leather feels very nice and warm
Build quality is superior to even more expensive chairs
What we don't like
The chair is not ideal for smaller users
A few Amazon customers complained that the electrical components can fail
This unusual, curved product may not look like the most comfortable of chairs but many customers sing its praises.
Made of faux leather and covered with a thick layer of padding for easy cleaning, this is a contemporary accessory for an upmarket bedroom or living area.
There are two curved parts for excellent stretching and will help with various yoga poses. It has a solid wooden frame and is made to withstand daily use.
Many couples have also bought this chair for their bedrooms report using it in various activities to great effect.
What we like about it
Original and stylish design
Quick and fast to put together
Looks great
Concluding our list is the simple and comfortable Dorel Living Slim Recliner. Where this chair lacks in features, it makes up in build quality and price point. This chair comes in at just over $100 and is very comfortable.
The colour is very nice and the soft plush cushions provide comfort for hours. Although it is a manual recliner, the chair is lightweight and easy to open and close. Those looking for a simple and basic reclining chair need look no further than the Dorel Living Slim Recliner.
This product comes at an excellent price and with its bright blue look, it would work really well in a playroom or games area or in any informal lounge.
It is placed on the floor and is perfect for reading or playing games and watching TV.
There are five angle adjustments and the chair has a steel frame with linen fabric as well as polyester fiber and sponge padding. The seat can even be folded down to make an extra bed.
Perhaps the best looking and most simple designed chair on our list today. This chair feature much of the comfort you would come to expect from a plush reclining chair. With an electric reclining system the chair also comes standard with a USB plug to charge your phone while you watch tv – now there's no need to use the plug across the room!
The premium plush fabric is very comfortable and family friendly (It is easy to clean). We only wish that the footstool had more padding as we found the calf could get sore after extended use. The smooth and quiet motor on the reclining chair will allow you to find the best position even in the heat of an intense movie.
If you are looking for a comfortable, quiet and family friendly recliner that comes standard with a USB charging port the Lifestyle Power Recliner With Taupe Fabric is the chair for you.
Massage Recliner Chairs
Those obsessed with the comfort and relief that comes with massage chairs should find their perfect comfort in the Faux Leather Massage Recliner Chair by Best Choice Products. This chair comes standard with one of the most intense massage features we have seen on a reclining chair. There are 5 power options and nine comfort settings to allow for a different message every day – perfect for extended comfort across many users. Two modes will even hit the torso and upper leg – great for a relaxing massage after a long day.
The included wireless massage controller and extendable ottoman help anyone to feel comfortable in this chair. We only wish that they increased the 250-pound weight capacity as many larger users have complained of limited build quality.
Hands down the most unique reclining chair we could find. The Mecor Lounge Chair with Ottoman features a design that looks mid-century and features a soft-food base that is strong and built to last.
A strong base and 100% Italian leather provide a sense of quality and esteem. We would say this chair would look best in an executive office, but it can also provide a high-end feel to your home. The feel and structure of the chair will have you lying back for hours on end.
Coming in three colours, two cup holders and pockets, the U-MAX Power Lift Chair is built best for the elderly. This chair is very soft, offers easy-stand power settings and even comes with heat and massage settings.
The chair comes in two separate boxes which can make assembly a bit testing, but once it is put together the comfort and build quality will put all of your apprehension to rest. This is one chair that you will not want to get out of.