Staring at a computer screen for several hours a day can be very bad for your eyes, resulting in numerous conditions like eye strain or tired and itchy eyes.
In extreme cases, problems with vision can occur, resulting in time lost at work.
Did you know that having the right lighting at your computer station can make a huge difference to how hard your eyes have to work every day?
That is why a good lamp is essential for serious computer users.
No time to search online for hours to get the right lamp? No problem – check out our list of top ergonomic lamps.
Our Favorite Ergonomic Lamp
No products found.
We loved how unassuming and minimalistic this lamp is in terms of design, yet how big it is on functionality. To begin with, it allows you to set the lighting to the color and tone of your choice.
No glare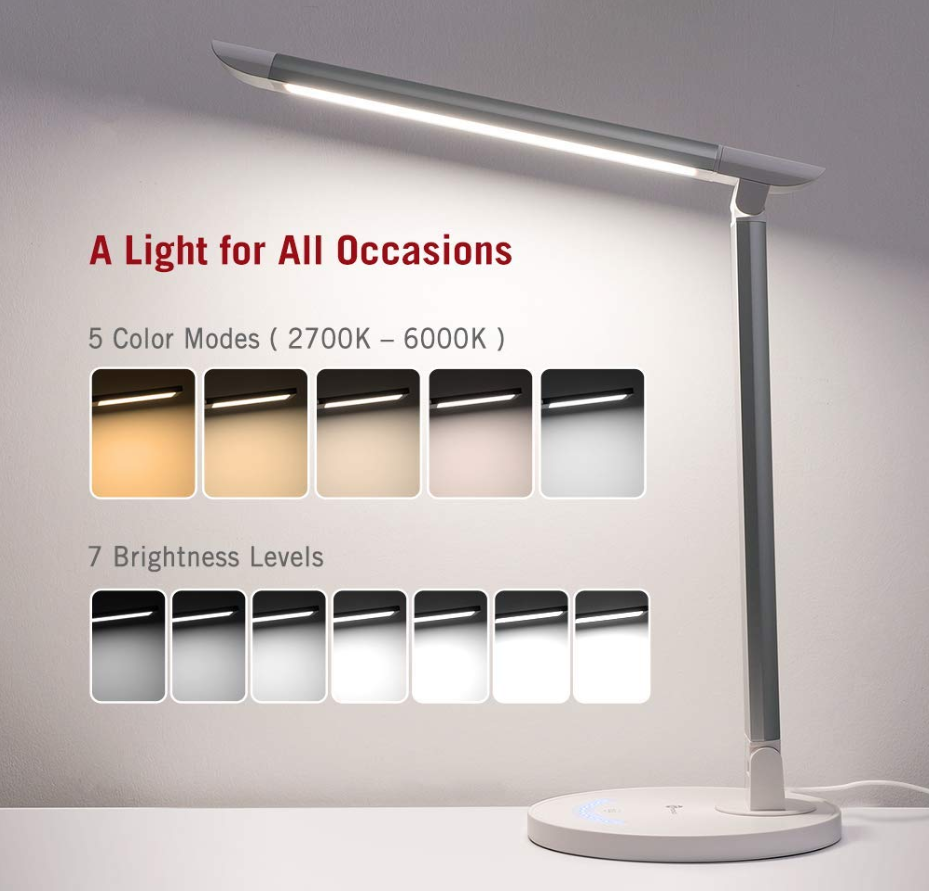 Whether you like a cool white light or a warmer yellow, or a shade in-between, the choice is yours.
There is no glare too, which gives your eyes a break and enables you to work for longer. Actually it's one of the best lamps out there that reduces eye strain.
Great flexibility & functionality
Another really great thing is that you can rotate the head to adjust the angle of the light and extend its reach. It can also be folded down if you want to move it out of the way.
There is a panel with buttons where you can change the light intensity and it also comes with a USB port where you can charge your phone or tablet.
Look and feel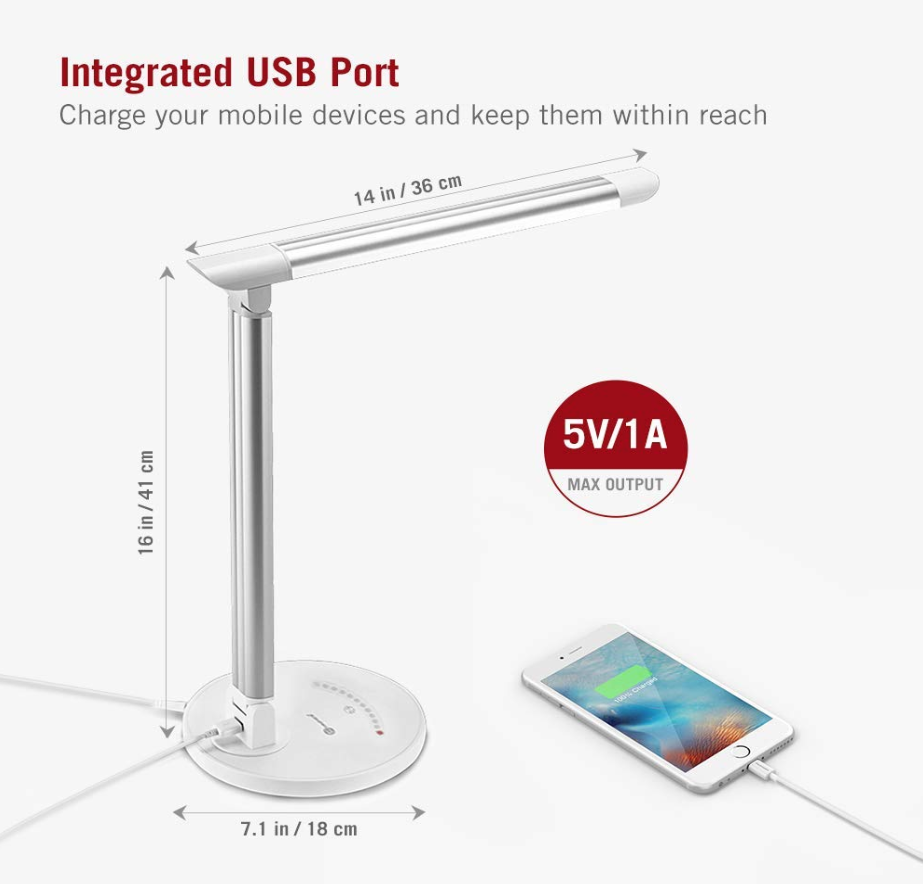 What customers are saying
Sleek and modern, the TaoTronics LED Desk Lamp will fit into any office or work space. It has an attractive design and comes in white or black.
There is an overwhelmingly positive responses from people who have bought this product and are extremely happy with it.
One customer said that he no longer got headaches when working at his computer after buying this lamp.
What we like about it:
Being able to switch between soft modes, more soothing for strained eyes

The LED light is energy efficient, so you save on electricity

The price is pretty decent too

1 year warranty
Second Best Ergonomic Lamp
The Brightech Lamp is well-suited to people who do a lot of close-up work or detailed reading.
This is another lamp that we recommend for dealing with eye strain.
Great for magnifying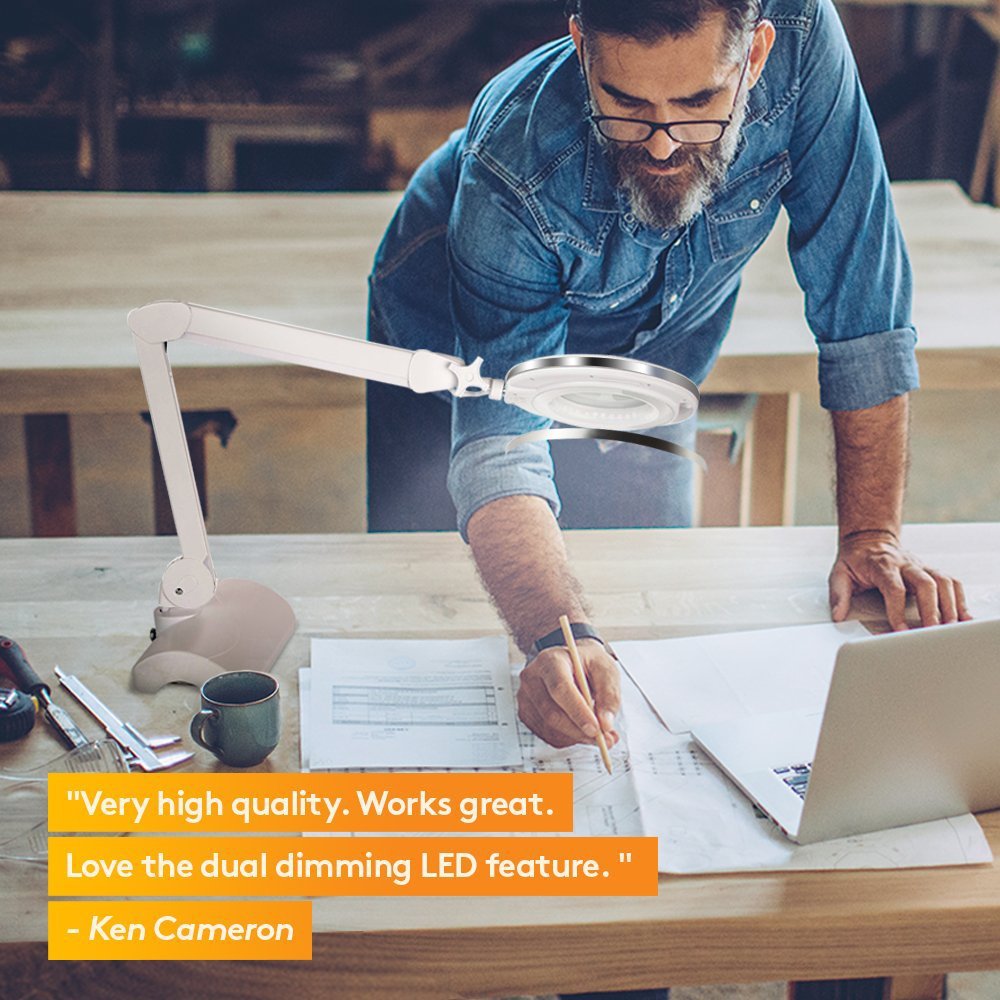 Ideal for older people or anyone with weak eyes. It magnifies up to 225% without getting hot and gives a clear view without heat or glare.
Suitable for all types of work
It has a 5-inch diameter lens with a 9-inch focal range – which basically makes it easy for reading, repair work, crafts or any additional work you may be doing.
As it comes with a handy clamp, you only need to attach it to a desk, table or headboard as it opens up to 2.5 inches.
Look and feel
This is a rather funky looking lamp, with a triple joint arm that you can swivel around 360 degrees to have it point exactly where you would like it. It will fit into any office or working space.

What we like about it:
The LED light is long-lasting and never needs replacing

A full 3-year warranty

Many customers give this product glowing reviews
What To Consider When Buying
Are you protecting your eyes?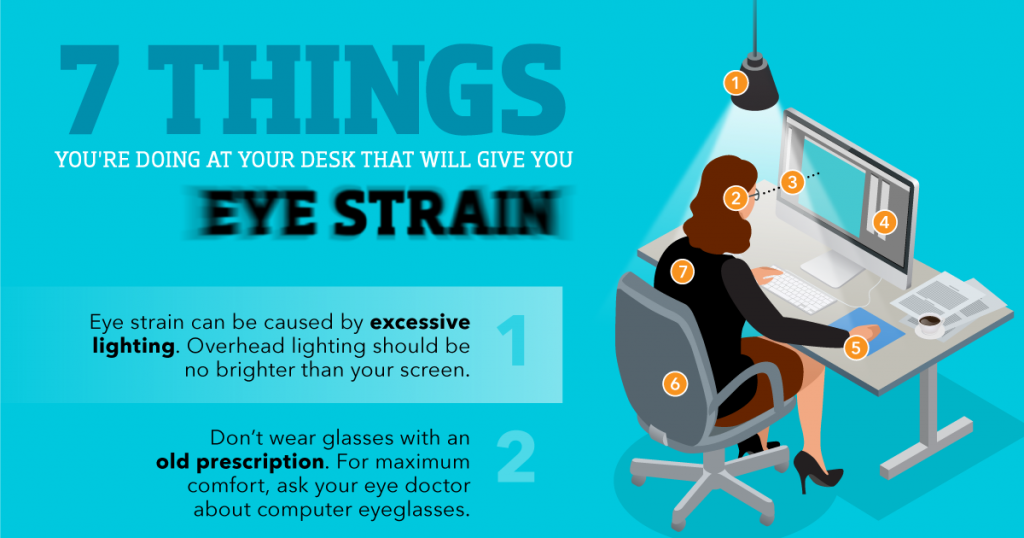 Many people struggle with eye issues, headaches or fatigue after working at a computer for several hours. The benefit of getting a lamp for your work station is that you can position it to point directly at your screen, reducing glare and controlling the light.
Working at a computer means our eyes move back and forth across the screen, which can cause eye strain and computer vision syndrome, which is directly as a result of prolonged computer work. Eyes having to adjust constantly and not blinking enough can become irritated and sore. A good light helps to prevent this by making the eyes work less hard, by not having to dilate as much to let in more light to see properly. There is some research to back the fact that fluorescent lighting can actually damage eyes and put you at risk of cataracts and other eye diseases. 
What styles are available?
There are various kinds of lamps available and you can choose the one that works best for you.
Gooseneck lamps are flexible and can be adjusted to direct the light
Lamps with adjustable arms let you move the light into a position that is suitable and is works well for bigger spaces
Some lamps have clip-on functionality and are simply clamped onto your desk or table
Some have added features like USB ports for charging or drawers for storing things
Other Great Ergonomic Lamps
No products found.
While this lamp is not the cheapest on the market, it is however, one of the most highly rated products out there. People love that it is strong and durable and that it does exactly what advertised: coming with more light options than previous models. It is a very good lamp for people with sensitive eyes.
This is a very attractive lamp with a handy touch base, allowing you to merely tap the base to turn it on and adjust the lighting to your liking. The light is soft and warm and provides a nice glow to the room. As it is dimmable you can set the light level to your needs. It seems to be more suitable as a table lamp or bedside lamp than a work lamp, but it would work well for reading.
This lamp has several nifty features and works with Alexa smart home devices for voice control. It is wireless, portable and with rechargeable Hue Go that can last up to three hours without a charge. Some people have commented that the battery life is not that great and that it only lasts that long if set on a low light option.
If you are looking for an unusual design that suits a contemporary office design or workspace, then this lamp may be a good option. It will not allow you to change the lighting though, so you will have to get the right kind of bulb to ensure the light is to your liking. It may be a bit expensive considering its limited choices.
No products found.
This lamp is one of the best on the market for those who are specifically looking for a lamp to go on their desk or table at work. It can swivel, rotate and adjust to ensure you get the right angle. The LED distribution softens the light, and this is better for the eyes. With four distinct lighting modes, you can really find the kind of lighting that feels best for your eyes while working.
This cute lamp is ideal for offices or work spaces as it has seven different features, including a USB charging port, a holder for pens and pencils, an alarm clock and calendar as well as temperature and LCD screen. In addition, the lamp has a gooseneck so you can adjust it for the right kind of lighting.    
Coming at a very good price, the LEPOWER Desk Lamp looks stylish and cool. It is an LED desk light with soft, flicker-free lighting as well as a dimming functioning, working simply by touch. There are three different modes and an environmentally friendly design, meaning you use less electricity.
Desk Lamps For Children
This will brighten up a child's room – in more ways than one! This rocket lamp is attractive and an excellent reading light, made of ceramic and metal. You only need to get the bulb. There is a minor installation involved but that is no more than simply attaching the shade to the base.
A very high number of customers say this lamp was the perfect accessory for their child's bedroom, going well with any decor and looking really good. The sports base design will appeal to boys especially and the blue, red and white will fit into almost any color scheme in a child's room, especially a younger child's room.
A great addition to an older child's room, this lamp has a pen holder and a dimming function. There is a USB charging ability and a smart LCD screen showing date, alarm, time and temperature. Perfect for studying or doing homework, the lamp even has a night light, as well as three brightness levels.