Did you know that you can pay over $1500 for an ergonomic chair?
I hope you didn't fall off your chair…that would be ironic!
But anyway, I have some good news for you.
You don't have to burn a whole in your wallet to have a solid ergonomic office chair in 2022.
Here's our top picks for best ergonomic chairs under $100.
Our Favorite Ergonomic Chair
Coming in as our top choice is the AmazonBasics Mid-Back Office Chair. This chair features all the comforts of high-end chairs, without breaking your budget.
In fact, this is one of the more comfortable and ergonomic chairs we have seen.
Features & look
The office chair features an upholstered leather design with comfortable padded seats and very well build design.
The chair armrests even come with a soft padding to allow comfortable work all day long.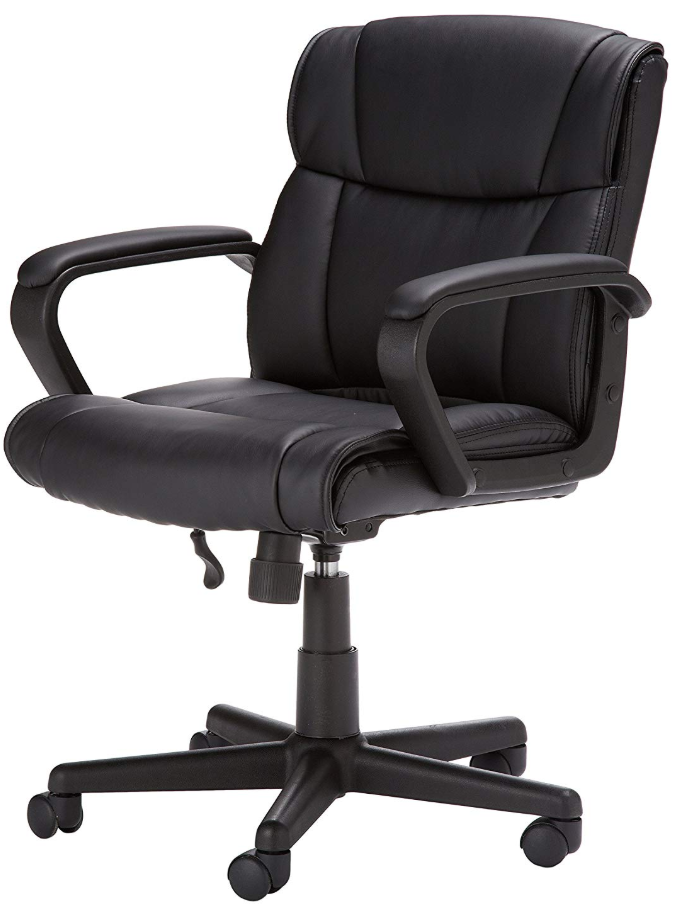 Probably not for heavy people
One thing you should consider with this chair is the 225-pound maximum weight.
Not to say this chair will break on you, but we have noticed that heavier people review the chair hydraulics do start to wear down much quicker with extended use.
What we like
Easy-glide wheels feel strong and movable on any surface
Pneumatic press to easily adjust seat height
The padded seat is very comfortable for all day work
Low price and high quality feel
What we don't like
Seat height is may not be suitable for those over 6 foot
Lumbar support could be better
Some users report that the chair squeaks
Overall, AmazonBasics Chair is a very good all round choice for your office.
And for the low price, this is definitely a chair you will want to keep on your radar for a long pain-free work day.
Second Best Office Chair
The only reason the Vanbow Ergonomic Chair doesn't come in as our top choice is the price.
The Vanbow Extra High Back Mesh Office Chair is one of the most comfortable and affordable chairs we have ever reviewed.
Features & design
The ergonomic chair features a waterfall back design made of mesh, adjustable seat heights, extra lumbar support, and even adjustable arm heights.
Don't be fooled, this is not one of those chairs that comes with so many features but sacrifices on quality.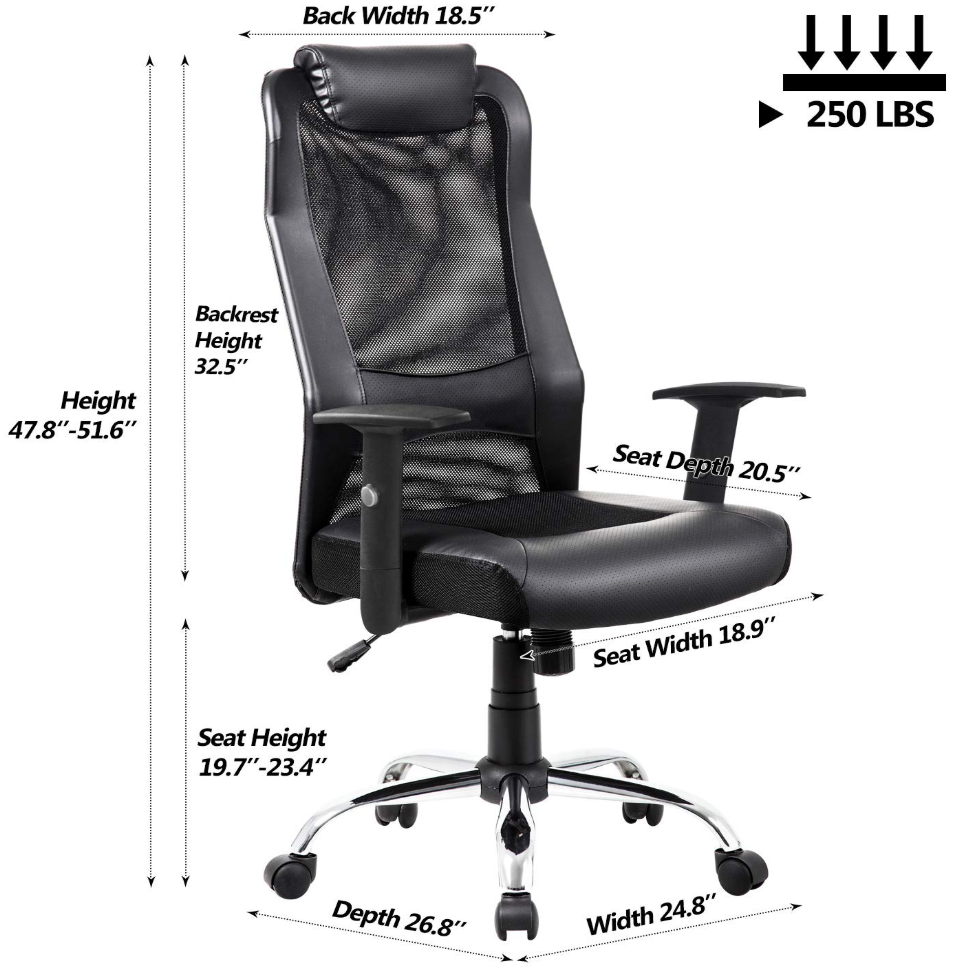 It has a stand that features extra-strong metal base and nylon smooth-rolling casters for great stability and mobility.
Height limits
The only place this chair does fall a little short is when we look for comfort in those under 5'4 or over 6'0.
The chair is not uncomfortable, but some reviews on Amazon claim that the shorter you are the more the top cushion could aggravate your neck.
What we like
Very strong and durable base and wheels for extended use
Adjustable seat and arm height make ergonomics a breeze
Mesh backing allows for longer work sessions without aching pain
What we don't like
Backrest could be more stiff with better lumbar support
The cushion could be a little softer for longer work sessions
The chair could have a more professional design
The final verdict- the Vanbow Office Chair is one of our favorite options. Those with a budget under $100 will really appreciate the quality of this ergonomic chair.
Other Affordable Ergonomic Chairs
Still on your quest for an ergonomic chair under $100?
Finding the right chair for your workspace can be tricky – especially with so many options available.
Not to worry, below we have reviewed some other great affordable chairs that we recommend.
Many people tend to stay away from mesh chairs, but it's important to know that the mesh design is not a lower quality – it's actually very ergonomic and strong.
The AmazonBasics Mesh Chair takes full advantage of this.
The chair has an adjustable seat height and strong comfortable mesh backing, to ensure you're comfortable sitting.
IMPORTANT NOTE: Those looking for a more adjustable and ergonomic design should look back to our top choices above.
This is one of the more unique designs on our list for ergonomic chairs.
The Furmax Ergonomic Office Chair features a design that mimics modern gaming chairs.
The back support hugs your torso to keep you planted in your chair with great posture.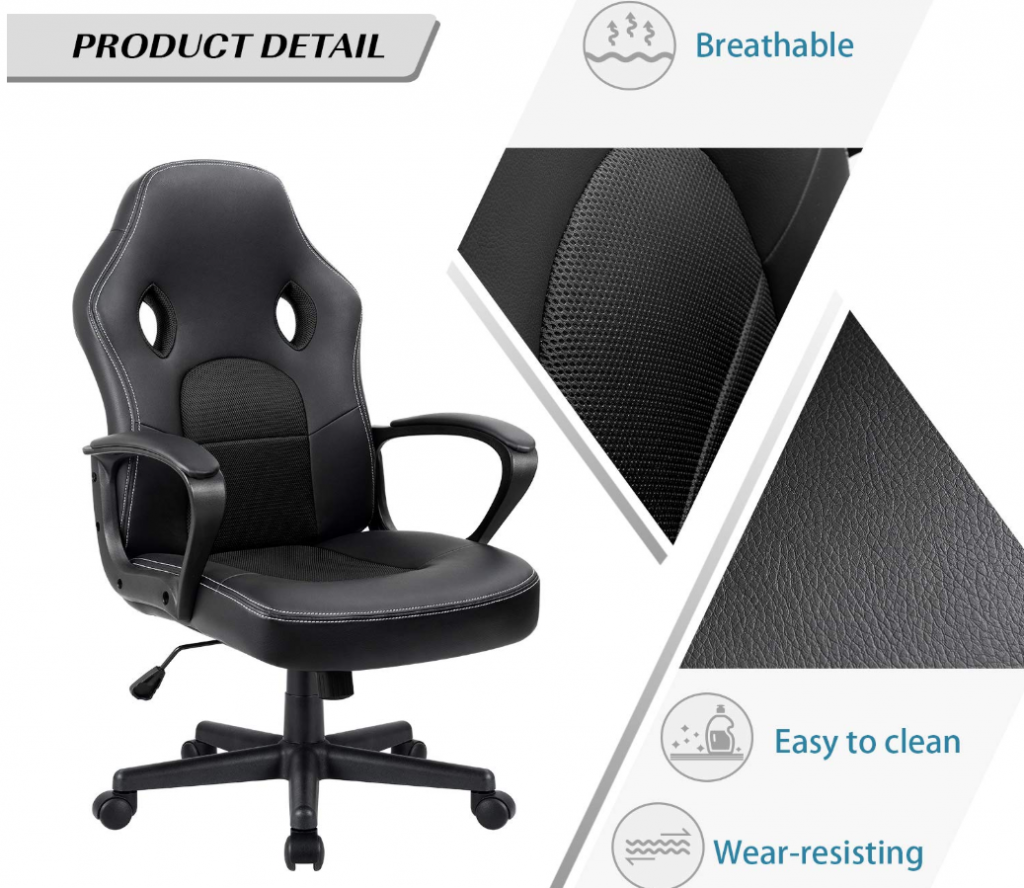 Adjustable seat height and great lumbar support offer endless hours working or playing on the computer without all the nagging back pain of traditional office chairs.
Beautiful faux leather blends well with the design and will make your work or office space look warm and comfortable.
Those looking for a well-designed office chair for extended work hours should consider the Furmax chair.
The Furmax Office Lumbar boasts great comfort and high-quality materials built to last long hours.
It comes with 360-degree swivel wheels, mesh backing, metal base, and a lean-back chair offers one of the most unique and comfortable designs we have seen at this price point.
Don't shy away from this chair because you believe the quality may be lower than others.
Many positive reviews suggest this chair is one of the best purchases they have made to equip their office.
Those looking for a classic office chair design can look to the BestOffice Ergonomic Chair.
The name says it all- ergonomic leather office chair.
This chair comes packed with a very comfortable cushion design on the back and bottom to help you feel comfortable all day long.
Bringing the best of design, comfort, and ergonomics the Ergonomic Mesh Computer Chair is built to last.
The chair backing has great lumbar support and stylish mesh design. The base offers a comfortable feature to help you to feel planted in the chair.
We have included all the best chairs we could find under $100. Don't worry though, we didn't skip out on quality – all the chairs we recommend come with great design features, extra comfort and an even better standard of quality.
Looking for an ergonomic product? Be sure to comment below with what type of ergonomics you want to learn more about – or what type of product you could use for your home or office.