While standing desks are great, you still need to pay attention to your ergonomic workstation.
I provided some guidelines in my recent standing desk ergonomics article.
If you don't have time read, one of my recommendations is a fatigue mat.
In this article, I'll explain the benefits of using one and also recommend my favorite fatigue mats on the market.
Best Standing Desk Mat
Ergodriven is a company that prides themselves on providing the best of the best when it comes to ergonomic chairs, desks, and mats. The Topo Mat is nothing short of genius.
This anti fatigue mat features one of the most unique designs of all the mats on this list. It has many hills, curves and flat spots this mat can be used in any position.
You must remember, a sedentary lifestyle is the enemy, and this mat provides you with the endless spaces for stretching and strengthening your feet while you work.
The texture is just soft enough to be comfortable and hard enough to support your feet – they really hit the right spot when it comes to comfort and ergonomics.
What we like
Endless design features will have you standing more often
Soft texture is perfect for shoes or feet
Two sizes for unique feet helps to provide custom foot stance options
Can also be used while seated for stretching the feet
What we don't like
Some amazing users feel that the teardrop middle component is limiting
Texture and design takes time for your feet to get used to
Be ready for some minor soreness for the first couple days
It is important to understand that any new ergonomic device will take time to get used to.
And this mat is one of the few that may take slightly more time. With that said, the soreness will lead to strength over time, and it's better than the pain and discomfort of traditional desk chairs
Second Favorite Mat
My other strongly recommended mat is the Vari ActiveMat Groove.
The Varidesk mat is simple and soft, providing your feet with a perfect texture to stand on for long hours.
It also comes with roller balls to massage your feet.
The simple design also makes the mat much more durable than more complex products and the 5/8″ high-density core provides long-lasting support.
If you are in the market for a simple and effective ergonomic floor mat to keep you standing all day, the Varidesk mat could be the best option for you.
What we like
Simple and effective design
5/8″ high-density core provides long-lasting support
Non-slip bottom is perfect for those that transition from sitting to stand often
No curl edges lead to very few falls or foot misplacements
What we don't like
The simple design is also the biggest downfall
Not as thick as we would have liked
Some amazon buyers complain this is not very supportive after long hours
Best Value Fatigue Mat
At a fraction of the price of most standing desk mats the Sky Mat- our best choice for great value and exceptional ergonomics while standing.
The mat features a very modern look and the patented Sky Core Foam creates a perfect blend of support and softness for standing all day in the kitchen or office.
Our favourite component to this mat is the endless colour selection. Most mats come in black or grey, which can be a little boring. For the eccentric office decorators out there, this could be the mat for you.
Beyond the design and colour choice, the feel and ergonomics is no pushover. The patented sky core foam feels quite comfortable and durable.
What we like
Low cost
Patented SkyCore Foam is very good
Colour selection
Non-slip and no edges make it very versatile in your office
What we don't like
Other Recommended Fatigue Mats
The TerraMat could just be one of the most unique designs we have featured here. This mat comes loaded with standard foot massagers, balance ars and an array of various foot positions to help you feel comfortable in any spot. You can use this mat sitting or standing and is a great mat for transitioning to a wobble design.
The extra thick and simple gorilla grip mat is one of the best mats for the price. What it lacks in design features it makes up for in comfort. We used this mat sitting, standing, in shoes, barefoot and found that the mat was very close to our runner-up for the best flat mat.
This might just be one of the most versatile mats we have on our list. The bubbled texture and the many foot positions lead to endless comfort in foot positions. We only wish the mat was a little thicker and perhaps a touch softer so that we could use this barefoot, but for the price, we can't complain.
Just because we're calling this a wobble board does not mean you will be losing balance. The movement is very subtle and helps to stimulate more muscles in the posterior leg. The ergonomic design and fluid movement lead to a Fluid rocking motion that creates low-impact movement. This floor mat is perfect for those that are frequently moving around the office and want another ergonomic touch to their workspace that emphasizes balance and great posture.
Fatigue Mat Benefits
Why use a standing desk mat?
Perhaps you are unsure why a standing desk mat is necessary in the first place. It is important to remember that the entire reason for standing is to influence more movement.
Sitting, in this case, requires very little muscle activation or movement to begin with, which could be your source of pain and discomfort.
Taking the step to standing will help to keep you be more active (isometrically) even if you are not moving while you stand.
The standing mats allow for the highest level of comfort, strengthen your feet, and enable for more stance variations and movement.
Standing mats are specifically designed to reinforce more movement in an effort to limit the amount of time each day you spend in a sedentary state.
Finding the right mat for you comes down to how much you currently stand, and how much you want to move around your office now.
Depending on the type of mat, you can have one that reinforces more movement and another that has you standing more stationary in one supported position.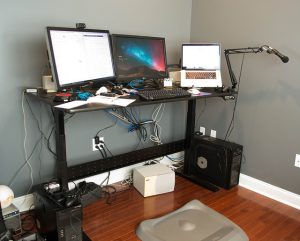 What are some of the different styles of standing mats?
Flat
The most basic mat you can grab. Both our runner-up and great value mat have this in common. They feature a simple, flat design that allows for more comfort for longer periods of standing.
Contoured
This is similar to our top choice. The design will enable more movement during the day due to the various modes of standing. This design is best suited to the intermediate standard – as you can move from a more simple, flat design to a more complex rounded feature whenever possible.
Wobble
Perhaps the most advanced type of standing desk mats. These mats have some slight movement built into the design to help you increase foot strength and stimulate more muscle and movement throughout the day. We recommend transitioning from a stationary mat like the flat or curved designs prior to trying these.