If you've ever had some kind of repetitive injury from typing, you'll know the importance of using a ergonomic keyboard.
Think about it, how many hours do you spend typing?
Yet most of us are happy to stick it out with a standard keyboard.
That is until we pick up a hand or wrist injury.
Choosing an Ergonomic Keyboard
We'll go through more of the benefits later in our review, but ergonomic keyboards have been customized to better accommodate your hands and wrists while typing.
Choosing the right keyboard will depend whether you're a coder, gamer, or simply work long hours in front of your computer.
Below you will find our review for the best ergonomic keyboards on the market. Our list has been compiled based on safety/comfort, quality, customer feedback, and overall value for money.
Our Top Ergonomic Keyboard
This keyboard is one of the most popular ergonomic keyboards on the market. It is a professional office worker's dream, with a split in the middle as well as a tilt. This is especially good for those struggling with carpal syndrome or other strain-related hand injuries.
One customer said he had used many different keyboards and that what made this product different was the integrated wrist rest and the rise of the arm. As the keypad is separate, the mouse is much closer, which can be very useful when you use the mouse a lot. The keyboard is also silent and there is no sound when you are typing away – especially useful in situations like for meetings or in presentations etc.
Look and feel
The Microsoft Sculpt Ergonomic Keyboard is quite a big keyboard. It is black in color and weighs 2.7 pounds. It may take up some space on the desk but it looks stylish and is well-made.  It requires three lithium batteries, which are included in the packaging.
What we like
The key presses feel very good
It is extremely comfortable to use
It has a very long-lasting battery
What we don't like
Some customers have said it takes a while to get used to the keyboard, so this may be something to take note of.
Runner Up Keyboard
The Kinesis Freestyle2 Ergonomic Keyboard has an innovative look and a nice design to back it up. A number of customers say that it feels very comfortable to work on and took care of their back pain issues for good. The keys are low pressure and feel good to type on. There is quite a wide separation space, allowing customers to position the keyboard sides however far apart they wish. The quality is good too, with a number of customers saying they bought more than one keyboard because they were so happy with it.
Look and feel
This keyboard has a rather sexy look with its alternative take on the normal keyboard. It is small and black and the sides of the keyboard can be moved around.
What we like
Customers say using it reduced their wrist pain
It definitely improves posture while working
The split is very quick to get used to
What we don't like
Some of the keys are placed at different places on the keyboard and this can be frustrating for some users
Close Third
No products found.
This slick keyboard offers ergonomic style to computer users with a curved keyboard that is shaped to accommodate the user. The keyboard is similar to a conventional one so there is not as much to get used to in terms of key layout. Price wise this product is very appealing too. There are three options for setting the height, which mean you can set it exactly where you want it. The battery life is also very good, and in some instances will last up to three years.
Look and feel
The Logitech MK550 Wireless Wave Keyboard is a bulky product that will take up a bit of space on the desk. But it is attractive in shiny black, and the curved lines are attractive too.
What we like
Quick to get to know
Simple set up
Customers say it relieves wrist and joint pain
What we don't like
A number of customers have complained about the keyboard not working as advertised and not being as durable as other products.
Is An Ergonomic Keyboard Important?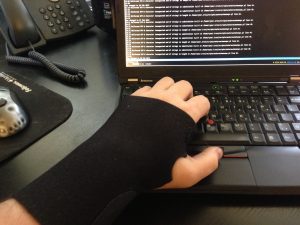 There is no justification for suffering pain or discomfort at work. Unfortunately, for millions of people around the world, this is a reality. Working on a computer for long hours often leads to some kind of work-related condition – from headaches to neck and back pain. Carpal tunnel syndrome is one of the most common complaints that office workers have.  An ergonomic keyboard addresses quite a number of these concerns because:
It makes typing more comfortable
It keeps arms and wrists in a relaxed, neutral position
Provides support for the wrists
The body is better supported and more inclined to assume the correct position
Depending on the kind of work you do and the number of hours you spend at your computer, an ergonomic keyboard may be necessary to ensure that your hands are positioned properly and in the best way to minimize injury.
Split Keyboards
As the name suggests, a split keyboard has been separated in the middle, with two halves on either side. These can be moved a distance apart, as desired. This is usually quite convenient for office workers or people who use their computers a lot.
This is a funky-looking keyboard, with the split built into the keyboard design. There is an integrated palm rest and the whole keyboard is designed to provide relief for those suffering from wrist and arm injuries related to computer work. While the price is good, several customers have complained about key placement as well as having to press really hard on the keys to get them to register on screen.
[amaozn box= B01KR1C5PY" title= "Kinesis Advantage2 Ergonomic Keyboard" description= " "]
This is the rocket ship of keyboards offering a very different layout and design. It will appeal especially to coders and developers, many of whom have praised this product. On the downside, it is very expensive and not everyone is a fan. Quite a number of customers said the keyboard is simply too complicated.
What is a mechanical keyboard?
A mechanical keyboard is basically a higher quality keyboard than the basic one found in the average office.  It is made of better materials and the keys feel nicer to touch and respond in a more satisfying way.
While still sporting the traditional shape and key layout, the technology underpinning each of the functions is of a superior standard, overall improving the working experience. It is also a more elegant design that is better suited to offices where clients may be passing through.
This keyboard is not cheap and offers a fair number of features like mechanical switches with gold contact and a dedicated media control button with an oversized volume knob. It also has an instant sleep button to save energy and bumps on certain keys for ease of use. It is equipped for faster gaming and programming. Some customers have criticized the product, however, for not being very stable and sliding on the table or desk.
This split keyboard may appeal to gamers or programmers and has a fun look with different colored buttons. It is designed with gamers in mind but also for designers and video editors. The keys are programmable and memory is stored in the keyboard's MCU. The keys have a good feel and you are able to adjust the different sides of the keyboard to suit you. On the downside, it does take a while to get used to this keyboard.
Due to the enormous variety on the market today, even the pickiest of consumers should be able to find the right keyboard that suits them.