If you're looking for a balance board for your standing desk, chances are you're looking to burn a few calories while working.
Before being sold on them, we decided to consult a few experts on the health benefits of balance boards. More on this later in the article.
We also spoke to a few industry experts on what to look for when buying a balance board.
Below you will find out what we discovered along with our favorite balance boards on the market.
Our Favorite Balance Board
If you're new with balance boards and wish something that would be slightly less of a challenge, check out The Plane by FluidStance balance board.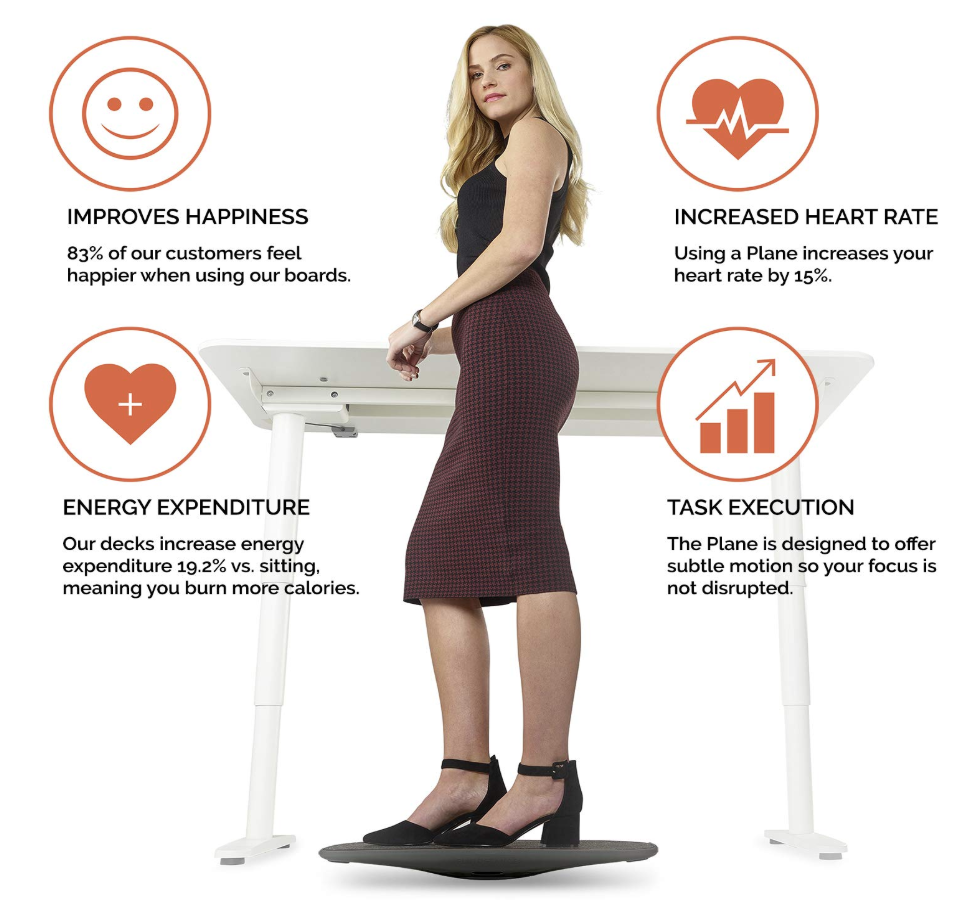 This is a one piece minimalist design that should provide benefits similar to a treadmill desk.
The manufacturers of Fluidstance made 90% of the product using recycled materials and can be further recycled by you if desired.
The material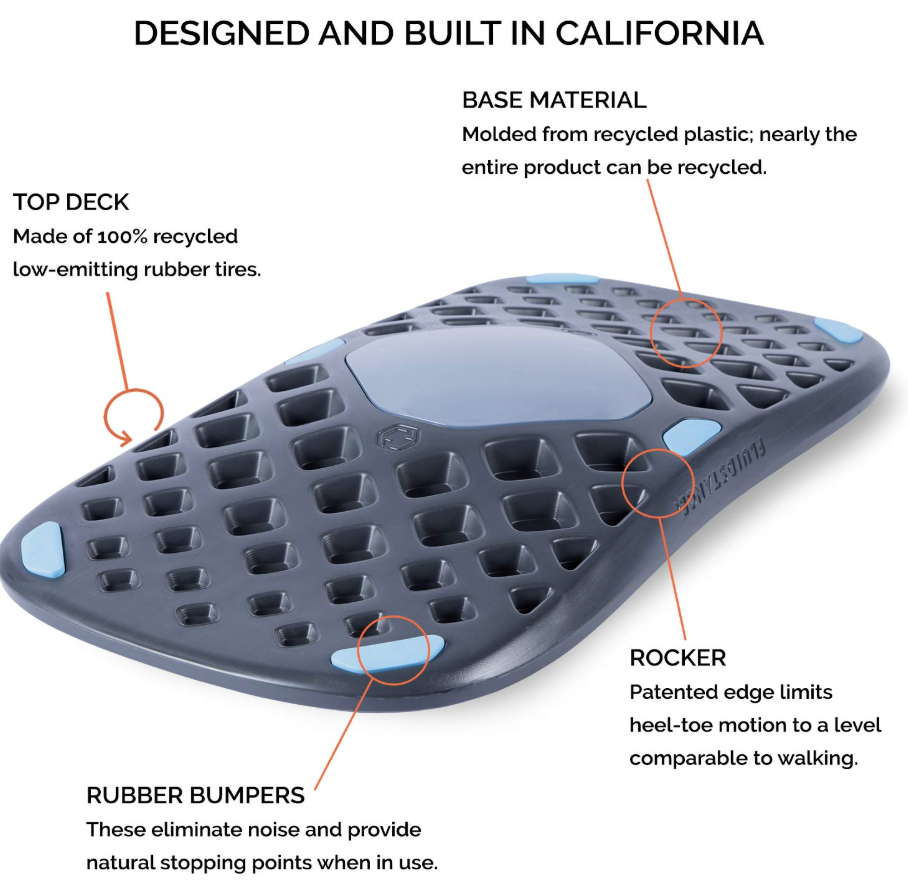 The upper side is made of low-emitting tires and the base from recycled plastic.
The price of this model is a bit higher that the Revolution focus, but you're leaving a smaller carbon footprint with this one.
Aside from being environmentally aware, the company also donates 1% of profit to charity. You will need a hard surface to use your Plane board safely.
WHAT CUSTOMERS ARE SAYING
Most customers love this product and think it does a great job at keeping them in motion.
It is not as challenging as our previous model, but some people actually like that. So if you've used more challenging balance boards in the past you might be underwhelmed.
Extremely durable
Most of the people that got the Plane board are happy with the rubberized part and say it will last much longer compared to the wooden boards.
And if you're not happy with your board the company offers a 30 day money back guarantee.
WHAT WE LIKE
Nice looking design
Environmentally aware product
Good for beginners
WHAT WE DON'T LIKE
Second Favorite Balance Board
The Pono Board Posture Correcting Standing Desk Balance Board works with horizontal micro movements that engage your leg muscles.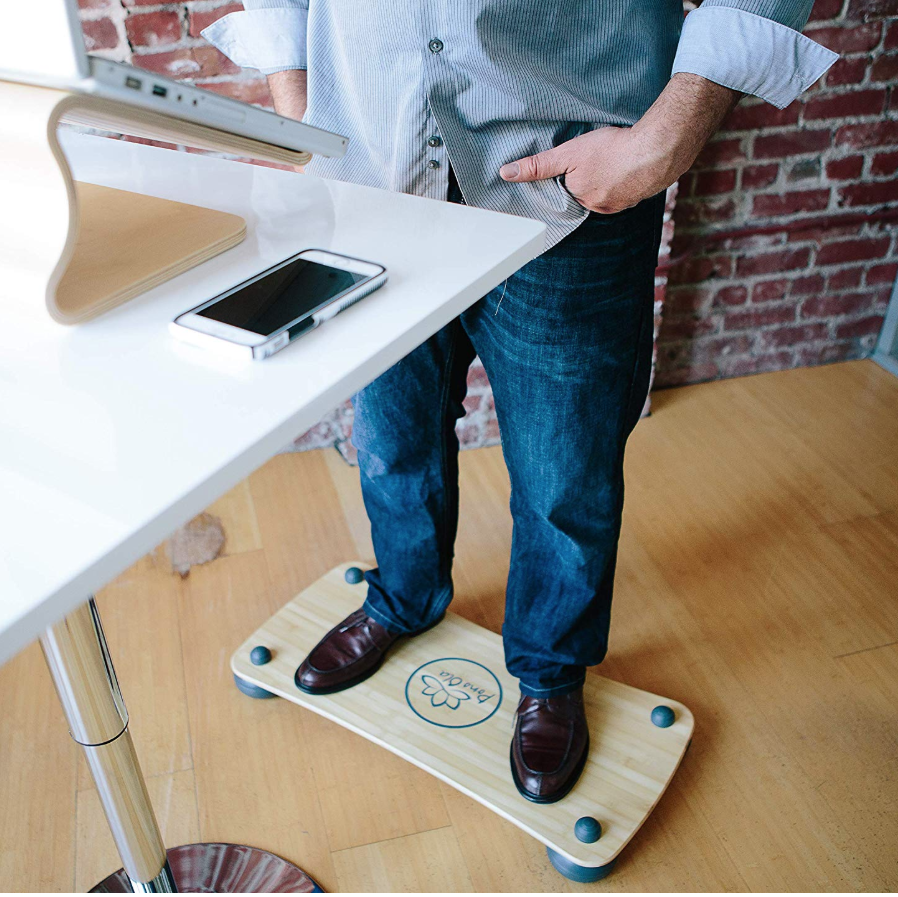 The board sits on air filled balls that move the platform back and forth and left to right.
The manufacturers promise you won't need to focus on balancing which should increase work productivity. The balls can be adjusted with an air pump.
WHAT CUSTOMERS ARE SAYING
People that got this product absolutely love it. The company had some issues with quality in the past, such as balls that were leaking air.
However they've addressed them, and since 2018 customer have been very happy with the new version.
Now customers can stand for longer hours and have a wider than regular board that needs no adjustment time.
The only downside is he time you'll spend messing with the balls if you need any adjustments.
WHAT WE LIKE
New& improved model
Comfortable for standing
Flexible design
WHAT WE DON'T LIKE
Time consuming manual adjustments
Other great balance boards
No products found.
No products found.
If you're into doodle artwork, and wish to customize your board, take a look at the No products found.. This model is very similar to the Focus board as it works on the same 2 piece principle.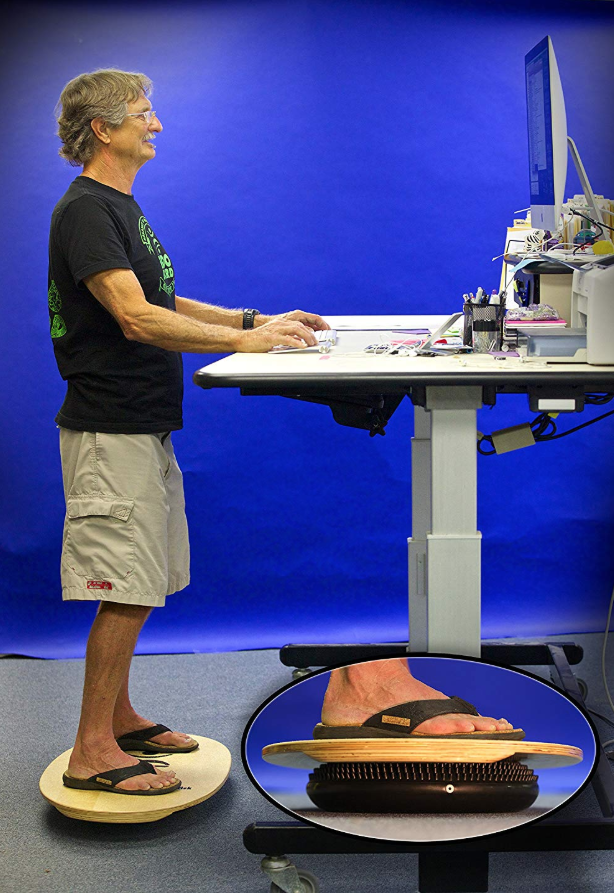 You get a wooden base to stand on, and an air cushion underneath that you can adjust.
With one major difference – you'll be able to purchase a completely white or natural wood board that you can draw on, and protect it with a coat of grip spray that is included in your order.
The standing platform was made of birch wood and the air cushion base is mouth inflatable. Use less air if you prefer more stability, and vice-versa.
WHAT CUSTOMERS ARE SAYING
Some people remember the Indo Board from 20 years ago, serving as a fitness balance board with the roller underneath.
The same manufacturers have created the air-cushion version which is made for your home and office.
The customers that use this product love the design, but say it's a bit bothersome having to set it up before use as it is heavy.
Also if you'll be using it in the office, you will need to set a mat underneath as the wood makes noise when hitting the floor, and bumpers are not included.
WHAT WE LIKE
Customizable
Adjustable air cushion
Company with long tradition
WHAT WE DON'T LIKE
The Gaiam Evolve Balance Board For Standing Desk is a great beginner board that also comes with a friendly price.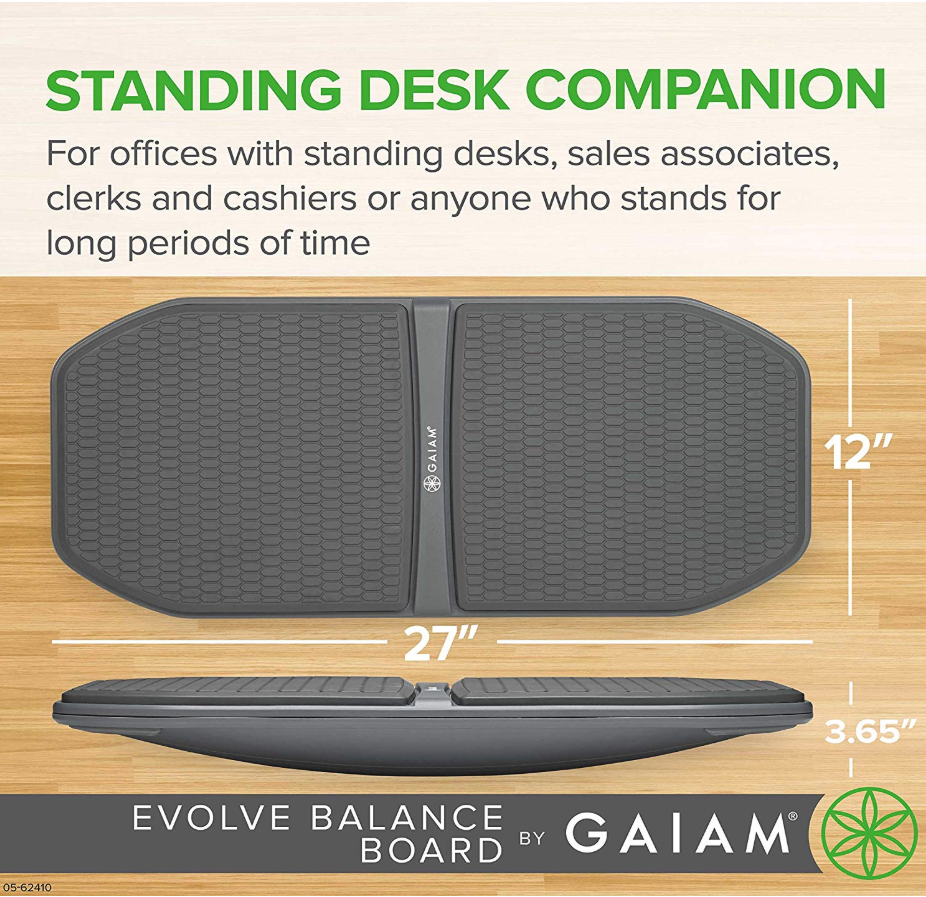 It doesn't require any 'real' balancing as it tilts slightly to allow body movement and leg stretching.
Extremely comfortable
Unlike the other products on our list, the Gaiam board comes with slight cushioning that prevents fatigue. It is recommended for anyone whose job involves standing for longer periods of time.
The top of the board was made with honeycomb texture that should give you sufficient traction, and the bottom part is rubberized so you won't have to worry about scratching the floor.
WHAT CUSTOMERS ARE SAYING
Customers that are new to balancing boards love this one. It doesn't require any getting used to, simply step on it and tilt while working or washing dishes.
Not that challenging
People needing core exercise while working will not find this board useful as it only allows for slight movements.
Ideal for long hours standing
On the other hand people that are required to stand all day at work, or wish to rest their feet after using a more demanding board will fully appreciate this one.
Some users warn of scams that have been going on Amazon concerning this board, so make sure it has the Gaiam logo on it when you receive it to be confident you got the right product.
WHAT WE LIKE
Budget price
Good for beginners
Great for standing jobs
WHAT WE DON'T LIKE
If you liked the idea of having cushioning below your feet, take a look at the StrongTek Anti-Fatigue Wobble Board.
The wobble board has a slightly different design than the balance boards, but its purpose is the same – to keep you moving while you work.
Very portable
This one has a very light-weight design which you'll appreciate once you start carrying it around with you. The massage trigger points are a nice touch to keep you energized.
The middle of the StrongTek wobble board is made with natural hardwood; it features a non-slip upper surface and a rubber base that is floor friendly.
WHAT CUSTOMERS ARE SAYING
Customers appreciate this product a lot. They say it's absolutely a step up from a standard anti-fatigue mat.
It has a sturdy and solid construction and will be really comfortable for beginners. It looks professional and will allow you to stand for hours without any issues.
The only thing people would love to add is a bit wider platform to stand on.
WHAT WE LIKE
Budget friendly price
Small compact design
Comfortable after long hours
WHAT WE DON'T LIKE
The Uncaged Ergonomics Base+ Balance & Stability Board offers a design that is supposed to keep you balanced without tipping over.
It is medium-hard to get used to it, and comes with a natural bamboo platform. The bottom is made of aluminum and the base underneath is rubberized.
You will also get corner bumpers that should protect your floors. Besides standing still, you'll be able to tip and twist, rock or balance while you work. No cushioning on this one.
WHAT CUSTOMERS ARE SAYING
Customers are divided on this product mostly because of the state it is shipped in as sometimes it arrives damaged.
The bumper corners are simply glued on, and fall off after a while. Some people complained they weren't able to twist on it.
This is due to a design flaw: The rubber knobs at the base that keep it in place also prevent it from twisting.
WHAT WE LIKE
Unique design
Sturdy aluminum construction
WHAT WE DON'T LIKE
No products found.
No products found.
The No products found. has the smallest standing surface on our list.
The faux leather looks professional enough for the office and comes with some cushioning to help you stand longer.
Another board that is great for beginners, as it only provides slight tilting motion to keep you moving while you work.
WHAT CUSTOMERS ARE SAYING
People seem very happy with this product. The movement of the board doesn't distract them from working and is nicely balanced.
The UPLIFT board will be great for people looking for an anti-fatigue mat, and a balance board in one product.
The price range is higher than similar products, and the standing platform might be a bit small for some people.
WHAT WE LIKE
Non-distracting movement
Looks good in the office
360 degrees of rotation
WHAT WE DON'T LIKE
Standing surface a bit small
Higher price-range
The Revolution Focus Standing Desk Balance Board was made in the USA and features a unique design made of 2 pieces: Top platform and an air cushion base.
The upper platform has a layer of duragrip material on the surface. This will give you enough traction to keep you stable.
You can wear any kind of shoes, and even high heels on this board. The top deck also comes with stop bumpers that will allow you to use the board on any surface you choose.
The air cushion base is adjustable and was made for office work. Once you get used to a certain difficulty you can add air to it to make it more challenging.
And speaking of challenges, you even get a roller base included that can be used instead of the air cushion. The roller base is the next step of balancing and will come in handy if you're planning on doing some balance training or fitness.
WHAT CUSTOMERS ARE SAYING
Most customers that got the Focus board highly recommend it. They advise to start with a half inflated air cushion until you adapt to the moving motion.
The rocker is not used by many as they're not in shape, but using the balance board with the air cushion slowly prepares you for the roller and that's a great motivation for most people.
The Focus board is unique compared to other similar products on the market: It can support higher weight and comes with handles for easier carrying around.
The only downside to this product is that some people still find it hard to balance on it, and since the board is not cushioned it might hurt your feet after prolonged use.
WHAT WE LIKE
Innovative design
Protects your floors
Holds a lot of weight
WHAT WE DON'T LIKE
There are many different boards on the market these days, but at least the inventor of the Whirly board addressed his clients with an honest message, letting them know what to expect from it.
Do not expect to get fit with the Whirly board. It is a fun device to pass the time indoors while challenging yourself, learning how to maintain balance, and improving your agility.
He recommends this board to athletes wishing to improve their snow sports abilities, but also water sports abilities.
You can rotate the Whirly board on 3 different points, move it side to side AND walk with it by using the two outer balls.
What customers are saying
The board is definitely challenging, and you might need to hold onto something when trying to spin for the first time.
It is usable for a standing desk, but make sure you have somewhere to rest your arms. Most people that got the Whirly board say it is durable and a good trainer for various sports.
What We like
Good quality
Lots of fun
Good trainer
What We Don't Like
Takes some time to get used to
Tough for beginners
While the Whirly board was created to improve your athletic skills, the Fully Floatdeck was created to keep you active in your office or home.
It features a sleek bamboo platform placed on a durable aluminium base. The base includes a protective floor mat.
The main purpose of the Fully Floatdeck is stated in its name, it will bring a feeling of ease and floating while you stand. It moves with you, engaging your core, hips and knees.
You will have enough room, the platform is quite roomy, and to add a layer of protection when stepping on and off, the inventor has included rubber stoppers.
What customers are saying
The Fully Floatdeck is a great option for beginners and people that need some movement while standing. What you get is a durable product that looks good and will help you stay active while you work.
What We like
Highly durable
Good for beginners
Keeps your body active
What We Don't Like
Not challenging enough for some people
Casper is an interesting balance board that can be used both standing and sitting.
If used as a footrest you'll be able to rotate it at 360 degrees. It comes with a surface grip which should provide better stability.
The Fezibo balance board was made from high density natural rubber, and will not draw a lot of attention to it. It gives you low-impact rocker movement.
The massage points will help you relieve stress and relax your back and legs while you're standing. The makers of Fezibo state it feels better than sitting, and the customers agree.
This premium balance board is great for every day use regardless if you're a kid or an adult.
It is compact and durable- the upper layer of the platform is an anti-fatigue mat, the core is made with solid plywood, and it comes with a natural rubber base to keep your floors and yourself safe on any surface.
The Grade board was made for kids. It gives them focus when doing homework and it helps them stay active while gaming (or any other activity that involves longer periods of sitting).
It is eco friendy and was made almost completely from recycled materials.
You can see some creative minds were behind this project, judging by the names of the available colors: Rocket red, Galactic Green and Space Blue.
This product is mostly bought by parents but it is also used by office workers that are pettite in size.
Some school-teachers allow students to take breaks on the Grade which increases the student's concentration allowing them to remember things better.
Meet Steppie, a stylish looking balance board that was a nominee for a European office product of the year 2019.
It has a patented design that is supposed to improve your overall health while you work, thus making it a perfect rocking companion to your standing desk.
Unlike other boards, Steppie was created to prevent over pronation – uneven distribution of weight that can cause further damage to feet and ankles.
This is achieved with its side-to-side motion. People that got Steppie say it is a steal.
The Lucky Zero balance board comes with and ergonomic design that will be useful in your workspaces and at the gym.
It can be used both by beginners and athletes. What you get is a wooden rocker board that helps you improve your agility and strengthen your core.
The surface of the board features a non-slip surface that's both gentle on bare feet and gives enough traction for your shoes.
If your office space is limited, or you just prefer a compact motion board for your travels, than the Uplift desk might be a good choice for you.
The Uplift motion board is easy to use, simply reach with your foot and slide the board towards you using the heel grab. You can choose the level of tilting, depending on your needs.
The Matladin comes with a budget friendly price that surprises most people, but after giving it a try most of them are happy with the product.
This is a compact wobble board that's on the shorter side and can be carried around with ease.
The base is made of non-slip and non-scratch material and the base is made of wood and the platform features massage points that help relieve tension and stress.
Benefits of using a balance board
Strengthens your core muscles – sitting all day causes certain muscles to atrophy. This can be avoided by using a balance board that will constantly challenge your muscles to move;
Improves your posture – Standing all day is also bad for you especially if you start leaning on one foot too much. By engaging in micro-movements you give flexibility to your spine, while keeping it upright.
Helps with joint movement – The same micro-movements that are good for your posture help prevent joint damage.
Gain increased focus – Standing still for a longer time can lower your blood pressure and slow down circulation. By constantly moving throughout the day you improve your focus and become more productive.
Different types of balance boards
Roller Boards are difficult to master and won't be good for your office space. This type of board is used for serious balance training at home or in the gym. Wobble Boards come with a medium difficulty and might feel a bit unstable for some people. They will be a great option for the hyperactive type as they give you a 360 degrees freedom of movement. Balance Boards are usually a great choice for beginners as they're easier to work with. This helps people that work in the office focus on their job without getting distracted by the motion. Rocker Boards do exactly what they promise – they will allow you to rock back and forth, or side to side. It is not challenging getting used to the rocker boards and they are usually recommended for rehabilitation after injury or surgery.
Is there a difference between normal balance boards?
The basic difference between all balance boards on the market lies within their purpose, and we have identified 3 of them:
Rehabilitate and treat injuries;
Training aid for fitness, skateboarding, surfing, or snowboarding;
Standing desk companion that gives life to your workday by improving posture and strengthening core muscles.
If you liked our best balance boards for your standing desk review feel free to browse our site for more ergonomic products that keep you healthy and happy while you work.
References
https://fluidstance.com/pages/science
https://www.researchgate.net/publication/323507232_The_Effectiveness_of_Standing_on_a_Balance_Board_for_Increasing_Energy_Expenditure
https://www.sciencedirect.com/science/article/abs/pii/S0021929013003928
http://www.physiosupplies.com/blog/ps/171/choosing-a-balance-board/
https://www.physio-pedia.com/Balance_Boards